Super Bowl 50 Longest Touchdown Odds
Published on:
Jan/31/2016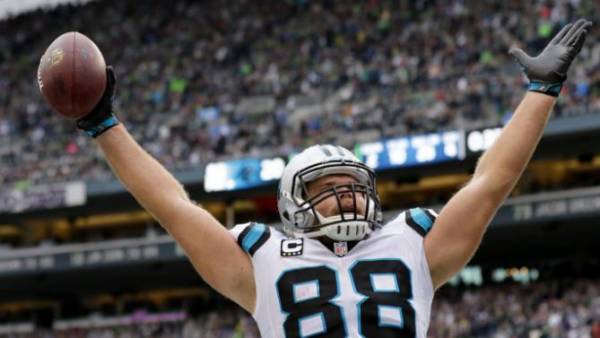 Super Bowl 50 longest touchdown odds can be found at MyBookie.ag, and if you are reading this to get odds on future Super Bowls MyBookie is your place here.

The OVER/UNDER on this particular prop bet had the number at 43.5 and priced at -115 for both the OVER and the UNDER.
A quick look at the Super Bowl's longest touchdown ever recorded we find that Jacoby Jones takes the honors there with a 109-yard kickoff return for a touchdown in Super Bowl XLVII.
One can also bet on which player will score the longest touchdown here.
Below are all your scoring props for Super Bowl 50 including Touchdown betting.
PANTHERS SC 1ST  -140
BRONCOS SC 1ST  +110
PANTHERS MOST 1ST DOWNS -1.5 +125
BRONCOS MOST 1ST DOWNS +1.5 +105
A SCORE IN 1ST 6½ MINS - YES  -11-
A SCORE IN 1ST 6½ MINS - NO -120
SB 50 SP TEAMS/DEF TD - YES +160
SB 50 SP TEAMS/DEF TD - NO -200
A SC 1ST 4 MINS OF 2ND QTR -115
NO SC 1ST 4 MINS OF 2ND QTR -115
A SC 1ST 4 MINS OF 4TH QTR -115
NO SC 1ST 4 MINS OF 4TH QTR -115
(1st score) TOUCHDOWN -150
(1st score) FIELD GOAL OR SAFETY +120
SB 50 - LONGEST TD  OVER 43.5 -115
SB 50 - LONGEST TD UNDER 43.5 -115
SB 50 GAME TOTAL - ODD -130
SB 50 GAME TOTAL - EVEN 100
SB 50 OVERTIME - YES +750
SB 50 OVERTIME - NO -1500
PANTHERS SC LAST -125
BRONCOS SC LAST -105
SB 50 TEAM TO SC 1ST WINS -165
SB 50 TEAM TO SC 1ST LOSES +135
SC LAST 2MIN 1ST HALF YES -300
SC LAST 2MIN 1ST HALF NO +200
SB 50 3 UNANSWERED SC - YES -240
SB 50 3 UNANSWERED SC - NO +180
SB 50 SAFETY - YES +850
SB 50 SAFETY - NO -2000
PANTHERS SC LAST IN 1H -145
BRONCOS SC LAST IN 1H +115
5533
SB 50 - FIELD GOALS SCORED OVER 3.5 +135
SB 50 - FIELD GOALS SCORED UNDER 3.5 -165
SB 50 - LONGEST FG SCORED OVER 44.5 -110
SB 50 - LONGEST FG SCORED UNDER 44.5 -120
PANTHERS SC LONGEST FG -120
BRONCOS SC LOGEST FG -110
SB 50 - 1ST HALF MOST PTS +1/2 +120
SB 50 - 2ND HALF + OT MOST PTS -1/2 -110
PANTHERS 1ST PENALTY -115
BRONCOS 1ST PENALTY -115
PANTHERS 1ST TIMEOUT -115
BRONCOS 1ST TIMEOUT -115
PANTHERS SC LONGEST TD -155
BRONCOS SC LONGEST TD +125
SB 50 - TOTAL SACKS OVER 5.5 +115
SB 50 - TOTAL SACKS UNDER 5.5 -145
PANTHERS SC SHORTEST FG -115
BRONCOS SC SHORTEST FG -115
PANTHERS SC 1ST FG -110
BRONCOS SC 1ST FG -120
PANTHERS PUNT 1ST -115
BRONCOS PUNT 1ST -115
SB 50 - TOTAL TDS OVER 5 -125
SB 50 - TOTAL TDS UNDER 5 -105
TEAM TO SC LAST WINS SB -225
TEAM TO SC LAST LOSES SB +170
A SCORE IN 1ST 7 MINS - YES -140
A SCORE IN 1ST 7 MINS - NO +110
A SCORE IN 1ST 7½ MINS - YES -165
A SCORE IN 1ST 7½ MINS - NO +135
PANTHERS MOST PENALTY YDS -110
BRONCOS MOST PENALTY YDS +120
PANTHERS CHALLENGE 1ST -120
DENVER CHALLENGE 1ST -110
SB 50 - SHORTEST TD IN GAME -105
SB 50 - SHORTEST TD IN GAME UNDER 1.5 -125
SB 50 - SHORTEST FG IN GAME OVER 26.5 -115
SB 50 - SHORTEST FG IN GAME UNDER 26.5 -115
1ST MADE FG OVER 34.5 -135
1ST MADE FG UNDER 34.5 +105
TOTAL YARDAGE OF ALL MADE FGS OVER 124.5 -135
TOTAL YARDAGE OF ALL MADE FGS UNDER 124.5 -+105
TOTAL TD YARDAGE OVER 84.5 -115
TOTAL TD YARDAGE UNDER 84.5 -115
LARGEST LEAD OVER 13.5 -200
LARGEST LEAD UNDER 13.5 +160
TOTAL INTERCEPTIONS OVER 1.5 -210
TOTAL INTERCEPTIONS UNDER 1.5 +165
TOTAL FUMBLES LOST OVER 1.5 +155
TOTAL FUMBLES LOST UNDER 1.5 -185
MOST POINTS IN ANY QUARTER OVER 19.5 -115
MOST POINTS IN ANY QUARTER UNDER 19.5 -115
LEAST POINTS IN ANY QUARTER OVER 3.5 -115
LEAST POINTS IN ANY QUARTER UNDER 3.5 -115
TOTAL NET YDS OVER 664.5 -115
TOTAL NET YDS UNDER 664.5 -115
JERSEY NUMBER SC 1ST OVER 22.5 -135
JERSEY NUMBER SC 1ST UNDER 22.5 +105
TOTAL PUNTS IN THE GAME OVER 10 -105
TOTAL PUNTS IN THE GAME UNDER 10 -125
PANTHERS PENALIZED PASS INTERF -110
BRONCOS PENALIZED PASS INTERF -120
PANTHERS HOLDING PENALTY -115
BRONCOS HOLDING PENALTY -115
PANTHERS 1ST FUMBLE RECOVERED -110
PANTHERS 1ST FUMBLE RECOVERED -120
PANTHERS ENTER RED ZONE 1ST -130
BRONCOS ENTER RED ZONE 1ST +100
PANTHERS LAST BALL POSSESSION -130
BRONCOS LAST BALL POSSESSION +100
PANTHERS LAST PENALTY IN GAME -115
BRONCOS LAST PENALTY IN GAME -115
PANTHERS RECORD 3 PUNTS 1ST +105
BRONCOS RECORD 3 PUNTS 1ST -135
PANTHERS 1ST SUCCESSFUL FG -120
BRONCOS 1ST SUCCESSFUL FG -110
PANTHERS 1ST LOST FUMBLE -110
BRONCOS 1ST LOST FUMBLE -120
- Mary Montgomery, Gambling911.com