Super Bowl 2011 Betting: $100 Million in Vegas Possible, More Online
Published on:
Jan/27/2011
Some of the Las Vegas sportsbook operators are predicting a record $100 million bet on the Super Bowl 2011.  A few are less optimistic.  Payment processing issues and reduced marketing could result in stagnant growth online.  With the economy as a whole improving ever so slightly, bookmakers are keeping their fingers crossed.
Advertisement:
Tons of Super Bowl 2011 betting propositions currently available at BetUS.com here
"I'm gonna hope we're close to $100 million," John Avello, Director of Race and Sports Operations for Wynn Las Vegas Casino Resort, told The Post last night.
Other bookmakers have suggested $90 million to be a more reasonable figure.  That was the amount Caesars Palace sportsbook Director Howard Greenbaum suggested to CNBC last Friday.
"The peak amount bet on a Super Bowl was in 2006," Greenbaum noted.
$94.5 million was bet in Vegas during that Super Bowl which also featured Pittsburgh.  A downturn in the economy soon followed.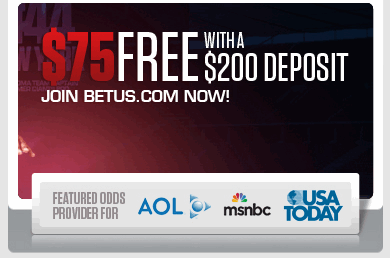 "I think it's gonna be a great handle," Hilton Sportsbook Director, Jay Kornegay relayed to the post. "I hope we approach $90 million. It's still a little soft out here. It's a terrific matchup. Maybe we couldn't even find a better matchup. But that big, old cloud [the recession] is hanging over us. It's not like it was in 2006. I think we're gonna be challenged to break a record. I think the game's gonna be to be an attractive game to watch and wager. But I don't think people are making the same sized bets they were making."
"This is what we've been hearing across the board at the online sportsbooks as well," says Payton O'Brien, Senior Editor of the Gambling911.com website.  "There are still plenty of people placing wagers and the volume is great, it's just that the average bets are much smaller than in years past."
The line on the 2011 Super Bowl was hovering between -2.5 and -3 in favor of Green Bay.  Betting on the big game favored Green Bay on the spread by close to 55 percent, however, the Steelers were getting 80 percent of the money line action with a payout potential of $11 for every $10 bet.
The 2010 Super Bowl earned nearly $6.9 million for the Nevada sports books in profits.
- Don Shapiro, Gambling911.com