Rams vs. Falcons Betting Line – Week 2 NFL
Published on:
Sep/14/2013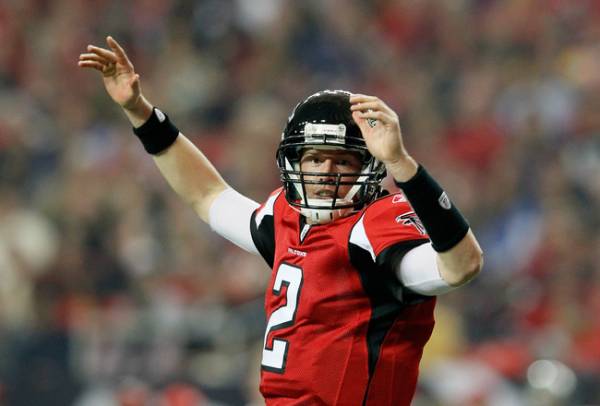 The Rams vs. Falcons betting line for Week 2 of the 2013 NFL regular season had Atlanta as a -5 point favorite.  Bet this one anonymously at BitBM.com, where payouts are immediate via Dwolla and bitcoin (learn more here). 
The Rams enter this contest having won their first week's game against division rival the Arizona Cardinals.  That's not saying much, however. 
Atlanta, on the other hand, lost their first week game to division foes the New Orleans Saints.
St. Louis, despite playing a weak opponent, walked away from that game with more than just a win. DE Robert Quinn was named NFC Defensive Player of the Week after forcing a pair of fumbles and matching a career high three sacks against the Cardinals.
Atlanta last met St. Louis in 2010 and beat them by 17 points.
The Falcons were seeing 67 percent of the betting action in this game.  This was not one of the more heavily wagered on games of the week.
| | | | | | |
| --- | --- | --- | --- | --- | --- |
| Sep 15 | 195 | SD CHARGERS | +6½EV | o54½-110 | +235 |
| 1:00 PM | 196 | PHI EAGLES | -6½-120 | u54½-110 | -285 |
| Sep 15 | 197 | CLE BROWNS | +6-109 | o43½-110 | +225 |
| 1:00 PM | 198 | BAL RAVENS | -6-111 | u43½-110 | -270 |
| Sep 15 | 199 | TEN TITANS | +9-110 | o42½-110 | +325 |
| 1:00 PM | 200 | HOU TEXANS | -9-110 | u42½-110 | -425 |
| Sep 15 | 201 | MIA DOLPHINS | +2-109 | o43½-110 | +105 |
| 1:00 PM | 202 | IND COLTS | -2-111 | u43½-110 | -125 |
| Sep 15 | 203 | CAR PANTHERS | -3-105 | o43½-110 | -150 |
| 1:00 PM | 204 | BUF BILLS | +3-115 | u43½-110 | +130 |
| Sep 15 | 205 | ST. LOUIS RAMS | +5-110 | o47-110 | +196 |
| 1:00 PM | 206 | ATL FALCONS | -5-110 | u47-110 | -235 |
| Sep 15 | 207 | WAS REDSKINS | +7-110 | o49½-110 | +265 |
| 1:00 PM | 208 | GB PACKERS | -7-110 | u49½-110 | -320 |
| Sep 15 | 209 | DAL COWBOYS | +3-110 | o46½-110 | +135 |
| 1:00 PM | 210 | KC CHIEFS | -3-110 | u46½-110 | -160 |
| Sep 15 | 211 | MIN VIKINGS | +6-110 | o41½-110 | +210 |
| 1:00 PM | 212 | CHI BEARS | -6-110 | u41½-110 | -250 |
| Sep 15 | 213 | NO SAINTS | -3-105 | o47-110 | -150 |
| 4:05 PM | 214 | TB BUCCANEERS | +3-115 | u47-110 | +130 |
| Sep 15 | 215 | DET LIONS | -2-110 | o47½-121 | -130 |
| 4:05 PM | 216 | ARI CARDINALS | +2-110 | u47½+101 | +110 |
| Sep 15 | 217 | JAX JAGUARS | +5-110 | o39½-110 | +192 |
| 4:25 PM | 218 | OAK RAIDERS | -5-110 | u39½-110 | -230 |
| Sep 15 | 219 | DEN BRONCOS | -4½-110 | o55-110 | -205 |
| 4:25 PM | 220 | NY GIANTS | +4½-110 | u55-110 | +176 |
| Sep 15 | 221 | SF 49ERS | +3-120 | o44-110 | +125 |
| 8:35 PM | 222 | SEA SEAHAWKS | -3EV | u44-110 | -145 |
- Ean Lamb, Gambling911.com