What is the Payout If the 2023 Super Bowl Goes Into Overtime (OT)?
Published on:
Jan/30/2023
Still there remains only a single Super Bowl out of 56 that have ever gone into overtime and that was recently with the New England Patriots defeating the Atlanta Falcons in overtime, 34-28, in Super Bowl LI (2017).
Needless-to-say, the overtime payout odds in any given Super Bowl tend to be especially generous.  The YES is typically set at 9-1 odds for a payout of $90 on every $10 bet or $900 on every $100 bet.  Books vary with their payouts, but price under +850 we'd look elsewhere.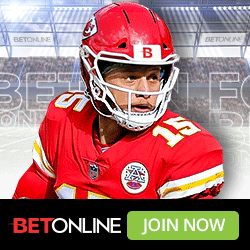 Super Bowl LI Was a Rare Treat for Gamblers
These sort of things tend to come in waves.  Witness the sudden occurrence of safeties during a stretch of Super Bowls after a near historic absence from the big game.  They are rare overall, unlike overtime.
There were three straight Super Bowls (2012 through 2014) where a safety was scored and the payouts were $800 or greater for every $100 bet.
Of the nine safeties recorded in Super Bowl history, four have occurred since 2009.  None have been scored since 2014.
But Super Bowl LI remains an anomaly.  That game even appeared the least likely to head into overtime as the Patriots overcame a 28–3 deficit to emerge victorious.
A number of Super Bowls have come dangerously close to going into overtime. 
How Common is Overtime in the NFL?
The 2021 season featured 21 games that required overtime during the regular season, and two in the postseason. There have been 629 games that have gone into overtime since the NFL added the additional period (1974–2021). 
Typically we advise gamblers to stay clear of "sucker" bets in the Super Bowl like that all-too-popular coin toss, but the OT is one prop bet we'd take over and over again due to the high payout versus the nominal risk.  A $30 bet should pay out around $270 this year. 
This game is especially enticing in that Gambling911 had the Chiefs at -1.5 prior to their AFC Championship win against Cincinnati and at 0.80 afterwards with the Eagles crushing San Francisco.
The books opened KC as the -1 favorite before shifting to Eagles -2.5, then back down to Eagles -2.  In other words, this looks as if it will be decided by a single point or two.
The Chiefs have played in two 2022 regular season games that ended up in overtime, both of those against the AFC South.
None of the Eagles games went into overtime.  In fact, the last OT game for Philadelphia was Week 3 of the 2020 season against Cincinnati. 
- Don Shapiro, Gambling911.com