Patriots vs. Bills Betting Line at New England -10.5
Published on:
Sep/03/2013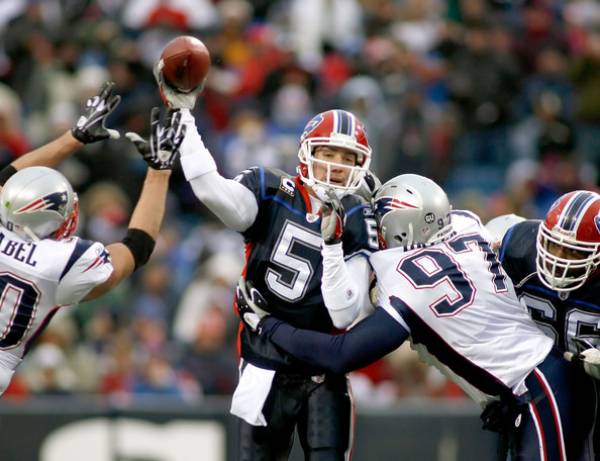 The Patriots vs. Bills betting line had New England as a -10.5 visiting favorite with the public all over the Pats.  You can bet this game at SportsBettingOnline.com, which rewards customers with up to 10 percent weekly money back on both losses AND wins PLUS a 25 percent FREE PLAY for a limited time only.  NOW ACCEPTING BITCOINS. 
New England has won 9 of the last 10 in this series.  Buffalo, however, has covered in four of the last ten games of this series and five of the last ten using the current spread.
This is perhaps the most wagered on game early on with New England getting the most public betting action of any team in Week 1 at 80 percent.
Buffalo is favored to win UNDER 6 regular season games during the NFL regular season in 2013 at -115.  New England is favored to win UNDER 10.5 at -115.
| | | | | | |
| --- | --- | --- | --- | --- | --- |
| Sep 05 | 451 | BAL RAVENS | +9-110 | o48-110 | +320 |
| 8:30 PM | 452 | DEN BRONCOS | -9-110 | u48-110 | -400 |
| Sep 08 | 453 | NE PATRIOTS | -10½-110 | o49½-110 |   |
| 1:00 PM | 454 | BUF BILLS | +10½-110 | u49½-110 |   |
| Sep 08 | 455 | TEN TITANS | +7-110 | o42-110 | +275 |
| 1:00 PM | 456 | PIT STEELERS | -7-110 | u42-110 | -335 |
| Sep 08 | 457 | ATL FALCONS | +3EV | o54-110 | +145 |
| 1:00 PM | 458 | NO SAINTS | -3-120 | u54-110 | -170 |
| Sep 08 | 459 | TB BUCCANEERS | -3-115 | o40-110 | -165 |
| 1:00 PM | 460 | NY JETS | +3-105 | u40-110 | +140 |
| Sep 08 | 461 | KC CHIEFS | -3½-110 | o41½-110 | -190 |
| 1:00 PM | 462 | JAX JAGUARS | +3½-110 | u41½-110 | +162 |
| Sep 08 | 463 | CIN BENGALS | +3-110 | o41½-110 | +135 |
| 1:00 PM | 464 | CHI BEARS | -3-110 | u41½-110 | -155 |
| Sep 08 | 465 | MIA DOLPHINS | PK-110 | o41½-110 |   |
| 1:00 PM | 466 | CLE BROWNS | PK-110 | u41½-110 |   |
| Sep 08 | 467 | SEA SEAHAWKS | -3-120 | o45-110 | -170 |
| 1:00 PM | 468 | CAR PANTHERS | +3EV | u45-110 | +145 |
| Sep 08 | 469 | MIN VIKINGS | +5-110 | o46½-110 | +189 |
| 1:00 PM | 470 | DET LIONS | -5-110 | u46½-110 | -225 |
| Sep 08 | 471 | OAK RAIDERS | +9½-110 | o46½-110 | +335 |
| 1:00 PM | 472 | IND COLTS | -9½-110 | u46½-110 | -425 |
| Sep 08 | 473 | ARI CARDINALS | +4½-110 | o41-110 | +182 |
| 4:25 PM | 474 | ST. LOUIS RAMS | -4½-110 | u41-110 | -215 |
| Sep 08 | 475 | GB PACKERS | +4½-110 | o48-110 | +182 |
| 4:25 PM | 476 | SF 49ERS | -4½-110 | u48-110 | -215 |
| Sep 08 | 477 | NY GIANTS | +3½-120 | o48½-110 | +160 |
| 8:30 PM | 478 | DAL COWBOYS | -3½EV | u48½-110 | -185 |
| Sep 09 | 479 | PHI EAGLES | +3+105 | o51-110 | +150 |
| 7:00 PM | 480 | WAS REDSKINS | -3-125 | u51-110 | -175 |
| Sep 09 | 481 | HOU TEXANS | -3½-110 | o43½-110 | -185 |
| 10:15 PM | 482 | SD CHARGERS | +3½-110 | u43½-110 | +160 |
- Tyrone Black, Gambling911.com