Odds to Win the 2013 Super Bowl Now Available
Published on:
Feb/19/2012
Sportsbook.com has released its much anticipated odds to win the 2013 Super Bowl with the New York Giants getting zero love at 20/1.  These odds were as of February 2011 and will change often leading up to the big game so check Sportsbook.com and lock in the best price as it becomes available (hint:  The Giants potentially paying $2000 on a $100 bet is a good price in our opinion here at Gambling911.com). 
We're not even two weeks removed from Eli Manning's second Super Bowl triumph, but it's not too early to look ahead to next fall. The pre-free agency, pre-draft Super Bowl odds are out, and here's a look at some interesting odds…
Green Bay Packers (5/1): Green Bay is the favorite, and rightfully so. The loss of offensive coordinator Joe Philbin (now the head coach in Miami) isn't enough to slow this offense down. And with a full offseason to cure what ails their defense (poor against the run, inconsistent in the secondary, no No. 2 pass rusher), this team could and should be in championship form by next September.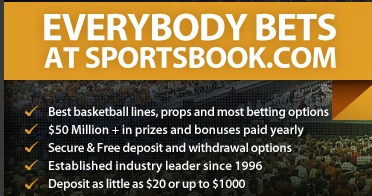 New Orleans Saints (6/1): This team needs to clinch the No. 1 seed in the NFC. They're unstoppable at home, but probably not good enough on the road to beat the NFC's other elites. The biggest non-head coach staffing move in the league is Steve Spagnuolo replacing Gregg Williams. Williams' defenses relied far too heavily on the blitz, and they were bound to get burned eventually (i.e. Vernon Davis in the Divisional playoffs). Spagnuolo relies on creating pressure with the front four. If he can work some magic with a mediocre defensive line, watch out.
New England Patriots (7/1): With Tom Brady they'll always have a chance. But their defense wasn't playoff-caliber a year ago (in the end, the only team they outplayed in last year's postseason was Denver) and Bill Belichick's best defenses over the past five years have been middling.
Houston Texans (10/1): Beating a bad Cincinnati team at home in the Wild Card round does not a championship contender make. They figure to get back into the tournament, but QB Matt Schaub still isn't playoff tested.
Philadelphia Eagles (12/1): This is a team built for the postseason. Striking out on a defensive coordinator upgrade definitely hurts. But if they were willing to move Juan Castillo from o-line coach to defensive boss a year ago in a shortened offseason, they must have seen some potential. They can rush the passer, they should be able to upgrade their linebacking corps, and Castillo hopefully learned his lesson about having one of the all-time great press corners sitting back in zone half the time.
Baltimore Ravens (12/1): They outplayed the Patriots in New England in the AFC Championship, and they're in a better position to win the AFC North than the rival Steelers. The injury risks of LB Ray Lewis and S Ed Reed temper expectations, making their odds just about right.
Pittsburgh Steelers (12/1): Their aging defense is getting older, and they don't have their Week 1 starting nose tackle on the roster right now (Casey Hampton tore his ACL in the playoffs, and Chris Hoke retired). The rumor is new offensive coordinator Todd Haley will reign in Ben Roethlisberger and the passing game, but they'll also be without RB Rashard Mendenhall (torn ACL) for possibly the entire year. A favorable schedule gave them a big boost a year ago.
San Francisco 49ers (20/1): The Niners aren't going away because their defense is too good. There's no real reason to believe in QB Alex Smith, but this team was a couple of bad bounces away from Super Bowl XLVI (and there's no reason they couldn't have beaten New England in that scenario). They should cruise to another NFC West title and have an inside track at a first round bye.
New York Giants (20/1): The Giants definitely caught more than their fair share of lucky breaks last year (Victor Cruz's fumble in Arizona, Ahmad Bradshaw's fumble in the NFC Championship, Cruz's and Bradshaw's fumbles in the Super Bowl, Jason Garrett icing his own kicker in Arizona).
Dallas Cowboys and New York Jets (20/1 each): Products of the non-stop hype machine. Neither of these teams were playoff-caliber a year ago. When will they have the leadership (on the field, the sidelines, or the front office) to make the leap to Super Bowl contender?
Miami Dolphins (30/1): Those odds are probably in light of the fact that they're Peyton Manning's most logical landing spot. If Manning comes aboard (and really, they're the one team that both wants him and has a good enough supporting cast to draw him there) and proves to be healthy (a 50/50 proposition), Miami is as good as anyone in the AFC.
Carolina Panthers (50/1): Cam Newton got it done with pure athleticism a year ago. If he makes the normal progression in the passing game, he has a chance to be among the five best quarterbacks in football next season. Then it's just a matter of whether Carolina's young defensive tackles are up to the task stopping the run.
Tampa Bay Buccaneers (100/1): Head scratching head coach hire in Greg Schiano, who basically oversaw the Washington Redskins of the college football world for a decade (with one of the largest budgets in college football, he brought RU's program just short of University of Connecticut-level prominence). But the roster will at least look drastically different, as Tampa has tons of cap room and plans on using it. This time a year ago, the Bucs were a team on the rise. If they use their vast resources on the right pieces and get QB Josh Freeman back on track, they are a darkhorse to watch.
- Carrie Stroup, Gambling911.com Senior Reporter