New Orleans Saints vs. San Francisco 49ers Betting Odds
Published on:
Jan/13/2012
Carrie Stroup here with the latest up to the minute New Orleans Saints vs. San Francisco 49ers betting odds.  Claim up to $250 in FREE CASH when you open an online betting account at Sportsbook.com here.  In business since 1997. 
Sportsbook.com Line: New Orleans -4 & 47
Opening Line & Total: Saints -3.5 & 46.5
The Saints try to win their 10th straight game when they visit former division rival San Francisco with a berth in the NFC Championship Game at stake.
This will be a classic battle of offense versus defense. The 49ers defense is elite against the run, but they struggled to stop the pass when facing the league's top quarterbacks. Dallas (432 yards), Philadelphia (416), Detroit (293), N.Y. Giants (311) and Pittsburgh (330) all moved the ball in the air against a secondary that's more about creating turnovers than limiting yards. Saints QB Drew Brees could take full advantage of that.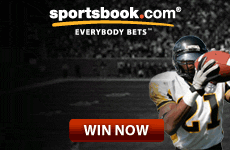 These teams met in Week 2 of the 2010 season, when the pre-Jim Harbuagh Niners were embarking on another disappointing year. They outplayed the Saints, holding Brees to 254 passing yards and out-gaining New Orleans 417-287. San Francisco led 14-9 early in the second half, but four turnovers did them in a 25-22 loss.
Brees has been incredible this season with 5,942 passing yards (350 YPG), 49 TD and 14 INT including his brilliant performance against Detroit last week (33-of-43, 466 yds, 3 TD, 0 INT). New Orleans piled up an NFL playoff record 626 total yards in the win over the Lions. But the Saints are a different team away from their home turf (27.2 PPG, 4-4 ATS). But Brees has just 9 TD and 6 INT on grass surfaces this year, compared to 40 TD and 8 INT on turf. However, Brees has had no problem controlling the winds at Candlestick Park, completing 59-of-77 passes (77%) for 590 yards, 6 TD and 0 INT in two career games in San Francisco. But Brees doesn't have to win this game all by himself with a rushing attack averaging 175 YPG on 5.3 YPC in the past four games. Three different players rushed for 45+ yards against the Lions: Pierre Thomas (66 yards, 8.3 YPC), Darren Sproles (51 yards, 5.1 YPC) and Chris Ivory (47 yards, 3.6 YPC). This versatile ground game will be key against a 49ers team that led the NFL with 77 rushing YPG allowed.
The Saints allowed 380 passing yards in their win over Detroit last week, but that's not necessarily a bad thing considering they are 7-0 ATS after allowing 300+ yards in their previous game this year. But the 49ers don't try to beat teams through the air, attempting the second-fewest passes in the league this season (28.2 attempts per game). San Francisco quarterbacks have thrown only five interceptions all season, but have been sacked 44 times (7th-most in the NFL). QB Alex Smith has played nearly every snap, and has been much more effective in his home stadium (99.8 rating, 7.75 YPA, 12 TD, 3 INT) than he was on the road (82.7 rating, 6.46 YPA, 5 TD, 2 INT). Smith is 0-3 all-time against the Saints though, sporting a 65.0 passer rating (6.17 YPA, 3 TD, 5 INT).
San Francisco is an unbeaten 7-0-1 ATS at home this season and 9-1 ATS on a grass surface. Much of that has to do with a rushing offense chewing up 128 rushing YPG (8th in the NFL) led by Frank Gore's 1,211 yards on 4.3 YPC. In the past two meetings against the Saints, Gore has 194 rushing yards (5.4 YPC), 87 receiving yards and 2 TD. Rookie Kendall Hunter has also stepped up in the past two games, rushing for 149 yards on 28 carries (5.3 YPC).
Another reason the 49ers have 13 wins this year, is due to their lack of turnovers. They have the fewest giveaways in the NFL (10), including a current ride of five straight games without an offensive turnover. And the defense has forced 12 turnovers during this turnover-less streak. The Saints also take care of the football very well, finishing tied for the fourth-fewest giveaways in the league (17).
- Carrie Stroup, Gambling911.com Senior Reporter