Nebraska vs. Missouri College Football Odds
Published on:
Oct/08/2009
Nebraska vs. Missouri College Football odds had the Cornhuskers getting around 60/40 of the overall action in this Thursday night game.   betED.com had the line at Nebraska -3 ½ as the road favorite.  The line initially opened at -1.
The home team has won 5 of the last 6 in this series with the exception of the last game where Missouri pummeled Nebraska by a score of 52-16.  The Tigers have also won four of the last six games in this series.
The Cornhuskers are 5-0 ATS in their last 5 games overall.
The Tigers are 1-6 ATS in their last 7 games following a ATS win.
The Tigers are 2-6 ATS in their last 8 games following a bye week.
Nebraska has had little trouble shutting down opponents, while Missouri has been scoring with ease. Those trends seem unlikely to continue as the teams begin Big 12 play.
With both squads coming off a bye, the No. 21 Cornhuskers and 24th-ranked Tigers open their conference schedules at Faurot Field on Thursday night.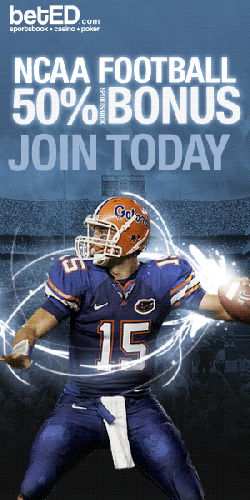 "Now the season starts. Right now. That's the way we look at it," Huskers coach Bo Pelini said after a 55-0 win over Louisiana-Lafayette on Sept. 26. "Time to put the foot on the gas pedal and go. We have a long season and challenges in front of us."
The Huskers are first in FBS in scoring defense (7.0) and their 28 points allowed are their fewest yielded through four games since 1990.
"We've made progress but we're nowhere near where I believe we need to be," Pelini said. "We're in the right galaxy now. Last year we were a few solar systems away. We're playing well in some areas, we're playing inconsistent in some other areas. We'll find out."
From Scout.com:
While the Cornhuskers' offensive line has done a solid job run-blocking, the same cannot be said in pass protection. This unit has shown vulnerability protecting against speed and quickness, especially off the edge, and has had communication problems picking up pressures from the second level. This does not bode well heading into Thursday night's contest against the Tigers' stingy pass rush. Redshirt freshman DE Aldon Smith has been a pleasant surprise for defensive coordinator Dave Steckel; Smith's combination of speed and power will give heavy-footed ROT Marcel Jones plenty of headaches. In addition, WLB Sean Weatherspoon excels at timing blitzes and has displayed a relentless motor in pursuit of the quarterback.
Nebraska will be able to come out of Columbia with a victory due to its balance on offense and ability to control the line of scrimmage defensively. Look for Helu Jr. to find running room throughout the contest against the Tigers' defensive front, which has struggled to maintain gap control and anchor the edges. This ability to move the ball on the ground will open up opportunities for Lee to connect on a few big plays though the air. On the flip side, look for Missouri's inability to run the ball to force Gabbert to continue to have to carry the offense. Gabbert will keep the Tigers in the game with his ability to deliver big throws combined with a talented receiving corps. However, look for the Cornhuskers' pass rush to create consistent pressure, forcing Gabbert into a couple of mistakes that cannot be overcome.
Don Shapiro, Gambling911.com