Bookmakers find themselves exposed in all four NFL Divisional Round Playoff games this weekend.
Dave Mason of BetOnline broke down the NFL Divisional Playoffs wagering volume per team all four teams seeing between 64% and 67% of the action, New Orlreans being on the high end of this range. 

Bookmakers typically look to have NFL Playoff games balanced and no more off than 55/45 as volume tends to be heavier for each game compred to regular season matchups.
Twitter followers were also asked to cast their vote as to which teams were most likely to win their respective games on Saturday.  Here, the Twitter community tended to favor Philadelphia to win over Atlanta in the early game.   Indeed, the NFL Betting Power Ratings indicate the Eagles should be able to beat Atlanta at home Saturday. The absence of quarterback Carson Wentz at this point has already been factored into these ratings.  Typically it takes two to three weeks for adjustments to be fully realized following a significant player injury or suspension.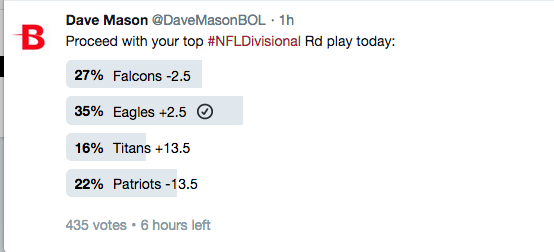 - Don Shapiro, Gambling911.com