Latest Super Bowl 51 Favorites – Payout Odds: Falcons, Giants, More
Published on:
Dec/20/2016
If you are trying to grasp what team might be most likely to win Super Bowl 51, join the club.  It's easy to say the Patriots vs. Cowboys but New England is missing Rob Gronkowski and Dallas could be losing a bit of steam down the stretch.  Below you will find the latest Super Bowl 51 betting odds in addition to the opening price and Week 1 odds for each team.    

Las Vegas Super Bowl 51 Betting Odds (Opening, Week 1 and Updated Ahead of Week 16)
Atlanta Falcons – Payout $1600 on a $100 bet
Sure you can play it safe going with the Patriots or Giants, but the payout odds for either team are not particularly enticing.
Enter Atlanta, a team Cameron DaSilva of Fox Sports ranks number 3 in the league coming into Week 16.
Don't look now, but the Falcons haven't won a game by fewer than 15 points since Oct. 30 against the Packers. Granted, they've lost two games in between, but their victories have all been dominant. The defense has played relatively well in the past month or so, too, despite being without Desmond Trufant. They're certainly Super Bowl contenders and got a boost from the Cowboys with Tampa Bay's loss.
Scroll Down For More...
New York Giants – Payout $2000 on a $100 bet
The Giants will enter Week 16 on a two-game win streak and having won eight of their last ten games overall.  They also beat the leader in this division, Dallas.    
Say what you will about past seasons, these Giants are vastly improved and dangerous once they crack the post season, which will happen should they beat Philadelphia Thursday night.
It's the Giants D that is getting the job done.
Alex Raskin of the Wall Street Journal writes:
The Giants are surging at the right time thanks to a defense that has not yielded a touchdown in its last nine quarters of play. Even after losing top cornerback Janoris Jenkins to a back injury in the first half on Sunday, the Giants defense remained solid, intercepting one pass by Lions quarterback Matthew Stafford and limiting Detroit to just 56 yards rushing.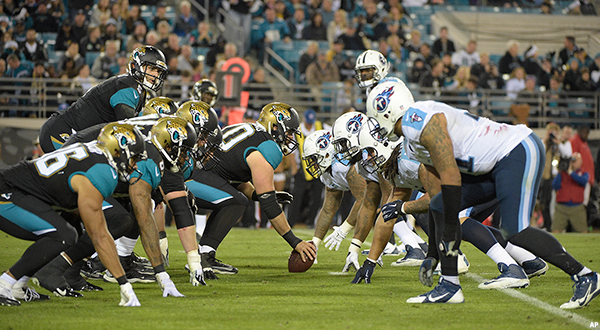 Tennessee Titans – Payout $6000 for every $100 bet
Winners of five of their last seven games, Tennessee is demonstrating they can beat just about anybody (witness a one-point last second come-from-behind victory in Kansas City this past Sunday).
The Titans defense gave up 17 points in the first half of their game against the Chiefs but shut them out in the second half.
In Week 16 they will face the lowly Jacksonville Jaguars on the road for a Christmas Eve showdown. 
The home team has won the last five in this series (Jacksonville hosted two of those).  Tennessee, however, is six of ten in the series. 
They'll have to win this game as Houston (tied with the Titans atop the AFC South) has gone 4-1 against Cincinnati in recent meetings dating back to 2011, a period in which the Bengals have been pretty good.  Not this season though and they will be playing in Houston.  A quarterback controversy for the Texans makes it a bit more difficult to peg Houston as the AFC South winners with two more weeks left. 
The Titans and Texans face off against one another in Week 17 at Tennessee.  Who could ever have imagined this would be a highly anticipated matchup entering the 2016 NFL season?
Should the Titans defeat the Jaguars, it would guarantee a chance to win the division by defeating the Texans in the finale.
Tampa Bay Bucs – Payout $8000 for every $100 bet
The Bucs lost to Dallas last week but were winners of five straight before that.  This is a solid and dangerous Bucs team that can still very much make the Playoffs, especially since they'll be facing a Saints team that has nothing to play for in Week 16.
Atlanta and Tampa face the same two division rivals the final two weeks (New Orleans and Carolina) and, as such, it's tough to see the Falcons (one game ahead of Tampa Bay) failing to take the division.
The Bucs win the NFC South if...
    They finish 2-0; Atlanta finishes 1-1
    They finish 1-1; Atlanta finishes 0-2
Other scenarios do look more likely, though losing one of their two remaining games will make things a little more difficult (still not impossible).  
The Bucs win the NFC Wild Card if:
    They finish 2-0; Green Bay finishes 1-1
    They finish 2-0; Detroit finishes 2-0
    They finish 2-0; Green Bay finishes 2-0; Detroit finishes 0-2
    They finish 2-0; Green Bay and Detroit both finish 1-1
Then, the Bucs win the NFC Wild Card if:
    They finish 1-1; Green Bay finishes 0-2
    They finish 1-1; Detroit finishes 0-2; Washington finishes 1-2
    They finish 1-1; Green Bay beats Detroit in Week 17; Washington finishes 0-2; Minnesota goes 2-0

Super Bowl 51 odds

Team

Opening odds

Week 1

Updated odds

New England Patriots

8-1

6-1

9-5

Dallas Cowboys

14-1

25-1

7-2

Seattle Seahawks

8-1

8-1

5

Pittsburgh Steelers

8-1

10-1

10

Oakland Raiders

50-1

20-1

12

Kansas City Chiefs

20-1

20-1

16

Atlanta Falcons

40-1

80-1

16

Green Bay Packers

10-1

8-1

16

New York Giants

40-1

18-1

20

Detroit Lions

40-1

60-1

40

Indianapolis Colts

20-1

20-1

50

Baltimore Ravens

30-1

30-1

50

Houston Texans

40-1

16-1

60

Tennessee Titans

50-1

80-1

60

Tampa Bay Buccaneers

50-1

80-1

80

Washington Redskins

40-1

25-1

80

Miami Dolphins

50-1

80-1

80

Denver Broncos

20-1

25-1

100

Minnesota Vikings

20-1

20-1

200

New Orleans Saints

40-1

80-1

300

Buffalo Bills

30-1

60-1

500

Carolina Panthers

12-1

12-1

1000

Arizona Cardinals

10-1

8-1

XXXX

Philadelphia Eagles

40-1

100-1

XXXX

San Diego Chargers

50-1

50-1

XXXX

Cincinnati Bengals

12-1

20-1

XXXX

Los Angeles Rams

50-1

100-1

XXXX

New York Jets

30-1

50-1

XXXX

Jacksonville Jaguars

50-1

50-1

XXXX

Chicago Bears

40-1

80-1

XXXX

San Francisco 49ers

60-1

200-1

XXXX

Cleveland Browns

200-1

200-1

XXXX
- Don Shapiro, Gambling911.com