After opening at Colts -13 as the road favorite, the Indianapolis Colts vs. St. Louis Rams line has started to move up towards -14.  It was already -14 at some of the recreational sportsbooks that encourage betting on the underdog.  Whether these books are daring enough to move the line beyond two touchdowns remains to be seen.  Wise guy books held on to the -13 and we even saw a -12 ½. 
Beted.com is one of the online sportsbooks still offering a -13 line but again this one is going to move up so bet it now.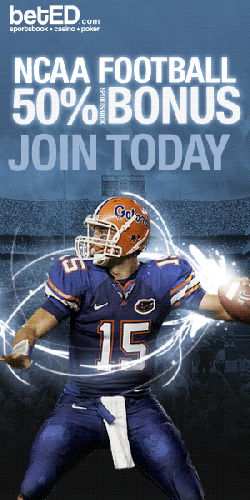 Against the Titans during Week 5,  Peyton Manning completed 36 of 44 passes for 309 yards and three touchdowns with one interception. Manning was a perfect 14 for 14 with 148 yards in the second quarter, and he has passed for 300+ yards in five straight regular season games.  That game allowed Indianapolis to come into their next game against St. Louis with a 5-0 record.  The Colts had a bye during Week 6.  They were ranked 2nd last week in Gambling911.com's NFL Rankings.
St. Louis nearly had their first win of the season against Jacksonville but failed to close the deal in overtime.
Nearly 100 percent of the betting volume was going the Colts way early on.  There will likely be over 90 percent of the betting action on Indianapolis when this game goes off Sunday.  This will be one of the most wagered on games of the week.
Click Here to Open an Online Betting Account With betED.com Today.  Receive a Free Cash Bonus Upon Joining
Ean Lamb, Gambling911.com