How About That Oregon-Auburn Over?
Published on:
Jan/11/2011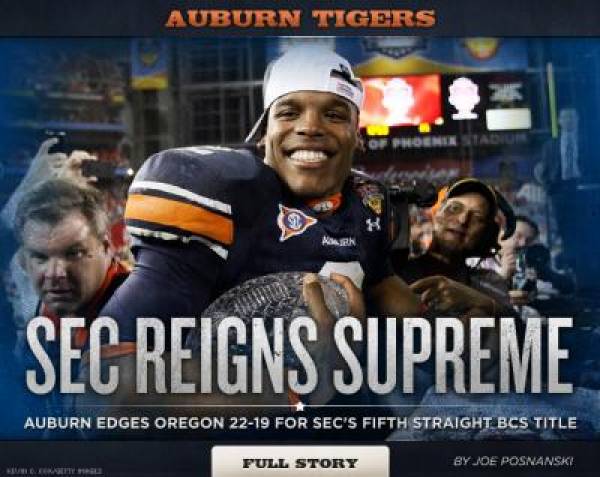 The 2011 BCS Championship game is now in the history books with an Auburn 3-point win. 
As predicted by Gambling911.com, this was a close game throughout.
Perhaps the most intriguing aspect of this game was the ridiculously high total that never came to fruition.
72.5, that was the total published by oddsmakers coming into the title game.  When all was said and done, a 22-19 final resulted in total points scored of just 41.
BetUS.com analyst Tim Furious got this one right.
"The oddsmakers are just begging you to take that over because these two teams are so high octane on offense," Furious noted prior to the game.
"Let's put things in perspective to that regard, because I think defense will have just as much of an impact on this game as the offenses led by Newton and James. Auburn's defense allowed 24.5 points per game with their highest point total against coming in a 64-43 win over Arkansas."
Gambling911.com had noted coming into this game that the majority of betting action at most books for the total was on the UNDER.
"It's not easy to lay so much money on a total that high regardless of how offensive-minded these two teams are believed to be," acknowledged Don Shapiro of Gambling911.
The bookies initially had this game at -3 in favor of Auburn.  Much of the past few weeks, the line had come in at -2.5 with most action on the Tigers.  Oddsmakers in Vegas were not anticipating a major hit on this game regardless of the outcome.
Jimmy Vaccaro, Director of Sports Operations and Public Relations at Lucky's Race and Sports Book, told Covers.com:  "The action is two-way so we're not really rooting one way or the other on this one – besides our futures. At the beginning of the season, we got some action on Oregon to win it at all 25-1. We listed Auburn around 35-1 but didn't really draw much action on them."
"We've had tremendous two-way action on this game since it went under the field goal spread," said Chuck Esposito, the Race and Sport Executive at the Venetian and Palazzo in Las Vegas.  But he added:  "Sharps were definitely betting Oregon at +3."
Auburn won its first national title since 1957.
- Christopher Costigan, Gambling911.com Publisher