Falcons vs. Saints Betting Line Steady at -3
Published on:
Sep/07/2013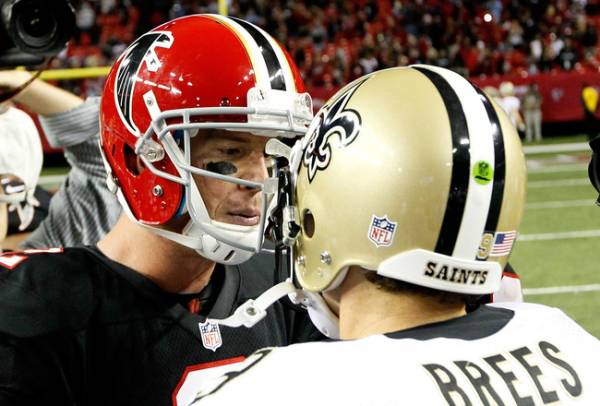 The Falcons vs. Saints betting line has not moved off of New Orleans -3 all week anywhere.  Now granted, when this line first opened, it was coming in at -2.5 and -3.5 at some books, including those in Vegas.  Claim your 100 percent cash bonus here by using promo code G911.  Get a $5 FREE PLAY just by providing your phone number.
Most experts agree that this New Orleans Saints team should be vastly improved over last year's squad as players – and the head coach – return from a year's long suspension over the so-called "Bountygate".  
This is a team that managed to go 7-5 down the stretch after their dismal start.  They also scored the most points in the league (461).
Where New Orleans was hurting is on defense and the franchise's inability to keep opponents out of the end zone.  The Saints allowed most points in the conference (454).  It gets worse in that their allowed yards of 7042 were the most in NFL history. 
New Orleans has made improvements in defense so this is a team that is more than capable of making it to the post season and perhaps another run at the Super Bowl.
Meanwhile, there is little to suggest that Atlanta will slide following their solid showing last season.
Now getting to the trends, New Orleans has won 7 of the last 9 in this series.  That sounds like a potentially easy play on the Saints.  It is not.  Instead, New Orleans should be played in a teaser or perhaps on the moneyline to win outright at -170 odds.  That's because, over the past 7 games, Atlanta has only lost by three points in five of those games and by four points in a loss last year (they won that single game). 
Another play to consider might be the OVER 54 as The OVER is 14-3 in Saints last 17 vs. NFC and 5-0 in the last 5 meetings in New Orleans.
Scroll Down For The Latest Week 1 NFL Odds...

WagerWeb.com Office in San Jose, Costa Rica.  The Calm Before the Storm of NFL Betting.
| | | | | | |
| --- | --- | --- | --- | --- | --- |
| Sep 08 | 453 | NE PATRIOTS | -10½-110 | o49½-110 |   |
| 1:00 PM | 454 | BUF BILLS | +10½-110 | u49½-110 |   |
| Sep 08 | 455 | TEN TITANS | +7-110 | o42-110 | +275 |
| 1:00 PM | 456 | PIT STEELERS | -7-110 | u42-110 | -335 |
| Sep 08 | 457 | ATL FALCONS | +3EV | o54-110 | +145 |
| 1:00 PM | 458 | NO SAINTS | -3-120 | u54-110 | -170 |
| Sep 08 | 459 | TB BUCCANEERS | -3-115 | o40-110 | -165 |
| 1:00 PM | 460 | NY JETS | +3-105 | u40-110 | +140 |
| Sep 08 | 461 | KC CHIEFS | -3½-110 | o41½-110 | -190 |
| 1:00 PM | 462 | JAX JAGUARS | +3½-110 | u41½-110 | +162 |
| Sep 08 | 463 | CIN BENGALS | +3-110 | o41½-110 | +135 |
| 1:00 PM | 464 | CHI BEARS | -3-110 | u41½-110 | -155 |
| Sep 08 | 465 | MIA DOLPHINS | PK-110 | o41½-110 |   |
| 1:00 PM | 466 | CLE BROWNS | PK-110 | u41½-110 |   |
| Sep 08 | 467 | SEA SEAHAWKS | -3-120 | o45-110 | -170 |
| 1:00 PM | 468 | CAR PANTHERS | +3EV | u45-110 | +145 |
| Sep 08 | 469 | MIN VIKINGS | +5-110 | o46½-110 | +189 |
| 1:00 PM | 470 | DET LIONS | -5-110 | u46½-110 | -225 |
| Sep 08 | 471 | OAK RAIDERS | +9½-110 | o46½-110 | +335 |
| 1:00 PM | 472 | IND COLTS | -9½-110 | u46½-110 | -425 |
| Sep 08 | 473 | ARI CARDINALS | +4½-110 | o41-110 | +182 |
| 4:25 PM | 474 | ST. LOUIS RAMS | -4½-110 | u41-110 | -215 |
| Sep 08 | 475 | GB PACKERS | +4½-110 | o48-110 | +182 |
| 4:25 PM | 476 | SF 49ERS | -4½-110 | u48-110 | -215 |
| Sep 08 | 477 | NY GIANTS | +3½-120 | o48½-110 | +160 |
| 8:30 PM | 478 | DAL COWBOYS | -3½EV | u48½-110 | -185 |
| Sep 09 | 479 | PHI EAGLES | +3+105 | o51-110 | +150 |
| 7:00 PM | 480 | WAS REDSKINS | -3-125 | u51-110 | -175 |
| Sep 09 | 481 | HOU TEXANS | -3½-110 | o43½-110 | -185 |
| 10:15 PM | 482 | SD CHARGERS | +3½-110 | u43½-110 | +160 |
-  Don Shapiro, Gambling911.com