Early SB Spreads, Chiefs' Streak Snapped and Burrow MVP
Published on:
Jan/25/2023
(January 25, 2023) - History is in the works as we head into Conference Championship weekend of the NFL Playoffs.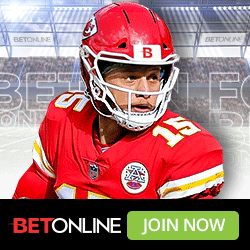 "In my 30 years in this business, I've never seen an NFL final four so tight in terms of the odds," Robert Cooper, Director of Trading at SportsBetting.ag, said. "You're talking about a margin of 50 cents (+250 for the favorite to +300 for the underdog) separating the Eagles from the Niners...and then the Bengals and Chiefs in between. It really is anyone's championship to win."
The Super Bowl LVII odds have expanded just a bit since Cooper gave that quote. Philadelphia has dropped to +240, Cincinnati is +250, the Chiefs are +280 and San Francisco has the highest odds at +310.
SportsBetting.ag opened look-ahead lines for all four potential Super Bowl matchups, and they range from a pick 'em to -2.
Bengals vs. 49ers (PK)
Chiefs vs. 49ers (PK)
Bengals vs. Eagles (-1.5)
Chiefs vs. Eagles (-2)
(Current conf. champ and SB LVII game odds can be seen on this page: https://www.sportsbetting.ag/sportsbook/football/nfl)
The Conference Championship spreads have been volatile since opening Sunday night. Philadelphia, currently a 2.5-point favorite over the Niners, got to as low as -1.5 earlier this week.
Kansas City opened as a 2.5-point favorite, but within two minutes on Sunday the spread had shifted to Cincy -1. Then it moved back to K.C. -1, but by Monday the Bengals were back to being 1-point favorites, which is where the line currently stands.
The Chiefs have been favorites in 14 consecutive playoff games, which is a record for the longest streak during the Super Bowl era. But that run looks to be coming to an end because of a bad ankle on the right leg of Patrick Mahomes.
"If Mahomes didn't have the high-ankle sprain, without a doubt the Chiefs would be favorites in the AFC Championship," Cooper said. "But this is a very serious injury, and no one is sure how effective he will or won't be, especially considering it's the right ankle, which he uses to push off with when throwing the ball. The Bengals may be the hottest team right now, but they would be underdogs against a healthy Mahomes on his home field."
Mahomes was initially installed as the SB LVII MVP favorite on Sunday night, but like the AFC spread, those odds have shifted toward Joe Burrow and the Bengals.
Super Bowl MVP
Joe Burrow                   +325
Jalen Hurts                   +375
Patrick Mahomes          +375
Brock Purdy                  +650
Christian McCaffrey       +1200
Ja'Maar Chase               +2000
Deebo Samuel              +2500
George Kittle                +2500
Travis Kelce                  +2500
AJ Brown                      +3300
Nick Bosa                      +3300
Devonta Smith              +5000