Ducks vs. Tigers Line at -1.5 Now
Published on:
Jan/10/2011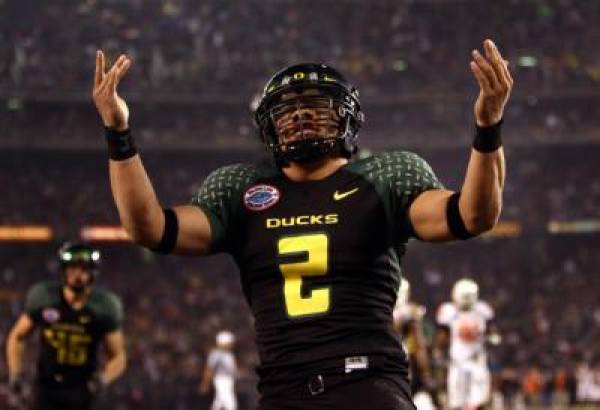 The Ducks vs. Tigers line has moved down to -1.5 at Sportsbook.com with a total of 72.5.   Odds initially opened at -3.  Auburn was the favorite in this BCS Championship game. 
Two of the six highest-scoring teams will do battle for the National Championship. The spotlight shines on the country's best QB (Cam Newton) and RB (LaMichael James), but it's the defenses that could determine the winner here. Oregon has the edge in this category, ranking 14th in scoring defense and 25th in total defense. Auburn checks in at 54th for both defensive categories. In a game of this magnitude, turnovers are always key, and Auburn simply doesn't hurt themselves with giveaways. The Tigers have only seven total giveaways in their past nine games, and have not had two turnovers in any game during this stretch. Oregon has been very turnover-prone in its high-powered offense with 2+ giveaways in eight of its past 10 contests.
Everybody knows how good Heisman Trophy winner Cam Newton is. He leads the nation in passing efficiency (188.16) with 28 touchdowns and just six interceptions. He has also rushed for 1,409 yards (5.8 YPC) and 20 scores, and even caught two passes for 42 yards and another touchdown. The Oregon quarterback, Darron Thomas, is not as well known, but his passing numbers are nearly identical to Newton with 28 TD and just seven interceptions. Like Newton, Thomas has also rushed for 5.8 YPC, and also like Newton, Thomas has played his best against the highest competition. In games against the other three Pac-10 teams that played this bowl season (Stanford, Arizona and Washington), Thomas was 58-for-86 (67%) for 629 yards, 7 TD and 3 INT. He also ran for 268 yards (8.1 YPC) and four touchdowns in those three games.
Both teams also feature top-notch running games. James leads the nation with 153 rushing YPG and his 22 touchdowns ties Nevada's Vai Taua for the most in the land. James has rushed for at least 120 yards and 2+ touchdowns in seven of his past eight games. Auburn does a nice job spreading out its carries to keep all their running backs fresh. Michael Dyer (950 yds, 5 TD), Onterio McCalebb (763 yds, 9 TD) and Mario Fannin (395 yds, 5 TD) all are capable of gaining yards on a strong Oregon run defense ranked 16th in the nation (118 YPG). Auburn ranks 11th in the country with 112 rushing YPG allowed.
Some say Auburn's numerous comebacks and close calls signify luck, but it's more a product of the Tigers not panicking. This mindset starts with the coach and extends to the QB who happens to be the best player in land. Oregon hasn't been tested much in a soft 4-bowl-bid conference, and when the Ducks were actually challenged against Cal, they needed a punt-return TD and a missed chip-shot FG to save their season. These two occurrences signify much more luck than Auburn erasing a 24-point deficit at Alabama and overcoming three other double-digit margins to eventual bowl teams (Clemson, Georgia, South Carolina). Auburn is 4-1 ATS in road/neutral games and 8-1 ATS against SEC teams this year. These numbers show that Auburn rises to the level of its competition, which has been the highest in the land.
Sportsbook.com opened Auburn -3 & the initial total was 74. Currently, just a shade under 70% of action on the spread is backing the favorite. 77% of action on the total is on the under.
- Carrie Stroup, Gambling911.com Senior Reporter