Color of Gatorade Betting Odds Super Bowl 2012
Published on:
Jan/29/2012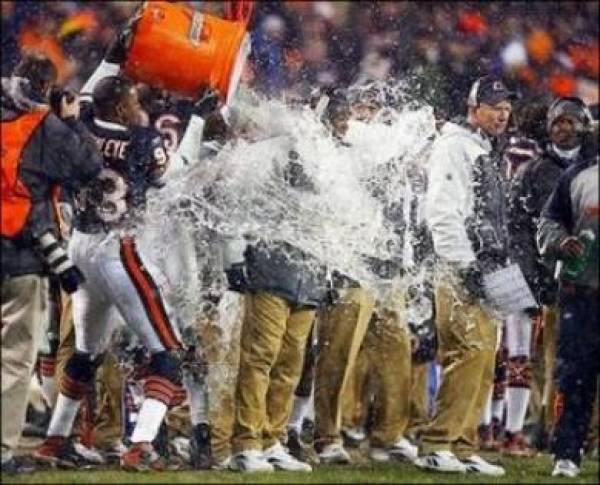 The color of the Gatorade, or whatever drink gets showered on the winning coach, betting odds for Super Bowl 2012 have been posted at BetDSI.com, serving the sports bettor since 1997 and offering up to $500 in FREE CASH based on initial deposit.   
The Gatorade color Super Bowl proposition is among the most popular each year, attracting plenty of action.
Clear pays $220 for every $100 bet while yellow pays $240.  The favorite is Orange, paying $210 for every $100 bet. 
From Wikipedia:
The Gatorade shower, also known as the Gatorade dunk and the Gatorade bath, is a sports tradition involving dumping a cooler full of liquid (most commonly Gatorade mixed with ice) over a coach's (or occasionally star player or owner's) head following a meaningful win. The tradition began with the New York Giants football team in the mid-80s. According to several sources, including Jim Burt of the Giants, it began on October 28, 1985, when Burt performed the action on Bill Parcells after being angered over the coach's treatment of him that week. Burt insisted that Harry Carson be the one to dump the Gatorade on Parcells, because he was a favorite and wouldn't get in trouble However, former Chicago Bears defensive tackle Dan Hampton claims he invented the shower in 1984 when the Bears dunked Mike Ditka upon clinching the NFC Central.  The phenomenon gained national attention in the 1986 Giants season. Parcells was doused after 17 victories that season, culminating with Super Bowl XXI.
COLOR OF DRINK DUMPED OVER WINNER COACH

21753

CLEAR/WATER

+220

21754

YELLOW

+240

21755

ORANGE

+210

21756

RED

+550

21757

GREEN

+600

21758

BLUE

+700
- Ean Lamb, Gambling911.com