Chile v Ecuador Copa America betting odds were available for 12 June, 2015.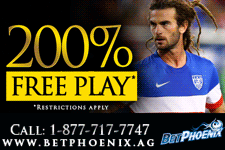 Equador comes into this one as a +750 underdog going up against a Chile team with their home field advantage listed at -183.  The Draw was coming in at +333.
Chile was seeing nearly 70 percent of the betting action coming into Friday.
World Cup runners-up Argentina start as favourites to win their first Copa America title in 22 years when this year's tournament kicks off in Chile in the early hours of Friday morning.
All odds courtesy of our friends at BetPhoenix.ag

COPA AMERICA 2015 OUTRIGHTS - Jun 11

06/11/2015 16:30:00

 

COPA AMERICA 2015 - ODDS TO WIN

 
 

60001

ARGENTINA

+200

 

60002

BRAZIL

+330

 

60003

CHILE

+400

 

60004

COLOMBIA

+550

 

60005

URUGUAY

+1400

 

60006

MEXICO

+2500

 

60007

ECUADOR

+3500

 

60008

PARAGUAY

+4500

 

60009

VENEZUELA

+7500

 

60010

PERU

+8500

 

60011

BOLIVIA

+20000

 

60012

JAMAICA

+50000

06/11/2015 16:30:00

 

COPA AMERICA - TOP GOALSCORER - ALL IN

 
 

60015

LIONEL MESSI

+330

 

60016

NEYMAR

+650

 

60017

SERGIO AGUERO

+800

 

60018

ALEXIS SANCHEZ

+1200

 

60019

RADAMEL FALCAO

+1400

 

60020

EDINSON CAVANI

+1400

 

60021

CARLOS TEVEZ

+1600

 

60022

GONZALO HIGUAIN

+1600

 

60023

CARLOS BACCA

+1600

 

60024

ROBERTO FIRMINO

+1600

 

60025

JACKSON MARTINEZ

+2000

 

60026

MARTINS DIEGO TARDELLI

+2000

 

60027

EDUARDO VARGAS

+2500

 

60028

JAMES RODRIGUEZ

+2500

 

60029

PHILLIPPE COUTINHO

+3300

 

60030

TEOFILO GUTIERREZ

+3300

 

60031

DE SOUZA ROBINHO

+3300

 

60032

DEIGO ROLAN

+3300

 

60033

ARTURO VIDAL

+4000

 

60034

ANGEL DI MARIA

+5000

 

60035

ENNER VALENCIA

+6600

 

60036

OTHERS UPON REQUEST

 

06/11/2015 16:30:00

 

COPA AMERICA - TEAM TO WIN GROUP A

 
 

60040

CHILE

-250

 

60041

MEXICO

+450

 

60042

ECUADOR

+450

 

60043

BOLIVIA

+2500

COPA AMERICA 2015 OUTRIGHTS - Jun 13

06/13/2015 12:00:00

 

COPA AMERICA - TEAM TO WIN GROUP B

 
 

60045

ARGENTINA

-350

 

60046

URUGUAY

+300

 

60047

PARAGUAY

+1400

 

60048

JAMAICA

+5000

COPA AMERICA 2015 OUTRIGHTS - Jun 14

06/14/2015 12:00:01

 

COPA AMERICA - TEAM TO WIN GROUP C

 
 

60050

BRAZIL

-165

 

60051

COLOMBIA

+175

 

60052

PERU

+1400

 

60053

VENEZUELA

+1400
- Alistair Prescott, Gambling911.com