Chiefs vs. Raiders Spread: Even Odds
Published on:
Nov/07/2010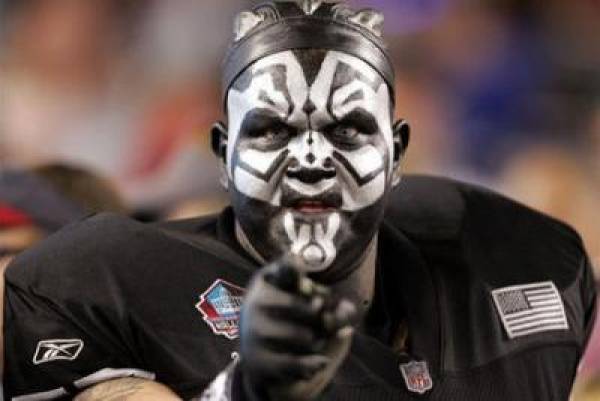 The Chiefs vs. Raiders spread is even across the board.  The line initially opened at Oakland -1.5 and had peaked at -3.  Considering how volatile the odds on this game have been all week, it's a wonder how the line has managed to settle at even just prior to game time the second half of Sunday afternoon.  Action on the PICK was also relatively even.
Close to 75 percent of those betting this game were riding the OVER 41.
Kansas City comes into this game an unlikely 5-2 as one of the NFL's biggest surprises this season. 
The AFC West-leading Chiefs will try to win their eighth straight road contest against the archrival Oakland Raiders, however, the Raiders may have other ideas.  Just a few weeks ago, they managed to beat San Diego at home, a team that had completely dominated Oakland in recent years.  The Raiders also manhandled Denver on the road a few weeks back. 
Oakland may be an even bigger surprise than the Chiefs at this point despite their 4-4 record. 
Last week, the Raiders racked up a season-high 545 yards in a 33-3 victory over Seattle on Sunday.
"It's been a lot of fun," offensive lineman Robert Gallery said Monday. "We haven't experienced this a whole lot in the past six, seven years around here. This is what it's supposed to be like."
The Raiders are now 4-0 Against The Spread in their last 4 games overall.  They are 4-1 ATS in their last 5 vs. AFC West.
One of the more staggering ATS stats and one that does give the Chiefs a tremendous betting edge coming into this game, despite Oakland's resurgence, is the fact that they are 14-4 Against The Spread versus Oakland since 1992.
The Chiefs have not been as dominant on the road, though this observation is not necessarily reflected in their road ATS record where they are 4-1. 
Kansas City is averaging nearly nine points fewer on the road while giving up 9.5 more per game away from home.
"You've got a lot of people who don't want you to win (on the road), who are doing everything they can to get you to not win, to get you to make mistakes," Haley said.
"To be a good team in this league and to eventually be a great team, you must win on the road."
The Chiefs are 7-2 ATS in their last 9 games overall, 6-2 ATS in their last 8 vs. AFC and 7-1 ATS on grass.
Bookmaker.com Chiefs vs. Raiders line history over the course of this week:
10/31/10 8:15:10 PM         -1.5/-110 (Open)         41 -110 (Open)
10/31/10 8:25:09 PM         -2.5/-110         41.5 -110
11/01/10 11:45:10 AM         -3/110         41.5 -110
11/01/10 1:35:09 PM         -3/110         40.5 -110
11/03/10 1:55:13 PM         -3/115         40.5 -110
11/03/10 4:05:10 PM         -2.5/-110         40.5 -110
11/03/10 5:05:10 PM         -2/-110         40.5 -110
11/05/10 2:15:15 PM         -1.5/-110         40.5 -110
11/05/10 2:25:16 PM         -1/-110         40.5 -110
11/05/10 6:25:14 PM         -1/-110         41 -110
11/06/10 7:45:10 PM         0/-110         41 -110
11/07/10 9:25:11 AM         0/-110         40.5 -110
- Ean Lamb, Gambling911.com