Broncos vs. Ravens Betting Line at Denver -3 at Sportsbook.com
Published on:
Dec/14/2012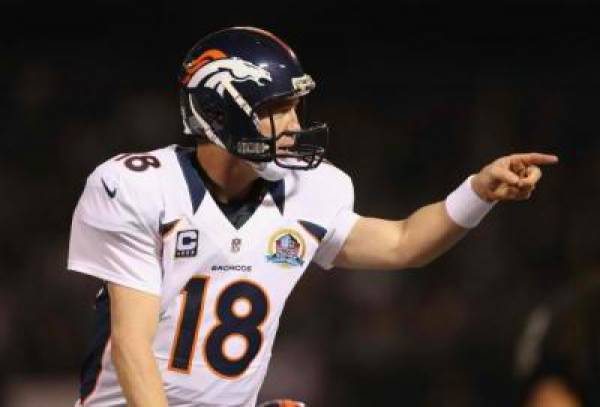 Carrie Stroup with your Broncos vs. Ravens betting line.  Bet this game at Sportsbook.com and receive up to $250 in FREE CASH. 

Sportsbook.ag Line & Total: Denver -3 & 48
Opening Line & Total: Broncos -3 & 48
Sizzling-hot Denver puts its eight-game win streak on the line when it visits Baltimore on Sunday afternoon.
The Ravens are in trouble, losing two straight, and getting beat by back-up quarterbacks both times. Now they face MVP favorite Peyton Manning, who has beaten them eight straight times when he was with the Colts. The Broncos had some issues in the red zone last week, scoring only 26 in Oakland, but they're still averaging 29.8 PPG and 402.6 YPG over their past 10 games (9-1 SU, 7-3 ATS). The good news for Baltimore is that its offense will now be run by new OC Jim Caldwell, Manning's former head coach, who will use a lot of hurry-up sets. The Ravens could also have LB Ray Lewis (triceps) back in the lineup for the first time since Week 6, and possibly LB Terrell Suggs (biceps) on the field as well. Baltimore sure needs them, considering it has allowed 400-plus yards in four of its past eight games. Manning will be only the second top quarterback the Ravens have seen this year; Tom Brady and the Patriots scored 30 in Baltimore in September. Teams coming off a game in which they scored and gave up more than 23 points on the road are 9-4 ATS since the midway point of this season and 77-37 ATS in the second half of the season since 2008. The Ravens have covered six of the seven games these teams have played each other since 2000, and they're 5-0 (both SU and ATS) at home against the Broncos during that same time frame, winning the five games by an average margin of victory of more than 17 points per game.
Manning's numbers during the eight-game ride are pretty impressive: 70% completions, 2,313 yards (289 YPG), 19 TD, 7 INT. He has also been excellent in his past eight starts versus the Ravens, throwing for 2,022 yards (253 YPG), 14 TD and 6 INT in these eight victories. And usually Baltimore has a top-notch defense, but this year's injury-depleted unit allows 376 total YPG (9th-most in NFL). A big reason for Manning's success this year has been the playmaking ability of Demaryius Thomas, who entered this week fifth in the NFL in receiving yards (1,197), second in 20-yard gains (23) and third in Yards After Catch (448). Teammate Eric Decker's 790 receiving yards and 8 TD have also been a huge help. Although the Broncos rank 20th in the NFL in rushing offense, they have found great success since Knowshon Moreno has taken over for injured Willis McGahee. Moreno has carried the football 72 times over the past three games, gaining 273 yards (3.8 YPC) on the ground plus another 88 yards through the air. He should be able to find holes in Baltimore's 25th-ranked run defense (130 YPG). The one Achilles heel for Denver's offense has been turnovers, as it has committed 23 turnovers this season. The Ravens are certainly capable of making plays, piling up 12 takeaways over the past six games.
Baltimore QB Joe Flacco was rumored to have clashed with ousted offensive coordinator Cam Cameron, so he should be much more comfortable under Caldwell, who was promoted from quarterbacks coach. Caldwell is expected to implement a faster pace of offense, similar to the first three games of the season when Flacco led his team to 98 points. He has been considerably better at home this season (100.7 rating, 8.7 YPA, 11 TD, 4 INT) than on the road (75.3 rating, 5.9 YPA, 7 TD, 5 INT), and has also been solid in two career starts versus Denver, completing 34-of-50 passes for 371 yards (7.4 YPA), 1 TD and 0 INT in two lopsided wins (30-7 in 2009 and 31-17 in 2010). Flacco's top WR Torrey Smith has also been much better in Baltimore (19.3 yds per catch, 6 TD) than on the road (15.8 YPC, 1 TD), but he'll likely be staring across the line of scrimmage at shutdown corner Champ Bailey for most of the afternoon. That could allow WR Anquan Boldin to continue his hot stretch of 159 receiving yards and 3 TD over the past two games. Denver's defense is solid throughout though, allowing just 216 passing YPG (7th in NFL) and 94 rushing YPG (6th in league). But Ravens RB Ray Rice has run roughshod over this defense in two career meetings, rumbling for 217 yards (4.3 YPC) and three touchdowns. The Ravens protect the ball very well, especially at home where they have totaled five giveaways in six games. But Denver has produced 39 sacks (T-2nd in NFL) and forced nine turnovers in the past five games.
- Carrie Stroup, Gambling911.com Senior Reporter