Broncos vs. Raiders Line - Monday Night Football
Published on:
Sep/22/2013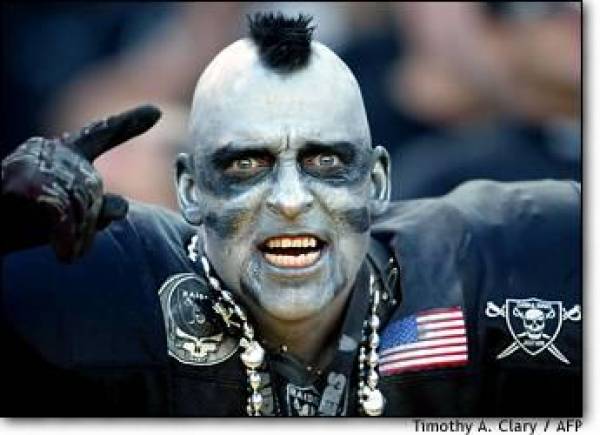 The Broncos vs. Raiders line for Monday Night Football was listed anywhere from -13 at the Mirage in Las Vegas to -16 at a handful of online sportsbooks.  Claim your 50 percent cash bonus here by using promo code G911.  Best online software, Mobile wagering available.  Get a $5 FREE PLAY just by providing your phone number.
70 percent of those betting this game were backing Denver here.
Denver has won the last three in this series, however, Oakland won the previous four games.  Assuming a line of +14.5 or greater, the Raiders covered the spread in two of their last three losses to the Broncos.
The Raiders are 6-1 ATS in their last 7 meetings in Denver and the road team is 8-2 ATS in their last 10 meetings.
The Raiders are 1-5 Against The Spread in their last 6 games following a Straight Up win.
Oakland has not fared well in Monday Night games, and we are talking Against The Spread here.  They are 2-8 ATS in their last 10 in the Monday night spotlight.
The Broncos are 6-1 ATS in their last 7 games overall.
Here are your Week 4 NFL lines:
NFL American Football - Thu 9/26

Game

Handicap

Money Line

Total Points

More

Thu 9/26

101

San Francisco 49ers

 

-3.5    2.000

 

Over 42    1.971

 

05:25 PM

102

St. Louis Rams

 

+3.5    1.909

 

Under 42    1.935
NFL American Football - Sun 9/29

Game

Handicap

Money Line

Total Points

More

Sun 9/29

201

Baltimore Ravens 

 

-3.5    2.040

 
 
 

10:00 AM

202

Buffalo Bills

 

+3.5    1.870

 
 

Sun 9/29

203

Cincinnati Bengals

 

-5    1.952

 

Over 41    1.917

 

10:00 AM

204

Cleveland Browns

 

+5    1.952

 

Under 41    1.990

Sun 9/29

205

Indianapolis Colts

 

-9.5    2.130

 

Over 43    1.980

 

10:00 AM

206

Jacksonville Jaguars

 

+9.5    1.800

 

Under 43    1.926

Sun 9/29

207

Seattle Seahawks

 

-3    2.140

 

Over 43    1.971

 

10:00 AM

208

Houston Texans

 

+3    1.794

 

Under 43    1.935

Sun 9/29

209

Arizona Cardinals

 

+2.5    2.110

 

Over 40.5    1.952

 

10:00 AM

210

Tampa Bay Buccaneers

 

-2.5    1.813

 

Under 40.5    1.952

Sun 9/29

213

New York Giants

 

+3.5    1.971

 

Over 44    1.952

 

10:00 AM

214

Kansas City Chiefs

 

-3.5    1.935

 

Under 44    1.952

Sun 9/29

215

New York Jets

 

+4.5    1.952

 
 
 

01:05 PM

216

Tennessee Titans

 

-4.5    1.952

 
 

Sun 9/29

217

Dallas Cowboys

 

-1    1.870

 

Over 45.5    1.952

 

01:25 PM

218

San Diego Chargers

 

+1    2.040

 

Under 45.5    1.952

Sun 9/29

221

Philadelphia Eagles

 

+10    1.855

 
 
 

01:25 PM

222

Denver Broncos

 

-10    2.060

 
 

Sun 9/29

223

New England Patriots

 

0    1.877

 

Over 49    1.909

 

05:30 PM

224

Atlanta Falcons

 

0    2.030

 

Under 49    2.000
NFL American Football - Mon 9/30

Game

Handicap

Money Line

Total Points

More

Mon 9/30

225

Miami Dolphins

 

+5.5    2.000

 

Over 47    1.952

 

05:40 PM

226

New Orleans Saints

 

-5.5    1.909

 

Under 47    1.952
- Tyrone Black, Gambling911.com