Where to Watch, Bet the Super Bowl in Charlotte NC?
Published on:
Feb/11/2023
Whether it's a Super Bowl watch party or simply wanting a seat at the local bar, these Charlotte NC area venues are sure to please.  Have your smart phone available for betting.  While none of these establishments offer wagering on the big game, you can open your betting account at BetOnline here.
Super Bowl 2023
Queen Park Social 4125 Yancey Road Charlotte, NC 28217
$0 to $299
Join us at Queen Park Social for this year's Super Bowl LVII! We will have lanes, games and buckets (both wings and beer!) all night long!
Legion Brewing South Park 5610 Carnegie Boulevard Charlotte, NC 28209
$55 general admission
Your Ticket Includes: • A buffet of gourmet appetizers
• A pint of beer or glass of wine
• Access to the private bar and viewing area upstairs
• Games and activities
• Gratuity for Legion SouthPark's team built into the ticket price
Catawba Two Kings Casino - 538 Kings Mountain Blvd, Kings Mountain, NC 28086
This venue is limited.
The new sportsbook is open and betting on this year's Super Bowl is available.  Certain props only available via your mobile device at BetOnline (i.e. National Anthem, Halftime Show, etc..)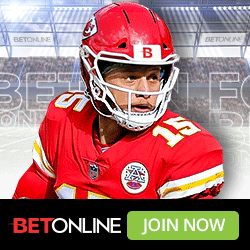 Sampling of Super Bowl 2023 Prop Bets
Rot     Winning Margin     Moneyline
1049     Chiefs to win by 1-6 pts         +310
1050     Chiefs to win by 7-12 pts         +550
1051     Chiefs to win by 13-18 pts         +850
1052     Chiefs to win by 19-24 pts         +1600
1053     Chiefs to win by 25-30 pts         +3300
1054     Chiefs to win by 31-36 pts         +5000
1055     Chiefs to win by 37-42 pts         +9000
1056     Chiefs to win by 43 or More pts         +10000
1057     Eagles to win by 1-6 pts         +270
1058     Eagles to win by 7-12 pts         +450
1059     Eagles to win by 13-18 pts         +750
1060     Eagles to win by 19-24 pts         +1400
1061     Eagles to win by 25-30 pts         +2500
1062     Eagles to win by 31-36 pts         +4500
1063     Eagles to win by 37-42 pts         +7500
1064     Eagles to win by 43 or More pts         +10000
Rot     Total Sacks in the Game     Moneyline
1159     0         +3300
1160     1         +1600
1161     2         +700
1162     3         +450
1163     4         +350
1164     5         +325
1165     6         +350
1166     7 or more         +325
Rot     Patrick Mahomes (KC) Exact Passing Touchdowns     Moneyline
5001     Exactly 0         +700
5002     Exactly 1         +275
5003     Exactly 2         +225
5004     Exactly 3         +330
5005     Exactly 4         +650
5006     5+         +900
Must Start for Action.
Rot     Jalen Hurts (PHI) Exact Passing Touchdowns     Moneyline
5011     Exactly 0         +380
5012     Exactly 1         +175
5013     Exactly 2         +225
5014     Exactly 3         +475
5015     Exactly 4         +800
5016     5+         +2800
Must Start for Action.
Rot     Patrick Mahomes (KC) Exact Passing Yards     Moneyline
5021     0-174         +1000
5022     175-199         +1200
5023     200-224         +850
5024     225-249         +650
5025     250-274         +550
5026     275-299         +500
5027     300-324         +550
5028     325-349         +650
5029     350-374         +900
5030     375-399         +1300
5031     400-424         +2200
5032     425+         +2200
Must Start for Action.
Rot     Jalen Hurts (PHI) Exact Passing Yards     Moneyline
5041     0-174         +550
5042     175-199         +400
5043     200-224         +350
5044     225-249         +400
5045     250-274         +550
5046     275-299         +750
5047     300-324         +1100
5048     325-349         +1800
5049     350-374         +2800
5050     375-399         +5000
5051     400-424         +10000
5052     425+         +15000
- Dan Shapiro, Gambling911.com