The payout potential when you bet the Margin of Victory in any Super Bowl can be significant.
Pricing is typically around the same for each year's Super Bowl Margin of Victory ranges.
Below we have the Super Bowl 2018 Margin of Victory pricing odds and underneath that we have a little fun looking at past Super Bowl MOV payments using these odds.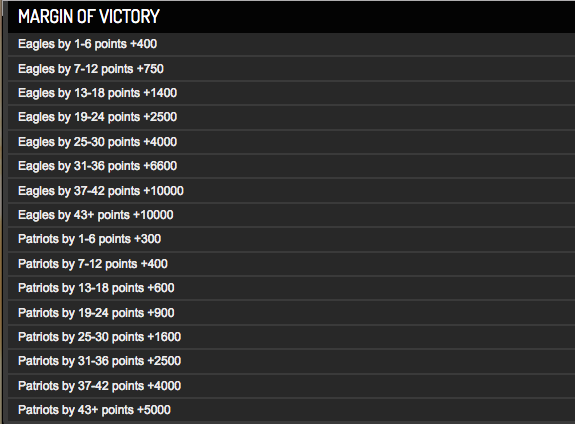 Now let's look at the last ten Super Bowls and what those would have paid with the Margin of Victory prop assuming these same prices.
2017 - Patriots 6 point win (payout $300 for every $100 bet)
2016 - Broncos 14 point win (payout $600 for every $100 bet)
2015 - Patriots 4 point win (payout $300 for every $100 bet)
2014 - Seattle 35 point win (payout $6600 for every $100 bet) *Seahawks were the underdog
2013 - Ravens 3 point win (payout $400 for every $100 bet) *49ers were the underdog
2012 - Giants 4 point win (payout $400 for every $100 bet) *Giants were the underdog
2011 - Packers 6 point win (payout $300 for every $100 bet)
2010 - Saints 14 pint win (payout $1400 for every $100 bet) *Saints were the underdog
2009 - Steelers 4 point win (payout $300 for every $100 bet)
2008 - Giants 3 point win (payout $400 for every $100 bet) *Giants were the underdog
Bookmaker is offering hundreds of Super Bowl 52 betting props here
- Don Shapiro, Gambling911.com