Andrew Luck Daily Fantasy Football Outlook – 2015
Published on:
Jun/30/2015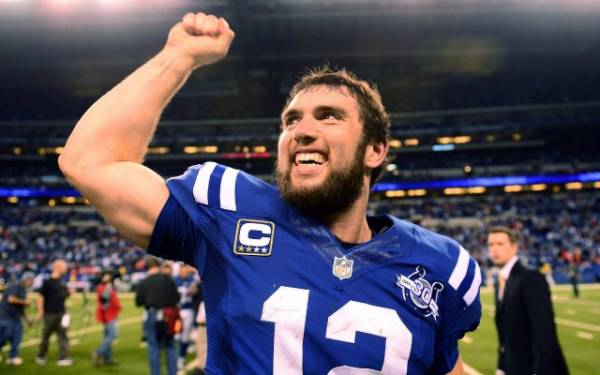 Gambling911.com has your Andrew Luck Daily Fantasy Football profile for the 2015 season. 
The Colts were very big favorites to win 11 or more regular season games in 2015.  Luck, who regularly ranked among the top three Fantasy quarterbacks last season, scored over 20 Fantasy points in all but four regular season games in 2015.  The lack of defensive bolstering during the offseason means a continued reliance on Luck and the high-powered offense.
For whatever the reason, Luck stumbled a bit the final weeks last season. 
One common denominator over the past few years has been Luck's lack of success against the Titans.  Last year, Luck scored 20.7 Fantasy points on the road against the Titans and just 14.2 Fantasy points against them at home.   In six of the first nine games of the season, Luck scored better than 23 Fantasy points.  He had similar results the year before.
Luck has enjoyed great success against Denver in recent games.  He has also managed to score over 24 Fantasy points against Cincinnati in the last three meetings. 
Scroll Down For The Regular Season Totals Betting Odds For All NFL Teams

NFL REGULAR SEASON WINS - Sep 13

09/13/2015

10301

ARI CARDINALS REG SEASON WINS

 

o8½-120

 

10:00:01

10302

ARI CARDINALS REG SEASON WINS

 

u8½-110

 

09/13/2015

10303

ATL FALCONS REG SEASON WINS

 

o8-145

 

10:00:01

10304

ATL FALCONS REG SEASON WINS

 

u8+115

 

09/13/2015

10305

BAL RAVENS REG SEASON WINS

 

o9-115

 

10:00:01

10306

BAL RAVENS REG SEASON WINS

 

u9-115

 

09/13/2015

10309

CAR PANTHERS REG SEASON WINS

 

o8½+110

 

10:00:01

10310

CAR PANTHERS REG SEASON WINS

 

u8½-140

 

09/13/2015

10311

CHI BEARS REG SEASON WINS

 

o7+125

 

10:00:01

10312

CHI BEARS REG SEASON WINS

 

u7-155

 

09/13/2015

10313

CIN BENGALS REG SEASON WINS

 

o8½-130

 

10:00:01

10314

CIN BENGALS REG SEASON WINS

 

u8½EV

 

09/13/2015

10315

CLE BROWNS REG SEASON WINS

 

o6-125

 

10:00:01

10316

CLE BROWNS REG SEASON WINS

 

u6-105

 

09/13/2015

10317

DAL COWBOYS REG SEASON WINS

 

o9½-135

 

10:00:01

10318

DAL COWBOYS REG SEASON WINS

 

u9½+105

 

09/13/2015

10319

DEN BRONCOS REG SEASON WINS

 

o10½EV

 

10:00:01

10320

DEN BRONCOS REG SEASON WINS

 

u10½-130

 

09/13/2015

10321

DET LIONS REG SEASON WINS

 

o8½+110

 

10:00:01

10322

DET LIONS REG SEASON WINS

 

u8½-140

 

09/13/2015

10323

GB PACKERS REG SEASON WINS

 

o10½-145

 

10:00:01

10324

GB PACKERS REG SEASON WINS

 

u10½+115

 

09/13/2015

10325

HOU TEXANS REG SEASON WINS

 

o8½-125

 

10:00:01

10326

HOU TEXANS REG SEASON WINS

 

u8½-105

 

09/13/2015

10327

IND COLTS REG SEASON WINS

 

o10½-165

 

10:00:01

10328

IND COLTS REG SEASON WINS

 

u10½+135

 

09/13/2015

10329

JAC JAGUARS REG SEASON WIN

 

o5½-145

 

10:00:01

10330

JAC JAGUARS REG SEASON WIN

 

u5½+115

 

09/13/2015

10331

KC CHIEFS REG SEASON WINS

 

o8½-120

 

10:00:01

10332

KC CHIEFS REG SEASON WINS

 

u8½-110

 

09/13/2015

10335

MIN VIKINGS REG SEASON WINS

 

o7½-145

 

10:00:01

10336

MIN VIKINGS REG SEASON WINS

 

u7½+115

 

09/13/2015

10341

NO SAINTS REG SEASON WINS

 

o8½-135

 

10:00:01

10342

NO SAINTS REG SEASON WINS

 

u8½+105

 

09/13/2015

10343

NY GIANTS REG SEASON WINS

 

o8-135

 

10:00:01

10344

NY GIANTS REG SEASON WINS

 

u8+105

 

09/13/2015

10347

OAK RAIDERS REG SEASON WINS

 

o5½+105

 

10:00:01

10348

OAK RAIDERS REG SEASON WINS

 

u5½-135

 

09/13/2015

10349

PHI EAGLES REG SEASON WINS

 

o9½-105

 

10:00:01

10350

PHI EAGLES REG SEASON WINS

 

u9½-125

 

09/13/2015

10351

PIT STEELERS REG SEASON WINS

 

o8½-120

 

10:00:01

10352

PIT STEELERS REG SEASON WINS

 

u8½-110

 

09/13/2015

10353

SD CHARGES REG SEASON WINS

 

o8½-115

 

10:00:01

10354

SD CHARGES REG SEASON WINS

 

u8½-115

 

09/13/2015

10355

SF 49ERS REG SEASON WINS

 

o7-110

 

10:00:01

10356

SF 49ERS REG SEASON WINS

 

u7-120

 

09/13/2015

10357

SEA SEAHAWKS REG SEASON WINS

 

o11-130

 

10:00:01

10358

SEA SEAHAWKS REG SEASON WINS

 

u11EV

 

09/13/2015

10359

STL RAMS REG SEASON WINS

 

o8+110

 

10:00:01

10360

STL RAMS REG SEASON WINS

 

u8-140

 

09/13/2015

10361

TB BUCCANEERS REG SEASON WINS

 

o5½-145

 

10:00:01

10362

TB BUCCANEERS REG SEASON WINS

 

u5½+115

 

09/13/2015

10363

TEN TITANS REG SEASON WINS

 

o5½-120

 

10:00:01

10364

TEN TITANS REG SEASON WINS

 

u5½-110

 

09/13/2015

10365

WAS REDSKINS REG SEASON WINS

 

o6-115

 

10:00:01

10366

WAS REDSKINS REG SEASON WINS

 

u6-115

 
- Mary Montgomery, Gambling911.com