Our friends at BetPhoenix have dozens of AFC Championship Game 2016 betting props for Sunday's game, which kicks off just after 3 pm EST.  Remember, you can bet this game LIVE IN-PLAY here.
Some of the many props included first scoring play, winning margin, quarter betting, first to score a touchdown, which team to score first, total sacks and so much more.
Scroll down for all of today's AFC Championship 2016 betting props.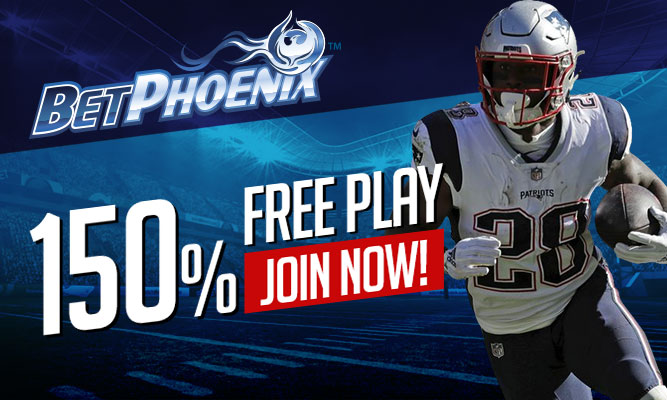 NFL PROPS 2 - Jan 24

01/24/2016 12:00:00

 

FIRST SCORING PLAY

 
 

31201

PATRIOTS TD    

+150

 

31202

PATRIOTS FG    

+300

 

31203

PATRIOTS ANY OTHER SCORE    

+3300

 

31204

BRONCOS TD    

+185

 

31205

BRONCOS FG    

+350

 

31206

BRONCOS ANY OTHER SCORE    

+3300

01/24/2016 12:00:00

 

1ST HALF AND FULL GAME RESULTS. OT NOT INCLUDED

 
 

31211

PATRIOTS/PATRIOTS    

EV

 

31212

PATRIOTS/TIE    

+2500

 

31213

PATRIOTS/BRONCOS    

+650

 

31214

TIE/PATRIOTS    

+1500

 

31215

TIE/TIE    

+3000

 

31216

TIE/BRONCOS    

+1600

 

31217

BRONCOS/PATRIOTS    

+600

 

31218

BRONCOS/TIE    

+2500

 

31219

BRONCOS/BRONCOS    

+200

01/24/2016 12:00:00

 

WINNING MARGIN

 
 

31221

PATRIOTS TO WIN BY 1-3 PTS    

+500

 

31222

PATRIOTS TO WIN BY 4-6 PTS    

+750

 

31223

PATRIOTS TO WIN BY 7-10 PTS    

+500

 

31224

PATRIOTS TO WIN BY 11-13 PTS    

+1000

 

31225

PATRIOTS TO WIN BY 14-17 PTS    

+850

 

31226

PATRIOTS TO WIN BY 18-21 PTS    

+1200

 

31227

PATRIOTS TO WIN BY 22 OR MORE PTS    

+500

 

31228

BRONCOS TO WIN BY 1-3 PTS    

+800

 

31229

BRONCOS TO WIN BY 4-6 PTS    

+1000

 

31230

BRONCOS TO WIN BY 7-10 PTS    

+950

 

31231

BRONCOS TO WIN BY 11-13 PTS    

+2000

 

31232

BRONCOS TO WIN BY 14-17 PTS    

+1500

 

31233

BRONCOS TO WIN BY 18-21 PTS    

+2000

 

31234

BRONCOS TO WIN BY 22 OR MORE PTS    

+1200

01/24/2016 12:00:00

 

PATRIOTS @ BRONCOS - HIGHEST SCORING QUARTER

 
 

31241

1ST QUARTER    

+450

 

31242

2ND QUARTER    

+145

 

31243

3RD QUARTER    

+400

 

31244

4TH QUARTER    

+225

 

31245

TIE    

+700

01/24/2016 12:00:00

 

PATRIOTS @ BRONCOS - TOTAL POINTS SCORED

 
 

31251

00-14 POINTS    

+3500

 

31252

15-21 POINTS    

+1400

 

31253

22-28 POINTS    

+650

 

31254

29-35 POINTS    

+400

 

31255

36-42 POINTS    

+300

 

31256

43-49 POINTS    

+350

 

31257

50-56 POINTS    

+400

 

31258

57-63 POINTS    

+650

 

31259

64-70 POINTS    

+1000

 

31260

71-77 POINTS    

+2000

 

31261

78 OR MORE POINTS    

+2000

01/24/2016 12:00:00

 

TO SCORE 1ST TOUCHDOWN - ALL IN

 
 

31271

STEVEN JACKSON (NE)

+1200

 

31272

JAMES WHITE (NE)

+1200

 

31273

BRANDON BOLDEN (NE)

+2000

 

31274

JULIAN EDELMAN (NE)

+700

 

31275

DANNY AMENDOLA (NE)

+2000

 

31276

BRANDON LAFELL (NE)

+1600

 

31277

KESHAWN MARTIN (NE)

+5000

 

31278

ROB GRONKOWSKI (NE)

+500

 

31279

SCOTT CHANDLER (NE)

+3000

 

31280

TOM BRADY (NE)

+3000

 

31281

RONNIE HILLMAN (DEN)

+850

 

31282

C.J. ANDERSON (DEN)

+1000

 

31283

DEMARYIUS THOMAS (DEN)

+900

 

31284

EMMANUEL SANDERS (DEN)

+900

 

31285

JORDAN NORWOOD (DEN)

+4000

 

31286

ANDRE CALDWELL (DEN)

+5000

 

31287

CODY LATIMER (DEN)

+5000

 

31288

VERNON DAVIS (DEN)

+4000

 

31289

OWEN DANIELS (DEN)

+1600

 

31290

PEYTON MANNING (DEN)

+5000

 

31291

NEW ENGLAND D/ST

+1200

 

31292

DENVER D/ST

+1500

 

31293

NO TD SCORED

+10000

NFL PROPS - Jan 24

PATRIOTS @ BRONCOS
NFL PROPS

01/24/2016

31101

PATRIOTS SCORE FIRST

 
 

-135

12:00:00

31102

BRONCOS SCORE FIRST

 
 

+105

01/24/2016

31105

YES - SCORE 1ST 7½ MINS

 
 

-165

12:00:00

31106

NO - SCORE 1ST 7½ MINS

 
 

+135

01/24/2016

31107

TOUCHDOWN 1ST SCORE

 
 

-160

12:00:00

31108

FIELD GOAL OR SAFETY 1ST SCORE

 
 

+130

01/24/2016

31113

FIRST HALF POINTS

 
 

-105

12:00:00

31114

SECOND HALF + OT POINTS

 
 

-125

01/24/2016

31115

TOTAL FIELD GOALS MADE

 

o3½+120

 

12:00:00

31116

TOTAL FIELD GOALS MADE

 

u3½-150

 

01/24/2016

31117

LONGEST FIELD GOAL MADE

 

o45½-135

 

12:00:00

31118

LONGEST FIELD GOAL MADE

 

u45½+105

 

01/24/2016

31119

TOTAL QB SACKS MADE

 

o5-140

 

12:00:00

31120

TOTAL QB SACKS MADE

 

u5+110

 

01/24/2016

31121

TOTAL PUNTS MADE

 

o10½-105

 

12:00:00

31122

TOTAL PUNTS MADE

 

u10½-125

 

01/24/2016

31123

YES-TEAM SCR 3 UNASWERED TIMES

 
 

-200

12:00:00

31124

NO- TEAM SCR 3 UNASWERED TIMES

 
 

+160

01/24/2016

31125

YES DEFENSIVE/SPECIAL TEAMS TD

 
 

+160

12:00:00

31126

NO DEFENSIVE/SPECIAL TEAMS TD

 
 

-200

01/24/2016

31127

GAME WILL GO INTO OT

 
 

+700

12:00:00

31128

GAME WONT GO INTO OT

 
 

-1250

01/24/2016

31129

YES - TEAM SCR 1ST WIN GAME

 
 

-175

12:00:00

31130

NO - TEAM SCR 1ST WIN GAME

 
 

+145

01/24/2016

31131

TOUCHDOWNS SCORE

 

o5+120

 

12:00:00

31132

TOUCHDOWNS SCORE

 

u5-150

 

01/24/2016

31133

LONGEST TD IN THE GAME

 

o41½+115

 

12:00:00

31134

LONGEST TD IN THE GAME

 

u41½-145

 

01/24/2016

31135

PATRIOTS LONGEST TD

 
 

-140

12:00:00

31136

BRONCOS LONGEST TD

 
 

+110

01/24/2016

31137

PATRIOTS LONGEST FG

 
 

-130

12:00:00

31138

BRONCOS LONGEST FG

 
 

EV

01/24/2016

31139

NEW ENGLAND TD'S

 

o2½-125

 

12:00:00

31140

NEW ENGLAND TD'S

 

u2½-105

 

01/24/2016

31141

DENVER TD'S

 

o2½+145

 

12:00:00

31142

DENVER TD'S

 

u2½-175

 

01/24/2016

31143

NEW ENGLAND FG'S

 

o1½-130

 

12:00:00

31144

NEW ENGLAND FG'S

 

u1½EV

 

01/24/2016

31145

DENVER FG'S

 

o1½-110

 

12:00:00

31146

DENVER FG'S

 

u1½-120

 

01/24/2016

31147

PATRIOTS SCORE LAST

 
 

-115

12:00:00

31148

BRONCOS SCORE LAST

 
 

-115

01/24/2016

31149

PATRIOTS PENALIZED 1ST

 
 

-115

12:00:00

31150

BRONCOS PENALIZED 1ST

 
 

-115

01/24/2016

31151

PATRIOTS 1ST TIME OUT

 
 

-115

12:00:00

31152

BRONCOS 1ST TIME OUT

 
 

-115

01/24/2016

31153

PATRIOTS 1ST TD

 
 

-130

12:00:00

31154

BRONCOS 1ST TD

 
 

EV

01/24/2016

31201

PASSING YARDS

 

o280½-155

 

12:00:00

31202

PASSING YARDS

 

u280½+125

 

01/24/2016

31203

PASSING YARDS

 

o255½+145

 

12:00:00

31204

PASSING YARDS

 

u255½-175

 

01/24/2016

31205

COMPLETIONS

 

o22½+105

 

12:00:00

31206

COMPLETIONS

 

u22½-135

 

01/24/2016

31207

COMPLETIONS

 

o25½-130

 

12:00:00

31208

COMPLETIONS

 

u25½EV

 

01/24/2016

31209

TD PASSES

 

o2+110

 

12:00:00

31210

TD PASSES

 

u2-140

 

01/24/2016

31211

TD PASSES

 

o1½+135

 

12:00:00

31212

TD PASSES

 

u1½-165

 

01/24/2016

31213

PASS INTERCEPTIONS

 

o½-250

 

12:00:00

31214

PASS INTERCEPTIONS

 

u½+200

 

01/24/2016

31215

PASS INTERCEPTIONS

 

o½-130

 

12:00:00

31216

PASS INTERCEPTIONS

 

u½EV

 

01/24/2016

31217

PASS ATTEMPTS

 

o40½-170

 

12:00:00

31218

PASS ATTEMPTS

 

u40½+140

 

01/24/2016

31219

PASS ATTEMPTS

 

o38½-105

 

12:00:00

31220

PASS ATTEMPTS

 

u38½-125

 

01/24/2016

31221

RUSHING YARDS

 

o43½-120

 

12:00:00

31222

RUSHING YARDS

 

u43½-110

 

01/24/2016

31223

RUSHING YARDS

 

o55½-120

 

12:00:00

31224

RUSHING YARDS

 

u55½-110

 

01/24/2016

31225

RECEIVING YARDS

 

o34½-125

 

12:00:00

31226

RECEIVING YARDS

 

u34½-105

 

01/24/2016

31227

RECEIVING YARDS

 

o35½+120

 

12:00:00

31228

RECEIVING YARDS

 

u35½-150

 

01/24/2016

31229

RECEIVING YARDS

 

o75½-120

 

12:00:00

31230

RECEIVING YARDS

 

u75½-110

 

01/24/2016

31231

RECEIVING YARDS

 

o80½-110

 

12:00:00

31232

RECEIVING YARDS

 

u80½-120

 

01/24/2016

31233

RECEIVING YARDS

 

o10½+320

 

12:00:00

31234

RECEIVING YARDS

 

u10½-420

 

01/24/2016

31235

RECEIVING YARDS

 

o37½-120

 

12:00:00

31236

RECEIVING YARDS

 

u37½-110

 

01/24/2016

31237

RECEIVING YARDS

 

o74½-110

 

12:00:00

31238

RECEIVING YARDS

 

u74½-120

 

01/24/2016

31239

RECEIVING YARDS

 

o30½+105

 

12:00:00

31240

RECEIVING YARDS

 

u30½-135

 

01/24/2016

31241

RECEIVING YARDS

 

o73½-105

 

12:00:00

31242

RECEIVING YARDS

 

u73½-125

 

01/24/2016

31243

RECEPTIONS

 

o5½-140

 

12:00:00

31244

RECEPTIONS

 

u5½+110

 

01/24/2016

31245

RECEPTIONS

 

o3EV

 

12:00:00

31246

RECEPTIONS

 

u3-130

 

01/24/2016

31247

RECEPTIONS

 

o5½-105

 

12:00:00

31248

RECEPTIONS

 

u5½-125

 

01/24/2016

31249

RECEPTIONS

 

o4-105

 

12:00:00

31250

RECEPTIONS

 

u4-125

 

01/24/2016

31251

RECEPTIONS

 

o1½+440

 

12:00:00

31252

RECEPTIONS

 

u1½-640

 

01/24/2016

31253

RECEPTIONS

 

o7-175

 

12:00:00

31254

RECEPTIONS

 

u7+145

 

01/24/2016

31255

RECEPTIONS

 

o5-150

 

12:00:00

31256

RECEPTIONS

 

u5+120

 

01/24/2016

31257

RECEPTIONS

 

o3-120

 

12:00:00

31258

RECEPTIONS

 

u3-110

 

01/24/2016

31259

RECEPTIONS

 

o3-110

 

12:00:00

31260

RECEPTIONS

 

u3-120

 
- Don Shapiro, Gambling911.com