Published on:
Nov/21/2010
Carrie Stroup here with my 2010 Week 11 NFL picks.  Here I will provide you with the teams the public is going against (and I will be going for).  I will also be looking at key game trends that should favor sports bettors.
This week's public teams are:
Ravens at -11.5 getting 95 percent of the betting action.  They are the most wagered on team in the NFL.  Hate to bet on the Panthers, but at home getting 11.5 points and only 5 percent of the action, the Panthers look good in this situation.  I need to point out that the oddsmakers have moved this line dramatically throughout the week in order to encourage more action on Carolina so the books are concerned about taking a hit here.
I prefer the Rams getting +3 at home.  This line hasn't moved a bit all week even with 90 percent of the action on Atlanta.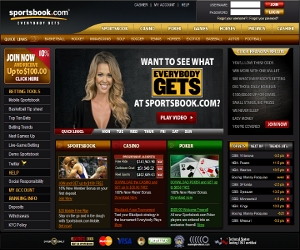 You can find Carrie Stroup at Sportsbook.com where 
you are eligible for $250 in FREE CASH.  Click on the
screen shot for more details under PROMOTIONS. 
 
The Packers getting between 75 percent and 80 percent of the action as a -3 favorite in Minnesota, I'll stop just short of going with the Vikings here since I prefer to pick teams that are getting closer to 20 percent or less public action.  Still, Minnesota might be considered.
For my 2010 Week 11 NFL picks, I will begin considering the more important trends for specific games.
The Oakland Raiders may be vastly improving but they are only 3-12 Against The Spread vs. AFC North teams on the road since 1992, and this isn't just any 'ol AFC North team playing at home, this is the Pittsburgh Steelers. Pittsburgh is 41-21 ATS as a home favorite of 3.5 to 7 points since 1992.  Like the Steelers at -7.
Tennessee is 15-4 ATS against the NFC East division since 1992 and the Redskins are playing at around .500, so no dominant team here to be sure.  Likewise, the Titans are 8-1 ATS in non-conference games over the last three seasons.  Gotta love the Titans at -7 here.
Cleveland vs. Jacksonville features an impressive stat against the Jaguars whereby they are just 2-12 ATS (-11.2 Units) off a division game over the last 3 seasons.  They are 2-12 ATS as a favorite over the last 3 seasons.  I'm not inclined to jump all over the Browns just yet.
New Orleans is 1-10 ATS as a favorite of 10 or more points since 1992.  But do we really want to bet on Seattle playing on the road?  Hmmmm
Philadelphia is an impressive15-4 in home games after playing on Monday night football since 1992.
- Carrie Stroup, Gambling911.com Senior Reporter