The 1st Half Margin of Victory bet prop for Super Bowl 50 was available from our good friends at BetOnline.
AD: Hundreds of Super Bowl Prop Bets and Get Up to $1000 in Free Bets Here
Additionally BetOnline was offering pricing on the Margin of Victory for the entire game.
Don't forget LIVE IN-PLAY BETTING is available right up to the final minute of Super Bowl 50.
All odds appear below.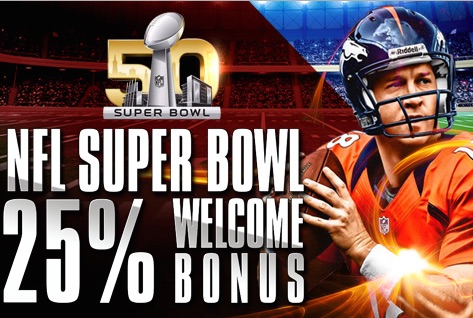 1st Half Margin of Victory

06:30 PM

6017

Carolina by 1 to 6 Points

 

+350

 

6018

Carolina by 7 to 12 Points

 

+350

 

6019

Carolina by 13 to 18 Points

 

+500

 

6020

Carolina by 19 to 24 Points

 

+1000

 

6021

Carolina by 25 or More Points

 

+2500

 

6022

Denver by 1 to 6 Points

 

+450

 

6023

Denver by 7 to 12 Points

 

+600

 

6024

Denver by 13 to 18 Points

 

+1400

 

6025

Denver by 19 to 24 Points

 

+2500

 

6026

Denver by 25 or More Points

 

+5000

 

6027

1st Half Tie

 

+800

 
Game Score

Margin of Victory

06:30 PM

6001

Carolina by 1 to 6 Points

 

+350

 

6002

Carolina by 7 to 12 Points

 

+350

 

6003

Carolina by 13 to 18 Points

 

+500

 

6004

Carolina by 19 to 24 Points

 

+800

 

6005

Carolina by 25 to 30 Points

 

+1400

 

6006

Carolina by 31 to 36 Points

 

+2000

 

6007

Carolina by 37 to 42 Points

 

+4000

 

6008

Carolina by 43 Points or More

 

+4000

 

6009

Denver by 1 to 6 Points

 

+400

 

6010

Denver by 7 to 12 Points

 

+700

 

6011

Denver by 13 to 18 Points

 

+1400

 

6012

Denver by 19 to 24 Points

 

+3300

 

6013

Denver by 25 to 30 Points

 

+6600

 

6014

Denver by 31 to 36 Points

 

+8000

 

6015

Denver by 37 to 42 Points

 

+10000

 

6016

Denver by 43 Points or More

 

+15000

 
- Ean Lamb, Gambling911.com