World Cup 2010 Betting Odds (Updated Wednesday)
Published on:
Jun/09/2010
The latest World Cup 2010 betting odds available at Sportsbetting.com (see website here) still has Spain as the co-favorite with Brazil, each paying 2/1 odds.
Michael J. Agovino of The Atlantic writes in regard to Spain:
The Spanish are famous for underachievement at World Cups. It's shocking when you think about it, but they only finished in the top four once, in 1950. But this team will go in as the favorite, which is almost always reserved for Brazil. Spain delighted purists with their impeccable display at the European Championships in 2008, the best performance since France of 1984.
Spain's style is based on an intricate, short passing, possession game, largely developed out of the FC Barcelona school, where so many of the national team players came up from and still play. It requires great skill with the ball, patience, an improvisational spirit, a tactical awareness, and a sense of whimsy.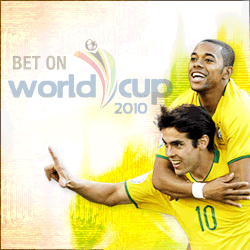 Under Dunga, Brazil trades style for substance, according to Juan Forero of the Washington Post.
What Brazil brings to the world stage this time is pragmatism, workmanlike teamwork, hustle. Ronaldinho, a temperamental star who at his best is perhaps the best in the world, did not make the cut. Instead, Carlos Caetano Bledorn Verri, the head coach better known as Dunga, has built a team on defense. Goalkeeper Julio Cesar, who excelled at Inter Milan, is the anchor, and among six sterling defensive midfielders will be tough enforcers such as Lucio and Maicon.
It is not pretty, say irked fans in Brazil, who place nearly as much importance on style as winning.
"We have stars here, but they must play together on the field because that is the most important thing," Dunga told reporters in late May. "We have to play as a team or we will not progress."
England has the third shortest odds at 3/1.
Fabio Capello showed the first signs he might be feeling a bit of pressure this morning, as he lost his temper with photographers at the England training camp.  He had become enraged that photographers were able to enter the building.
Other teams with single digit odds included France at 9/1, Germany at 6/1, Italy at 7/1, USA at 8/1 and Argentina at 5/1.
Don Shapiro, Gambling911.com