In a letter to investors on Wednesday, Boston-based investment management firm GMO co-founder Jeremy Grantham insisted that Bitcoin is a bubble.  He has correctly predicted the coming market downturns in 2007 and 2000, and now expects stocks will see their final leg higher in the next six to 24 months.

Bookmaker accepts most crypto-currencies
"Historical analogy suggests this junior bubble, by size, may well crash and burn even before the broad market peaks," he says.
Grantham also cites the bitcoin craze as one of the early signs that the stock market may be nearing the end of its years-long rally, and predicts stocks will see their final leg higher in the next six to 24 months.
"This is a true, crazy mini-bubble of its own I expect," Grantham said.
Bitcoin shot up from less than $1,000 at the start of 2017 to a record high above $19,800 in mid-December.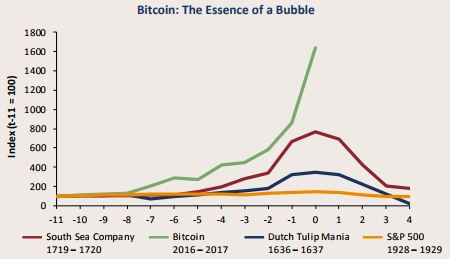 From CNBC.com:
In the letter, Grantham also included a chart illustrating how large and how rapid the bitcoin price surge has been in the last two years compared to other historical bubbles.
"As you can see, Bitcoin dwarfs even the legendary South Sea Bubble!" he said. "Having no clear fundamental value and largely unregulated markets, coupled with a storyline conducive to delusions of grandeur, makes this more than anything we can find in the history books the very essence of a bubble."
- Aaron Goldstein, Gambling911.com