Bovada Casino Adds Bitcoin Cash Transactions for Deposits and Withdrawals
Published on:
Nov/18/2017
In a post on its website, online sportsbook and casino brand Bovada announced its support for Bitcoin Cash as a new mode of payment for its players. This was largely in response to the fork in the Bitcoin blockchain that was implemented on August 1st of this year. By adding support for Bitcoin Cash or BCC/BCH, Bovada gives its players another cryptocurrency to use for wagering on their favorite casino games. It seems to be the first of Bitcoin cash casinos to exist and certainly more are expected to follow. Calvin Ayre is a major proponent of Bitcoin Cash as the better cryptocurrency compared to Bitcoin as he has said Bitcoin Cash has very low transaction speeds and for this reason is more appealing for players. At the moment, transfers with Bitcoin cost around $20 whereas Bitcoin Cash is just $0.42 at the time of writing.
Bitcoin Cash's creation was primarily a response to debates that were raging for years within the Bitcoin community. These discussions were primarily concerned about the best means/ways for Bitcoin to be available for more users. One of the proposed solutions to achieve this was to increase the Bitcoin codebase's Blocksize Limit parameter. The implementation of this change resulted in the hard fork in the Bitcoin Network that then led to the creation of Bitcoin Cash.
Difference between Bitcoin and Bitcoin Cash
From a regular cryptocurrency user's standpoint, there's very little difference between Bitcoin and Bitcoin Cash. The increased block size limit on Bitcoin Cash just means that it can process more transactions. With Bitcoin's 1 MB block size limit, transactions amount to more or less 250000 on a daily basis. Since it has a larger 8 MB block size limit, Bitcoin Cash can accommodate 8X more transactions (about 2 million per day) compared to BTC. How does this affect someone using the cryptocurrency then? Well, since the BCC protocol allows for more transactions to be processed, users can expect faster payments and lower fees.
BTC and BCC/BCH Exchange rates
Another major difference between Bitcoin and Bitcoin Cash is their current valuation. Since it's been around longer, BTC has a higher valuation as opposed to BCC/BCH. At one point, the value for 1 BTC managed to hit the $8000 mark before tapering off to its current $7746.84 valuation as seen on wallet21.com. As for BCC/BCH, it managed to top $3000 though it has since dropped down to $1249.4 for 1 BCC/BCH. While its valuation is currently lower than that of Bitcoin, there is speculation that Bitcoin Cash's value will continue to increase.
SCROLL DOWN FOR MORE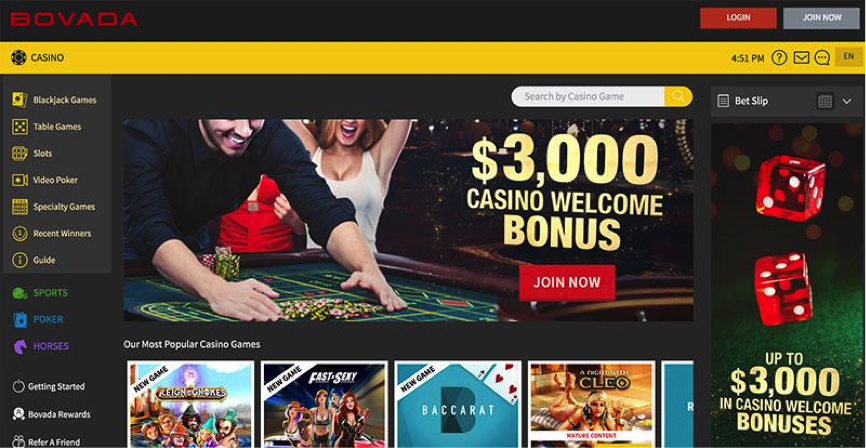 Players who had a Bitcoin balance in their cryptocurrency wallet likely had an equal amount of Bitcoin Cash after the BCC/BCH fork in August. This means that if you had 1 BTC in your wallet then you'd also get 1 BCC/BCH after the fork. By providing support for BCC/BCH, Bovada gives players an opportunity to use this new cryptocurrency. Additionally, the online casino and sportsbook has incentivized the use of the cryptocurrency by giving players who deposit using their Bitcoin Cash balance generous bonus offers. For players who registered for the Poker and Sports section, the online casino and sportsbook will give a 100% match bonus that can go up to $500 (in Bitcoin cash value). As for the casino section bonus, the online casino has 150% match bonus for players that can go as high as $1500 (or its equivalent value in Bitcoin Cash). The Bovada Casino bonus code for the new bonus is NEWWELCOME and of course for new players only.