CoinDesk.com on Friday examined the wild ride the crypto-currency Bitcoin has taken during 2017 with the price hovering between $930 and $970 at the start of the new year.
China Crackdown and the SEC Decision
CoinDesk points to a few key variables likely responsible for the price boost.  These included The People's Bank of China tightening oversight of that country's exchanges back in January.
The warnings from Chinese officials didn't cause the market death blow that some observers feared.
Back in March, the U.S. Securities and Exchange Commission (SEC) rejected  the filing by investors Cameron and Tyler Winklevoss  to launch a bitcoin exchange-traded fund and this sent the price of Bitcoin tanking 30% before fully recovering days later. 
Scroll Down For More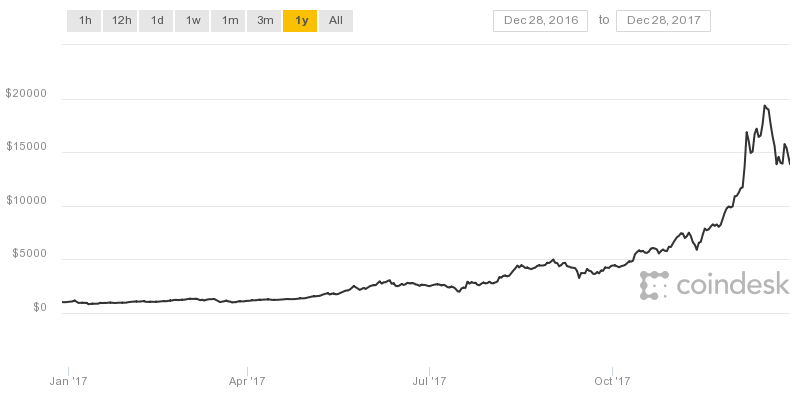 Summer of the Bulls
Bitcoin's fast rise took place over the summer, a period CoinDesk.com refers to as "The Summer of the Bulls".
If there was one phrase to define the period between May and September of this year, it was this: a new all-time high for bitcoin.
The cryptocurrency's price pushed past each successive milestone with apparent ease, including one on May 1 that saw bitcoin break past a record set on an infamous and now-defunct exchange.
This summer also saw significant activity around initial coin offerings, as shown by data in CoinDesk's ICO Tracker, leading one observer to dub it "the summer of crypto love."
Perhaps one of the most noteworthy developments was the entry of major Wall Street analysts to the bitcoin price-watching game. Goldman Sach's Sheba Jafari notably predicted the move past $4,000, leading to further forecasts from both Goldman Sachs and other analysts as the weeks and months progressed.
Closing Out the Year
By October, the price of Bitcoin shot past $10,000 and the rest, as we say, is history.
For all the regulatory rumblings and forks away from the bitcoin network, the cryptocurrency's price largely continued its upward trajectory, culminating with the CoinDesk Bitcoin Price Index's all-time high of $19,783.21 on Dec. 17.
- Aaron Goldstein, Gambling911.com