BetOnline.ag, one of the world's largest online gambling sites, released a statement late Friday concerning ongoing outages that have crippled the popular website over the past six days.  The company advised that it was working around the clock to resolve the issues.
A Denial of Service (DoS) attack is the culprit, according to company officials.  They say some 7000 websites around the globe have been targeted.
In past years, few large online gambling sites have been imune to such attacks, including those based out of Great Britain.  Ultimately, Interpol had to get involved, arresting a number of individuals but not before some companies paid massive ransoms.
The DoS attacks could not come at a worse time as BetOnline was in the midst of preparing for one of the busiest betting events of the year, March Madness.
BetOnline has become one of the top 3 largest betting sites in North America.   
UPDATE - The BetOnline website is offline while technicians are working on security patches.  The SportsBetting.ag sister site has been up and running throughout much of Saturday with only brief interruptions in service.  As of Sunday March 11 at 3:30 pm EST - A notice has now appeared that the site is down for maintenance - this is a likely indication that BetOnline is close to completing upgrades that hopefully will prevent them from being future victims of this hybrid DoS attack.  Scroll Down for More
BetOnline can currently be accessed here.
Twitter Representative and Oddsmaker Dave Mason is encouraging followers to message him their account info in order that he may direct you to an unpublished URL ensuring said URL does not fall victim to hacking.  You can follow him and message him directly here - Mason has been working hard to keep customers informed. 
Bets can be placed 1-888-426-3661.
The company statement appears below.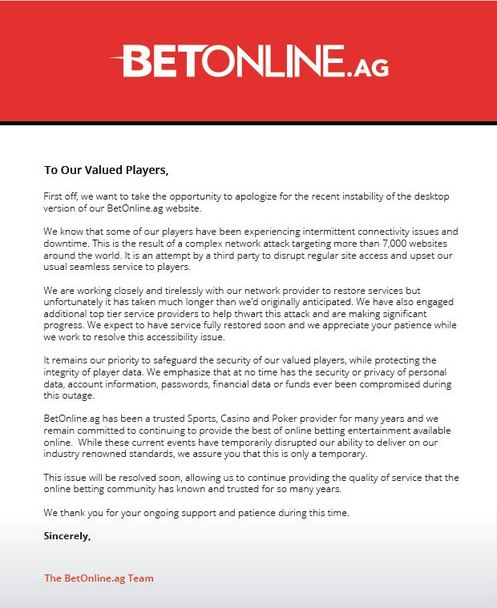 - Gilbert Horowitz, Gambling911.com