First Country to Pull Out of the Euro in Next 12 Month
Published on:
Oct/13/2008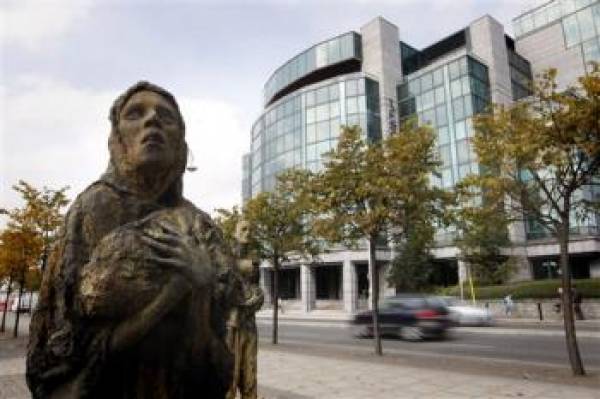 The economy around the world is so bad that the folks from Paddy Power have begun offering bets on the meltdown. Gambling911.com, which welcomes Paddy Power to its family of fine sponsors, will now regularly feature bets offered by Ireland's largest bookmaker, and the UK's third biggest bookmaker.
One of the bets currently being featured at Paddy Power - The first country to pull out of the Euro by December 31, 2009 (that's just over 12 months from now but it could happen tomorrow for all we know).
The favorites - Italy and Ireland at 7/4 and 3/1 odds, respectively. Spain had odds of 7/2.
In a punishing day for currencies Friday, investors pummeled the Australian and Canadian dollars and sought the U.S. dollar as a haven, the Wall Street Journal reported.
Despite economic woes in the U.S., the dollar has been the beneficiary of a global exit from riskier investments.
U.S. investors are bringing money home while some foreign investors are seeking U.S. Treasury bonds as a haven in the turmoil, both positives for the dollar. Meanwhile, overseas banks are displaying a strong appetite for dollars as they reduce their borrowing.
One euro briefly bought less than $1.33, its lowest level since June 2007.
500.00 USD = 372.313 EUR as of this weekend.
For Ireland, there is good reason to be somber.
Tens of thousands of Irish face a financial white-knuckle ride because Europe's longest-running winning streak - the vaunted Celtic Tiger economy - has come to an inglorious end. Last month, Ireland became the first country in the 15-nation euro zone to fall into recession, and economists predict that a familiar era of closing factories and net emigration could return.
"We face stark choices. If we do not make the right ones, it will have catastrophic consequences," Prime Minister Brian Cowen said at a dinner of the country's top businessmen last week as his government authorized an emergency plan to insure the nation's banks against collapse.
The speed of the reversal has stunned Ireland top to bottom. And denial is giving way to desperation.
"We've had this corpse on the kitchen table for a while, and it's just today we've decided that it's actually dead," said Eddie Hobbs, Ireland's ubiquitous investment guru.
The bank-heavy Irish Stock Exchange has shed nearly three-fourths of its value since April 2007. As Dublin bankers' ability to borrow internationally dried up, the government responded with a world-first guarantee for all deposits and borrowings of Irish-owned banks - a liability so big it represents $130,000 per man, woman and child.
The guarantee seemed to work, with a reported $14 billion in new deposits flowing into Dublin this month. But the decision to take on bank liabilities exceeding $550 billion has maimed the nation's credit rating. This is particularly bad timing for Ireland because, after more than a decade of double-digit hikes in spending and fat budget surpluses, the national finances are glowing neon red.
Finance Minister Brian Lenihan estimates that Ireland will have to borrow more than $16 billion this year to balance the books, or 5.5 percent of GDP, the worst deficit since the mid-1980s. Economists say the country's lower credit ratings will add around $85 million to annual interest costs on national debt.
Some economists say Ireland had no choice, because it faced a real risk that its six homegrown banks would fall like dominos.
"Had Brian Lenihan not intervened courageously to guarantee all deposits last Monday night, then at least one, if not two, Irish banks would have collapsed last Tuesday," said David McWilliams, an investment banker-turned-commentator who has warned for nearly a decade that Ireland's love affair with property would end in tears. "There simply was no other choice." McWilliams said Ireland's property prices were "nowhere near the floor yet."

Bloomberg reported that EU finance ministers this week rejected the idea of a region-wide bailout fund. Beyond impromptu joint efforts to aid Fortis, Dexia SA and other cross-border European banks, the EU is essentially stymied by its requirement that major decisions be unanimous and by its lack of a central financial regulator.
As banks' need for capital increases and individual country finances become stretched, Europe's piecemeal approach may prove inadequate.
``There's a need not only to coordinate a response to the crisis on a European level, but also on a global level,'' said Juergen Michels, a Citigroup Inc. economist in London. ``While the EU is one functioning financial market, it's made of up different nation states that don't always work together.''
Italy's government has created a 20.0 billion euro ($27.0 billion) fund available to Italian banks over the next 36 months, according to a report in Forbes.com. A senior Bank of Italy official told Reuters that the government's measures for tackling the financial turmoil was one of the most complete of any government response.
Ambrose Evans-Pritchard of the Telegraph writes:
The ECB is not allowed to launch bail-outs by EU law. Each country must save its own skin, yet none has full control of the policy instruments.
Germany has vetoed French and Italian ideas for an EU lifeboat fund. The former knows exactly where that leads. It is a Trojan horse that will be used one day to co-opt German taxpayers into rescues for less Teutonic EMU kin. One can sympathise with Berlin. But sharing debts with Italy and Spain was implicit when they agreed to launch the euro. A shared currency entails obligations. We have reached the watershed moment when Germany has to decide whether to put its full sovereign weight behind the EMU project or reveal that it is not prepared to do so in a crisis.
This is a very dangerous set of circumstances for monetary union. Will we still have a 15-member euro by Christmas?
So which country will leave the euro first? Odds available at Paddy Power
Italy 7 - 4
Ireland 3 - 1
Spain 7 - 2
Austria 8 - 1
Greece 8 - 1
France 12 - 1
----
Jagajeet Chiba, Gambling911.com