Reports began surfacing this past week following a search of former President Donald Trump's sprawling residence in Palm Beach, Florida, that a mole may have provided federal agents with information leading to Monday's unprecedented raid.  REAL MONEY ODDS ON THE MAR-A-MOLE NOW AVAILABLE HERE
According to Newsweek, the feds were able to obtain and execute the search warrant for Mar-a-Lago this week thanks to an unnamed individual with inside knowledge of what Trump had stashed at the club and where it was.
So who could it be?  We may never know.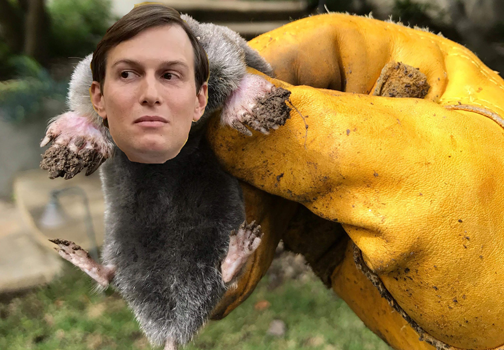 But if the mole is revealed before December 31, 2022, Gambling911.com has your odds (Courtesy of BetOnline):
Newly Released Odds
Mar-a-Lago Mole Odds - All Betting Available Here
Tom Barrack               +250
Mark Meadows           +325
Jared Kushner             +400
Jim Jordan                   +1400
Matt Gaetz                  +1400
Rudy Giuliani               +1400
Steve Bannon              +1400
John Eastman              +2800
Ivanka Trump              +3500
Michael Flynn Sr.        +3500
Christopher Miller      +4000
Kash Patel                   +4000
Kelly-Anne Conway     +5000
Mike Lindell                +5000
Paul Manafort             +5000
Tiffany Trump             +6500
Stormy Daniels            +6900
Kayleigh McEneny      +7500
Melania Trump           +7500
Benjamin Netanyahu  +10000
Elon Musk                   +10000
Roger Stone                +10000
Sidney Powell             +10000
Dana White                +12500
Marco Rubio               +12500
Alex Jones                   +15000
Corey Lewandoswki    +15000
Donald Trump Jr.        +15000
Eric Trump                  +15000
Ghislaine Maxwell      +15000
Kanye West                 +15000
Kid Rock                      +15000
Lara Trump                 +15000
Mike Pence                 +15000
Nigel Farage                +15000
Jon Voight                   +20000
Kevin McCarthy          +20000
Rand Paul                    +20000
Ron DeSantis               +20000
Scott Baio                    +20000
Ted Nugent                 +20000
Vladimir Putin             +20000
Billy Bush                    +25000
Jack Nicklaus               +25000
Joe Rogan                    +25000
Opening Odds
Jared +200
Mark Meadows +300
Ivanka +400
Don Jr +500
Melania +600
Other EVEN odds
Find All Political Betting Odds Here
The informant would have to be very close to Trump, Mick Mulvaney, the former Trump administration acting chief of staff, told CNN Thursday.
The source knew specifically where the alleged classified documents could be found.
"All of the signs point to someone on the Trump staff," noted William Arkin from Newsweek in an interview with CNN Thursday night.  "I'm a little hesitant to say that the sources were on the inside solely.  They were essentially driven that there were more documents because a confidential human source told them."
Agents were directed to a bedroom, an office and basement storage room, Arkin said.  It is one of these rooms where the safe was located.  Trump revealed Monday night that agents had accessed his safe.
Unsealing the Warrant
The Justice Department is asking a federal court in Florida to unseal the warrant the FBI used to search the Mar-a-Lago estate, Attorney General Merrick Garland said Thursday August 11 during a brief press conference. He acknowledged the extraordinary public interest in the case about classified records.  Trump was given until 3 pm ET Friday to file a motion to stop the unsealing.  Trump did not object and the warrant was unsealed.
The Justice Department appeared to come under pressure to speak out as the Monday event has resulted in verbal attacks, and in some cases, threats.
"Much of our work is by necessity conducted out of the public eye. We do that to protect the constitutional rights of all Americans and to protect the integrity of our investigations," Garland said. "Federal law, longstanding department rules and our ethical obligations prevent me from providing further details as to the basis of the search at this time."
- Jagajeet Chiba, Gambling911.com