Xavier vs. Baylor Betting Odds
Published on:
Mar/23/2012
Carrie Stroup here with your Xavier vs. Baylor betting odds.  You can find all the latest NCAA Tournament odds at Sportsbook.com here and be sure to claim up to $250 in FREE CASH (restrictions apply). 
Sportsbook.com Line & Total: Baylor -6.5 & 142
Opening Line & Total: Bears -6 & 139.5
Tenth-seeded Xavier will look to keep its Cinderella run going with an upset over third-seeded Baylor on Friday night at Georgia Dome.
The Musketeers have looked sharp in both of their tournament games, first upsetting Notre Dame by four points and then fighting off a persistent Lehigh squad (that had just beaten second-seeded Duke) for a 12-point win. Xavier can match up with Baylor's physical bodies, especially with the late emergence of seven-foot senior C Kenny Frease who came alive in the round of 32 with a 25-point, 12-rebound performance. But the Musketeers' veteran leadership extends to the backcourt too, where senior PG Tu Holloway might be the most dynamic scorer on either of these teams, registering two consecutive 20-point performances to carry his team to the Sweet 16.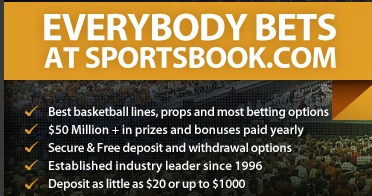 Holloway (17.4 PPG, 4.9 APG) has led Xavier offensively all season as the team's primary scorer and distributor. His success in the tournament has begun beyond the arc (6-of-12 threes), but he is typically most dangerous when finding his way close to the hoop. Frease (9.9 PPG, 6.2 RPG) has not been as consistently successful as Holloway this season, but showed his potential to take over a game against Lehigh, making 11-of-13 shots. Mark Lyons (15.0 PPG) joins Holloway in the backcourt while 6-foot-5 swingman Dezmine Wells (10.0 PPG, 4.9 RPG) is an efficient offensive player, making 51.3% of his shots.
Baylor's deep offense has five legitimate scoring options all of whom average double-digit points. The lowest scoring of that crew, Brady Heslip (10.3 PPG, 46% 3-pt FG), carried the team to the Sweet 16 with a lights-out performance from beyond the arc, hitting 9-of-12 three-pointers en route to a 27-point night. He had 17 against South Dakota State in the team's NCAA opener, making 5-of-10 threes. PG Pierre Jackson (team-high 13.5 PPG and 5.8 APG) was deft at finding him the ball, notching 10 assists, five steals and 15 points to boot. Quincy Acy (11.5 PPG, 7.2 RPG) only scored seven, but came up where the team needed him, grabbing 10 rebounds. Perry Jones III (13.4 PPG, 7.7 RPG) may be the team's most dangerous post threat though, with the type of athleticism that can take over the game.
- Carrie Stroup, Gambling911.com Senior Reporter