Where Can I Bet UConn vs. Florida Final Four Basketball Online?
Published on:
Apr/04/2014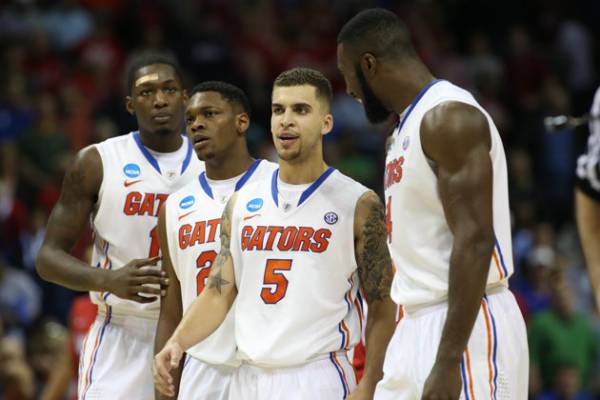 Carrie Stroup here and I have your UConn Huskies vs. Florida Gators latest betting odds.  You can bet this Final Four game at Sportsbook.com – Place your 1st bet here, get the 2nd bet FREE.

CONNECTICUT HUSKIES (30-8) vs. FLORIDA GATORS (36-2)
Sportsbook.ag Line & Total: Florida -6 & 127
No. 1 seed Florida will look to exact some revenge in Saturday's Final Four against a heavy underdog Connecticut team that gave the No. 1 seed one of its two losses this season.
Just like three years ago when Kemba Walker led them to a national title, the seventh-seeded Huskies are on another improbable NCAA Tournament run because of a superstar point guard, Shabazz Napier. He has been terrific all season, but has taken his game to another level in the tournament with 23.3 PPG (45% threes), 6.0 RPG and 4.5 APG in the four wins, including 25 points, six boards and four assists in Sunday's East Regional Final over Michigan State. Napier was also responsible for the Gators' most recent loss way back on Dec. 2 when his buzzer-beating jumper was the difference in a 65-64 win in Storrs, CT. Besides Napier's 26 points that night, the biggest reason for the win was the three-point shooting of UConn, which made 11-of-24 threes (46%), compared to its opponent's 3-for-9 clip from behind the arc. But since that defeat, Florida has reeled off 30 straight victories (14-13-2 ATS) with all four NCAA Tournament wins coming by double-digits. The Gators are also led by a dynamic point guard in Scottie Wilbekin, who has averaged 16.8 PPG and 3.0 APG in the NCAA Tournament, including 23 points in the Elite Eight win over Cinderella Dayton last Saturday. UConn (21-15 ATS, 6-5 ATS on neutral courts) has had a difficult path to the Final Four, having to beat teams that play different styles of basketball. After needing overtime to beat Saint Joseph's in the Round of 64, the Huskies then outlasted two great offensive teams in No. 2 seed Villanova and No. 3 seed Iowa State before disrupting a physical Michigan State team with a defense that forced 16 Spartans turnovers. Florida (17-14-3 ATS overall, 4-3-2 ATS on neutral courts) had made the Elite Eight the previous three seasons, but had not been able to get over that hump. But this is a better defensive squad than those other teams, holding NCAA Tournament opponents to a mere 55.0 PPG on 39.9% FG. Although the Gators are clearly the better rebounding team, including a 34-26 edge on the boards in the Dec. 2 meeting, Connecticut is 7-0 ATS in non-home games versus good rebounding teams (4+ RPG margin) after 15+ games in the past two seasons. However, Florida has risen to the occasion versus great teams all season, going 11-3 ATS (79%) when facing a school outscoring opponents by 8+ PPG.
UConn does not possess an explosive offense with only 72.4 PPG (125th in nation) on 44.8% FG (141st in Div. I), but this is a terrific shooting team both from long range (38.9% threes, 27th in nation), and from the free throw line (77.4% FT, 5th in Div. I). In the four NCAA Tournament wins, the Huskies have made a remarkable 81-of-92 free throws (88%), including 41-of-44 (93%) in the past two victories. Connecticut also does a great job on the defensive end of the court where it limits opponents to 63.7 PPG (38th in nation) on 39.2% FG (13th in Div. I) and 33.3% threes (120th in nation). Although this is a poor rebounding team (+0.4 RPG margin, 180th in Div. I), the club does a great job of blocking shots (5.8 BPG, 16th in nation) and racking up steals with 7.0 SPG (74th in Div. I). Senior PG Shabazz Napier (17.4 PPG, 5.9 RPG, 4.9 APG) leads this team in nearly every statistical category, and also has Final Four experience as a freshman back in 2011, but he scored just eight points on 2-of-13 shooting in those two victories. But he has certainly developed his game since then, possessing a terrific crossover that allows him to get to the basket at will despite being an undersized point guard. However, while he has been on a tear throughout the tournament, the Huskies have other guys that can score points in bunches. SF DeAndre Daniels (13.0 PPG, 5.9 RPG, 1.4 BPG) has scored in double-figures in eight straight games, averaging 17.0 PPG (50% FG) and 6.8 RPG during the NCAA Tournament. In the Sweet 16 victory against Iowa State, Daniels finished with 27 points (10-of-15 FG) and 10 rebounds. At 6-foot-9, Daniels is a mismatch with the skills of a two guard, shooting 43% threes and 79% free throws this season. With his length and athleticism, he is very difficult to prevent from getting to the basket, and he gave Florida fits with 14 points (6-of-10 FG) and seven boards in the Dec. 2 win. Junior Ryan Boatright (12.0 PPG, 3.4 RPG, 3.4 APG) is a combination guard that is similar to Napier in that he is always looking to attack the basket. He can also shoot the ball from the perimeter (38% threes), and is one of the quickest players in the country. He has scored in double-figures in all four NCAA Tournament wins (13.8 PPG) and has come up with six steals over the past two contests. Freshman C Amida Brimah (4.2 PPG, 3.0 RPG) provides very little offense, but shoots 66% FG and does a great job of protecting the rim with 2.3 BPG in just 16.4 MPG. Senior swingman Niels Giffey (8.3 PPG, 3.8 RPG) knocks down 49% of his threes for the season, but has been in a shooting funk in his past three games at 5-for-18 FG (28%) and 1-of-9 threes. However, he has been the team's best rebounder during the NCAA Tournament with 6.8 RPG. If guys like Napier and Boatright are able to attack the paint like they have this tournament, then Giffey will continue to get open shots. If he is able to get those shots, the Huskies will have a great chance to defeat the Gators for a second time this season.
Florida has everything that a championship team needs with experience, terrific guard play and a huge frontcourt presence. The Gators score just 70.4 PPG (195th in nation), but shoot the ball well at 46.1% FG (77th in Div. I) and 36.2% threes (88th in nation). This is also a very smart team with a +2.4 turnover margin (33rd in Div. I) and just 15.7 personal fouls per game (6th-fewest in nation). But the reason this team has won 30 straight games is on the strength of its rebounding (+5.1 RPG margin, 25th in Div. I) and defense. Florida limits opponents to a paltry 57.6 PPG (3rd in nation) on 39.9% FG (24th in Div. I) and 32.8% threes (97th in nation). This isn't a great shot-blocking club with only 3.1 BPG (222nd in Div. I), but it compiles 7.1 SPG (60th in nation) thanks to its constant full-court pressure that wears out the opponents. The team's one Achilles heel is free-throw shooting, as it makes only 66.7% FT (270th in Div. I). With Huskies ability to knock down free throws, the charity stripe could play a huge key in this game if it comes down to the final minutes. PG Scottie Wilbekin (13.4 PPG, 3.7 APG, 1.6 SPG) missed the final 3:01 of the early-season loss in Storrs with an ankle injury, and the offense does not run nearly as smoothly when he's on the bench. Wilbekin isn't a great shooter at 41% FG, but he has knocked down 40% threes and has not committed a turnover in two straight games spanning 73 minutes of action. Very few players in the country are as imposing as the Gators' muscular senior C Patric Young (10.8 PPG, 6.2 RPG, 1.1 BPG). While he is not going to get a lot of plays called for him, he is tenacious on the offensive glass and gets a lot of second-chance points. Young had a strong game against Dayton last Saturday with 12 points, six rebounds, four blocks and two steals, and powered his way to 17 points and seven boards in the narrow loss at UConn. Young is also helped out by the team's leading rebounder, PF Dorian Finney-Smith (8.9 PPG, 6.7 RPG). While the sophomore was able to pull down six boards in the meeting in Storrs, he also committed six turnovers in his 24 minutes of action. In his pas three NCAA Tournament games, Finney-Smith has just 6.3 PPG, but also 7.7 RPG. SF Casey Prather (13.8 PPG, 60% FG, 4.9 RPG) and SG Michael Frazier II (12.6 PPG, 45% threes, 3.5 RPG) are both very difficult to guard on the perimeter. Prather had his way with the Huskies in December with a team-high 19 points (8-of-13 FG) and seven boards. In a game earlier this season, Frazier hit an SEC record 11 three-pointers in a win against South Carolina and has averaged 14.5 PPG (7-of-13 threes) in his past two games. He is the one Gators player that can get a shot in many different ways, and is especially dangerous on the fast break, where he does a great job of spacing the floor to get the wide-open shot.