What is the Spread on Syracuse vs. Duke January 18?
Published on:
Jan/18/2016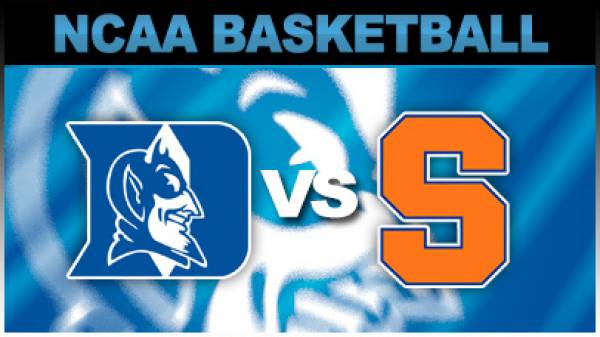 The spread on the Syracuse vs. Duke game Monday night was set at Blue Devils -11.  Duke -11, Total: 145
SYRACUSE ORANGE (12-7, 2-4 ACC) at DUKE BLUE DEVILS (14-4, 3-2 ACC)
Duke looks to avoid a three-game losing skid when it takes on surging Syracuse on Monday night.
The Orange (8-10 ATS) dropped their first four games of ACC play, but have responded with back-to-back blowouts of Boston College (62-40) on Wednesday and at 2-point favorite Wake Forest (83-55) on Saturday.
The Blue Devils (8-8-1 ATS) began conference action with three straight wins by 16+ points each, but have dropped two in a row since then. After falling 68-63 at 7.5-point underdog Clemson on Wednesday, they lost at home in a 95-91 shootout versus 8.5-point underdog Notre Dame on Saturday.
These schools have met four times since Syracuse joined the ACC, with Duke winning three of those contests SU, and all four ATS. Last season, the Blue Devils prevailed 80-72 in the Carrier Dome on Valentine's Day before destroying the Orange 73-54 at home two weeks later.
There are good reasons for bettors to wager on either side Monday, as Syracuse is an impressive 15-2 ATS on the road after an upset win as an underdog since 1997, and is also 9-1 ATS on the road after two straight blowout victories of 20+ points in this same span. Duke is 20-9 ATS versus good defensive teams (42% or less FG allowed) in the past two seasons, and is also 32-12 ATS at home since 1997 when the total is 145 to 149.5.
Syracuse has been anemic offensively this season with only 71.1 PPG (225th in nation) on 42.3% FG (262nd in D-I) and 34.8% threes (158th in nation). The team makes only 67.9% FT (223rd in D-I), but doesn't hurt itself with many turnovers (11.9 per game, 85th in nation).
The defense has been pretty strong though, allowing only 64.4 PPG (33rd in D-I) on 40.0% FG (50th in nation) and 29.0% threes (12th in D-I). In the past three games, opponents have made only 11-of-62 shots (18%) from behind the arc. The Orange are adept at generating steals through their active 2-3 zone, as their 8.8 steals per game rank 14th in the nation. Rebounding has been a big problem though with a minus-0.7 RPG margin (214th in D-I).
Syracuse has three players who provide the bulk of scoring with versatile G Michael Gbinije (17.2 PPG, 4.4 RPG, 4.4 APG, 2.5 SPG), streaky shooting G Trevor Cooney (13.9 PPG, 2.7 APG, 1.8 SPG) and swingman F/G Malachi Richardson (12.8 PPG, 4.7 RPG).
Gbinije can score from anywhere on the floor with a 45% FG clip and 37% threes, but he needs to convert at a better rate than his 65% FT clip. The senior has scored at least 10 points in every game this season, and after four straight contests of shooting below 40% from the floor (29% FG, 17-of-58), he is a sizzling 11-for-19 FG (58%) during the two-game win streak. Gbinije lit up the Blue Devils for 27 points on 10-of-14 FG (5-of-8 threes) at home last season, but scored only 12 points on a dreadful 5-of-20 FG (2-of-9 threes) in Durham.
Cooney continues to be a roller-coaster on offense with point totals of 15, 5, 12, 27, 5 and 25 points in ACC play. He drained 6-of-11 threes in that 25-point effort Saturday at Wake Forest and also added three assists, three steals and three rebounds. But Duke defended the senior very well last season, holding him to 24 points on 9-of-30 FG (30%) and 4-of-18 threes (22%) in the two meetings.
The freshman Richardson had recorded at least 15 points in four straight games before tallying only five points on 1-of-8 shooting in Saturday's win. Luckily for him, a pair of teammates picked up his scoring slack against the Demon Deacons.
Junior F Tyler Roberson (9.9 PPG, 8.5 RPG) recorded a double-double of 16 points and 13 rebounds (7 offensive) plus three steals, while freshman F Tyler Lydon (8.9 PPG, 6.5 RPG) came off the bench to score 11 points (3-of-4 threes) and grab four boards in just 18 minutes.
Duke is always known for its high-octane offense, and this season is no exception, as the group is averaging an eye-popping 86.9 PPG (2nd in nation, trailing only The Citadel 89.7 PPG) on 48.3% FG (29th in D-I) and 39.4% threes (23rd in nation). The team is a decent foul-shooting team at 72.2% FT (77th in D-I), and really helps itself out by ranking seventh in the nation in made free throws (350) and 12th in free-throw attempts (485). The Blue Devils are a quality rebounding team with a +3.9 RPG margin (88th in D-I), and they don't hurt themselves with turnovers either (10.2 TOPG, 14th in nation).
This offense needs to be super efficient, because its defense is not strong with 70.7 PPG allowed (164th in D-I) on 43.3% FG (191st in nation) and 35.0% threes (227th in D-I).
Four different players average at least a dozen points per game for Duke, led by G Grayson Allen (20.2 PPG, 4.8 RPG, 3.7 APG, 1.1 SPG) and F Brandon Ingram (16.8 PPG, 5.9 RPG, 1.4 SPG, 1.7 BPG).
The sophomore Allen has scored at least 16 points in seven straight games, where he has averaged 20.3 PPG on 55% FG while getting to the line 48 times (81% FT, 39-of-48). The 6-foot-9 Ingram has not yet hit that freshman wall, recording 11 straight games of 14+ points, where he's averaged a whopping 20.6 PPG. Ingram dropped 25 points on 7-of-14 FG (4-of-7 threes) with three blocks in Saturday's loss.
The other two healthy double-digit scorers on this team are G Matt Jones (13.1 PPG, 3.0 RPG, 2.3 APG, 1.2 SPG) and freshman F/G Luke Kennard (12.9 PPG, 3.8 RPG). While Jones prefers to try his luck from long range (42% threes), Kennard loves driving to hole and getting to the foul line where he is almost automatic at 92% FT (61-of-66). Jones totaled 17 points (5-of-9 threes) in the series sweep of Syracuse last season, and Kennard is coming off a career-high 30 points (10-of-15 FG, 4-of-6 threes, 6-of-7 FT) and eight rebounds in Saturday's loss to the Fighting Irish.
- Carrie Stroup, Gambling911.com Senior Reporter