What Are The Odds of Syracuse Winning the NCAA Basketball Championship
Published on:
Mar/17/2014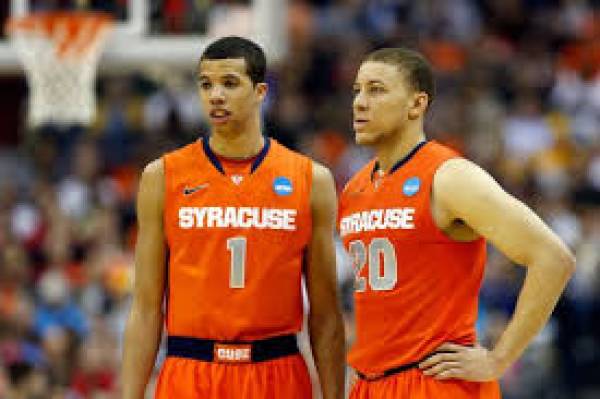 The odds of Syracuse winning the NCAA Basketball Championship were set at 20/1, which is definitely some great value.
Syracuse, ranked at number 11, fell to North Carolina State on Friday. 
The Orange have made 28% of its field goals attempts from 10 feet or longer in its last eight games, including 26% in its five losses. During the Orange's first 24 games (all wins), they shot 37% on such shots. They are 16-0 this season when they make at least a third of their attempts from 10+ feet.
USA Today predicts Syracuse will lose in the 2nd round.
Momentum is an area that isn't spotlighted enough as an ingredient for a jaw-dropping upset. Consider Syracuse on the wrong side of that. The Orange have been scrutinized since a perfect 25-0 record unraveled into a late-season stretch in which 'Cuse lost five of its final seven games. Jim Boeheim will be the first to tell you his team hasn't truly dominated opponents this season, evidenced in a bevy of close ACC victories to basement teams and a pair of head-scratching losses to Georgia Tech and Boston College.
That's where Western Michigan enters the mix. The Mid-American Conference tournament champs won't be the most hyped Cinderella sleeper. But there's enough weaponry to pull off the upset of the tournament. David Brown (19.4 ppg) and Shayne Whittington (16.3 ppg, 9.3 rpg) make for a potent inside-out presence that could counter 'Cuse's matchup 2-3 zone.
JOIN BOOKMAKER HERE

- Overnight Basketball Odds - Live In-Play Betting - Up to $2500 in FREE BETS - Established 1986 - Bonus Code Gambling911 
Florida +500 (pays $500 for every $100 bet)
Michigan State +550
Louisville +600
Arizona +700
Kansas +1200 (pays $1200 for every $100 bet)
Virginia +1200
Wichita St +1500
Duke +1800
Wisconsin +2000
Syracuse +2000
Michigan +3000
Villanova +3000
Iowa St +3000
UCLA +3000
Creighton +4000
Kentucky +4000
North Carolina +600
Oklahoma St +6000
Ohio St +7000
San Diego St +10000 (pays $10000 for every $100 bet)
Oklahoma +10000
Pittsburgh +10000
New Mexico +10000
Oregon +10000
U Conn +10000
z Field (Any Other Team) +10000
Cincinnati +10000
Baylor +10000
VCU +12000
Texas +1250
St Louis +12500
Memphis +15000
U Mass +20000
Tennessee +20000
Iowa +20000
Gonzaga +20000
Arizona St +30000
Stanford +30000
Providence +30000
St Josephs +35000
Nebraska +45000
BYU +50000
George Washington +50000
North Dakota St +50000
Dayton +50000
NC State +50000
Colorado +50000
Xavier +50000
Kansas St +50000
Harvard +50000
- Mary Montgomery, Gambling911.com