Warriors Nuggets Point Spread – 2013 NBA Playoffs
Published on:
Apr/19/2013
Carrie Stroup here with your Warriors vs. Nuggets point spread, courtesy of Sportsbook.com where you can claim your FREE $100 BET here.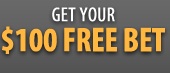 Sportsbook.ag Line & Total: Denver -8 & 210.5
After making the postseason for the first time in six years, sixth-seeded Golden State will travel to third-seeded Denver for Game 1 of their first-round playoff series on Saturday afternoon.
Both teams finished the regular season strong, as the Warriors won 10 of their final 15 games (SU and ATS) while the Nuggets closed the season with eight wins in their final nine contests (5-4 ATS). Although Denver won three of the four meetings (SU and ATS) between these teams this season, the clubs have met just once since November, a 116-105 Nuggets home win on Jan. 13. Denver finished the season a remarkable 38-3 SU (28-13 ATS) at Pepsi Center, outscoring opponents by 10.7 PPG on their home court. Golden State was only 19-22 SU (19-21-1 ATS) on the road this season, but finished with a 4-2 ATS mark in its final six away games. Both clubs are relatively healthy for this game, but Denver will be without SF Danilo Gallinari (torn ACL) for the entire playoffs, and PF Kenneth Faried (ankle) is listed as questionable for Saturday's series opener.
Scroll Down for More...
Golden State had little trouble putting up points this season with 101.2 PPG (7th in NBA) on 45.8% FG (11th in league) and an NBA-best 40.3% three-point clip. Despite holding teams to 43.9% FG (4th in NBA) and 34.7% threes (7th in league), the Warriors still allowed 100.3 PPG overall (19th in NBA) and 107.5 PPG in the season series with Denver. Golden State committed the third-most turnovers in the league (14.8 TOPG), but was strong on the glass with a +2.3 RPG margin (8th in NBA). PF David Lee (18.5 PPG, 11.2 RPG) was the biggest reason his team fared so well on the boards, leading the NBA with 56 double-doubles, eight more than any other player. Lee crushed Denver this season with 23.3 PPG (56% FG), 10.3 RPG, 5.0 APG and 2.3 steals per game. PG Stephen Curry (22.9 PPG, 6.9 APG) not only set an NBA record for most three-pointers made in a season (272), but actually shot better from three-point range (45.3%) than from inside the arc (44.9%) this season. He finished the regular season very strong with 32.3 PPG on 50% FG and 51% threes (20-for-39) in his final three contests. Curry also scored 18.5 PPG (47% FG, 16-of-24 threes) with 5.8 APG versus the Nuggets this season. SG Klay Thompson (16.6 PPG, 3.7 RPG) also had a huge finish to the regular season with three straight 20-point efforts, averaging 24.0 PPG on 48% shooting over that span. Thompson averaged 18.3 PPG and 5.3 RPG in the season series with Denver. PG Jarrett Jack (12.9 PPG, 5.5 APG) shot just 42% in the season series with the Nuggets, but still contributed 13.3 PPG and 5.5 APG in the four games. And in his final two games of the regular season, Jack totaled 20 points (9-of-18 FG) with 17 assists and just three turnovers. PF Carl Landry (10.8 PPG, 6.0 RPG) closed out the regular season with four straight double-figure scoring efforts, averaging 12.0 PPG and 6.3 RPG during this stretch. Landry was solid versus Denver this season too, with 13.0 PPG (53% FG) and 6.5 RPG.
The Nuggets led the NBA in scoring with 106.1 PPG, as they attempted the second-most field goals in the league (85.2 FGA per game). But they also shot a stellar 47.8% FG (5th in NBA), despite a subpar 34.3% clip on three-pointers (25th in league). The fast-paced offense predictably caused a lot of turnovers (14.7 TOPG, 4th-most in NBA) and led to 101.1 PPG allowed (8th-worst in league) despite surrendering just 44.4% FG (11th-best in NBA) and 36.3% threes (20th-best in league). However, this is an excellent rebounding team, whose +3.4 RPG margin ranked fourth in the NBA. PG Ty Lawson (16.7 PPG, 6.9 APG) finally appears to be 100 percent recovered from a heel injury that kept him out of action for the first four games of April. In four games since returning to the lineup, Lawson has 16.3 PPG on 59% FG with 27 assists and just five turnovers (5.4 Ast/TO ratio). He averaged 16.0 PPG, 8.3 APG and 2.3 SPG in the season series with Golden State. Swingman Wilson Chandler (13.0 PPG, 5.1 RPG) has really stepped up his offense with Gallinari out for the season, pouring in 20.0 PPG on 51% FG (43% threes) with 6.0 RPG in the past five games. Chandler was strong in his one meeting with the Warriors this season, scoring 14 points with six boards and three steals. SG Andre Iguodala (13.0 PPG, 5.4 APG, 5.3 RPG) has contributed in all facets in the past five games with 18.2 PPG (55% FG, 44% threes), 7.6 RPG and 7.4 APG. He had a huge series versus Golden State this season too with 20.0 PPG, 6.3 RPG and 5.0 APG in the four meetings. SF Corey Brewer (12.1 PPG) has been horrible in the past three games with 5.3 PPG on 3-of-15 shooting, and although he scored 11.3 PPG against the Warriors, he made just 3-of-16 threes against them. PF Kenneth Faried (11.5 PPG, 9.2 RPG) hasn't played a full game since April 12 when he recorded a double-double (11 pts, 10 reb) in Dallas. The team is hoping his ankle heals enough for Saturday, as Faried was a beast in the paint with 11.5 PPG, 11.3 RPG and 2.3 BPG against the Warriors this season. PG Andre Miller (9.6 PPG, 5.9 APG) has been in a major shooting slump over the past four games, scoring just 6.3 PPG on 6-of-30 shooting. But he played very well versus Golden State this season with 8.3 PPG on 46% FG with 25 assists and five turnovers in the four meetings.
- Carrie Stroup, Gambling911.com Senior Reporter