Thunder vs. Clippers Game 6 Betting Line at Los Angeles -4.5
Published on:
May/15/2014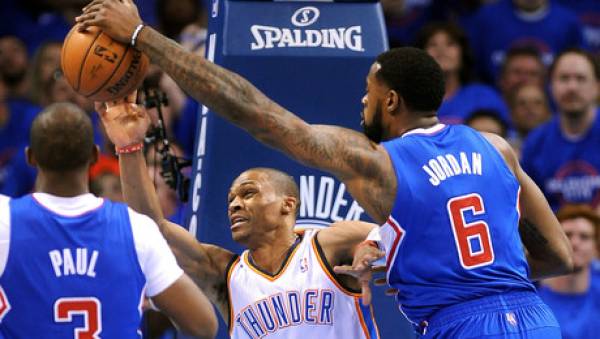 Carrie Stroup here with your Thunder vs. Clippers betting line for Game 6 of the 2014 NBA Playoffs.  You can place your bets online at Sportsbook.com here – Make your 1st bet, get your 2nd bet for free.

OKLAHOMA CITY THUNDER (66-28) at LOS ANGELES CLIPPERS (63-31)
Sportsbook.ag Line & Total: Los Angeles -4.5 & 212.5
After another crazy finish in Game 5, Oklahoma City hopes to earn a ticket to the Conference Finals in Los Angeles on Thursday night.
It seems that no lead is safe when these two teams are facing each other, and that proved true once again on Tuesday night as the Thunder came back from a seven-point deficit with just 49 seconds to play and finished the game with a 105-104 win as 5.5-point favorites. Both teams shot 43% from the field in the game, but the difference in the end was turnovers. The Clippers gave the ball away 17 times, including twice in the final minute, while Oklahoma City had just 12 turnovers. While the teams shot nearly identical from inside the arc in the game (L.A. 26-of-61, OKC 26-of-60), they combined to go 19-for-44 (43%) from three-point range with L.A. going 12-for-27 (44%) and OKC going 7-for-17 (41%). PG Russell Westbrook (38 points) was the leading scorer in the game while Blake Griffin put up one of his better performances for the Clippers this postseason with a team-high 24 points and 17 rebounds in the loss. The Thunder have been one of the best road teams in the league this season at 28-18 SU (23-22-1 ATS) in away games overall. Los Angeles has gone 4-2 SU at home this postseason, bringing its record at Staples Center to 38-9 SU (23-24 ATS). The series between these clubs has been tremendous for a few years now and Oklahoma City holds an SU record of 5-4 this year (4-5 ATS) while going 9-7 (SU and ATS) over the past three seasons. But there are positive betting trends for both teams here, with the Thunder at 12-2 ATS versus very good teams (6+ PPG margin) and 40-32 ATS versus great three-point shooting teams (6+ made threes per game). But the Clippers are certainly capable of payback with a 37-23 ATS mark when revenging a loss versus an opponent in the past two seasons and 20-10 ATS after an SU loss this season. SF Hedo Turkoglu (back) is the only player expected to miss this game for either team as he recovers from a back injury suffered in the first round against the Warriors.                    
The Thunder have always been an offensive threat with such prolific scorers on the team and have put up a solid 107.8 PPG (48% FG) over their past five games. SF Kevin Durant (30.8 PPG, 9.0 RPG, 4.3 APG, 1.3 BPG, 1.0 SPG in playoffs) failed to crack 30 points for the first time in four games on Tuesday as he went for 27 points on 6-of-22 shooting while adding 10 rebounds, five assists, one block and one steal. Although his shooting was poor, he hit three of his final five shots and was a perfect 12-for-12 from the free-throw line. PG Russell Westbrook (27.3 PPG, 8.4 RPG, 8.1 APG, 1.7 SPG in playoffs) has continued his tremendous play with his highest point total (38) of the postseason in Game 5 while also dishing out six assists, grabbing five rebounds and stealing three balls. Westbrook has recorded three steals in three of the five games in this second-round series, and is shooting an impressive 53% FG in the five games. PF Serge Ibaka (12.8 PPG, 7.8 RPG, 2.3 BPG in playoffs) has not been too effective over the past two contests, averaging just 8.0 PPG, 6.0 RPG and 3.0 BPG while taking just 13 total shots. He has had trouble with fouls as well, finishing with four in game five and five in the previous two games. PG Reggie Jackson (10.4 PPG, 4.2 RPG in playoffs) was solid on Tuesday night off the bench with eight points, seven rebounds and two steals.
The Clippers were the top offensive team during the regular season and have now netted 109.7 PPG (47% FG) so far in the playoffs, while averaging 111.4 PPG (48% FG) this entire season when playing at home. PG Chris Paul (19.3 PPG, 10.3 APG, 3.0 SPG in playoffs) had his sixth straight double-double on Tuesday when he scored 17 points to go with 14 assists and four steals but fouled Westbrook while he was shooting a three at the end of the game and had two turnovers in the final minute of the game. Paul has had at least three steals in each of the past four games, but has been surprisingly poor from the charity stripe in this round, making just 13-of-19 (68%) after shooting 86% from the foul line in the regular season. PF Blake Griffin (23.7 PPG, 7.4 RPG, 1.3 SPG in playoffs) has averaged 24.2 PPG in this series and grabbed double-digit rebounds for the first time this postseason when he pulled down 17 in Game 5. He has a steal in each of the past four games and is averaging 1.2 BPG over these five contests against the Thunder. C DeAndre Jordan (9.7 PPG, 12.3 RPG, 2.8 BPG in playoffs) was virtually a non-factor in Tuesday's game, putting up a goose egg for points and blocks while grabbing just four rebounds as he fouled out after just 20 minutes on the court. He has averaged just 1.0 BPG in this series after swatting away 4.0 BPG in the opening round. SG Jamal Crawford (16.5 PPG in playoffs) has put up 19.0 PPG over his past three games but has shot just 20-for-56 FG (36%) in that time. SG J.J. Redick (13.1 PPG in playoffs) had 16 points in Tuesday's loss after averaging just 5.5 PPG in the previous two contests.
- Carrie Stroup, Gambling911.com Senior Reporter