Gambling911.com has your odds on Tuesday night's College Basketball game between Texas A&M (11-4) and Kentucky (12-3).
Kentucky was a -6 to -7 point favorite coming into this game at home with the total yet to be determined as of this writing Monday afternoon.
The College Basketball Betting Power Ratings do indicate the line should be Wildcats -6, thus giving the Aggies a slight edge in terms of covering any line of -6.5 and above. 
Both teams come into this game just shy of the .500 mark Against The Spread.
Recent Meetings: Aggies vs. Wildcats Head to Head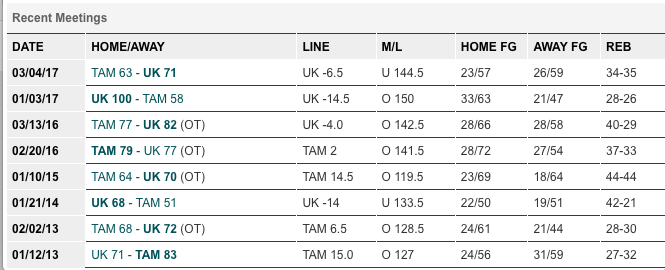 Kentucky does have a tremendous advantage here winning six of the last seven games in this series.  They have covered or pushed in four of those six victories using the current spread of 6.  The last two games of this series were won and covered by the Wildcats.
Trends: Texas A&M vs. Kentucky
Watch for the total as the UNDER is 6-1 in the Aggies last 7 vs. Southeastern and 4-0 in the Wildcats last 4 vs. Southeastern.
Tuesday, Jan 09, 2018 - NCAA Basketball Game
06:30 PM
509
Georgetown
 
 
+8
-110

o

 
 
 
 
 
 
 
 
 
 
 
 
 
 
 
 
 
 
510
St. Johns
 
 
-8
-110

o

 
 
 
 
 
 
 
 
 
 
 
 
 
 
 
 
 
 
 
06:30 PM
511
Penn State
 
 
-1
-110

o

 
 
 
 
 
 
 
 
 
 
 
 
 
 
 
 
 
 
512
Indiana
 
 
+1
-110

o

 
 
 
 
 
 
 
 
 
 
 
 
 
 
 
 
 
 
 
07:00 PM
513
Tulane
 
 
+4½
-110

o

 
 
 
 
 
 
 
 
 
 
 
 
 
 
 
 
 
 
514
Memphis
 
 
-4½
-110

o

 
 
 
 
 
 
 
 
 
 
 
 
 
 
 
 
 
 
 
07:00 PM
515
Kent State
 
 
pk
-110

o

 
 
 
 
 
 
 
 
 
 
 
 
 
 
 
 
 
 
516
Miami Ohio
 
 
pk
-110

o

 
 
 
 
 
 
 
 
 
 
 
 
 
 
 
 
 
 
 
07:00 PM
517
Buffalo
 
 
-6½
-115

o

 
 
 
 
 
 
 
 
 
 
 
 
 
 
 
 
 
 
518
Akron
 
 
+6½
-105

o

 
 
 
 
 
 
 
 
 
 
 
 
 
 
 
 
 
 
 
07:00 PM
519
Central Michigan
 
 
+4½
-102

o

 
 
 
 
 
 
 
 
 
 
 
 
 
 
 
 
 
 
520
Eastern Michigan
 
 
-4½
-118

o

 
 
 
 
 
 
 
 
 
 
 
 
 
 
 
 
 
 
 
07:00 PM
521
Ball State
 
 
+1½
-110

o

 
 
 
 
 
 
 
 
 
 
 
 
 
 
 
 
 
 
522
Ohio
 
 
-1½
-110

o

 
 
 
 
 
 
 
 
 
 
 
 
 
 
 
 
 
 
 
07:00 PM
523
Western Michigan
 
 
+4½
-110

o

 
 
 
 
 
 
 
 
 
 
 
 
 
 
 
 
 
 
524
Toledo
 
 
-4½
-110

o

 
 
 
 
 
 
 
 
 
 
 
 
 
 
 
 
 
 
 
07:00 PM
525
Northern Illinois
 
 
+4
-105

o

 
 
 
 
 
 
 
 
 
 
 
 
 
 
 
 
 
 
526
Bowling Green
 
 
-4
-115

o

 
 
 
 
 
 
 
 
 
 
 
 
 
 
 
 
 
 
 
07:00 PM
527
Baylor
 
 
+10
-110

o

 
 
 
 
 
 
 
 
 
 
 
 
 
 
 
 
 
 
528
West Virginia
 
 
-10
-110

o

 
 
 
 
 
 
 
 
 
 
 
 
 
 
 
 
 
 
 
07:00 PM
529
Texas Tech
 
 
+3½
-115

o

 
 
 
 
 
 
 
 
 
 
 
 
 
 
 
 
 
 
530
Oklahoma
 
 
-3½
-105

o

 
 
 
 
 
 
 
 
 
 
 
 
 
 
 
 
 
 
 
07:00 PM
531
Texas A&M
 
 
+6
-115

o

 
 
 
 
 
 
 
 
 
 
 
 
 
 
 
 
 
 
532
Kentucky
 
 
-6
-105

o

 
 
 
 
 
 
 
 
 
 
 
 
 
 
 
 
 
 
 
07:00 PM
533
Rhode Island
 
 
-7½
-110

o

 
 
 
 
 
 
 
 
 
 
 
 
 
 
 
 
 
 
534
Saint Louis
 
 
+7½
-110

o

 
 
 
 
 
 
 
 
 
 
 
 
 
 
 
 
 
 
 
07:00 PM
535
Dayton
 
 
-2½
-115

o

 
 
 
 
 
 
 
 
 
 
 
 
 
 
 
 
 
 
536
Richmond
 
 
+2½
-105

o

 
 
 
 
 
 
 
 
 
 
 
 
 
 
 
 
 
 
 
07:00 PM
537
South Carolina
 
 
+5
-115

o

 
 
 
 
 
 
 
 
 
 
 
 
 
 
 
 
 
 
538
Alabama
 
 
-5
-105

o

 
 
 
 
 
 
 
 
 
 
 
 
 
 
 
 
 
 
 
08:00 PM
539
Boston College
 
 
+14
-110

o

 
 
 
 
 
 
 
 
 
 
 
 
 
 
 
 
 
 
540
North Carolina
 
 
-14
-110

o

 
 
 
 
 
 
 
 
 
 
 
 
 
 
 
 
 
 
 
08:00 PM
541
Southern Illinois
 
 
+6
-110

o

 
 
 
 
 
 
 
 
 
 
 
 
 
 
 
 
 
 
542
Bradley
 
 
-6
-110

o

 
 
 
 
 
 
 
 
 
 
 
 
 
 
 
 
 
 
 
08:00 PM
543
Duquesne
 
 
+8½
-115

o

 
 
 
 
 
 
 
 
 
 
 
 
 
 
 
 
 
 
544
Va Commonwealth
 
 
-8½
-105

o

 
 
 
 
 
 
 
 
 
 
 
 
 
 
 
 
 
 
 
08:00 PM
545
Syracuse
 
 
+11
-110

o

 
 
 
 
 
 
 
 
 
 
 
 
 
 
 
 
 
 
546
Virginia
 
 
-11
-110

o

 
 
 
 
 
 
 
 
 
 
 
 
 
 
 
 
 
 
 
08:30 PM
547
Wisconsin
 
 
+2½
-110

o

 
 
 
 
 
 
 
 
 
 
 
 
 
 
 
 
 
 
548
Nebraska
 
 
-2½
-110

o

 
 
 
 
 
 
 
 
 
 
 
 
 
 
 
 
 
 
 
08:30 PM
549
Butler
 
 
+7½
-110

o

 
 
 
 
 
 
 
 
 
 
 
 
 
 
 
 
 
 
550
Creighton
 
 
-7½
-110

o

 
 
 
 
 
 
 
 
 
 
 
 
 
 
 
 
 
 
 
09:00 PM
551
Purdue
 
 
-1½
-105

o

 
 
 
 
 
 
 
 
 
 
 
 
 
 
 
 
 
 
552
Michigan
 
 
+1½
-115

o

 
 
 
 
 
 
 
 
 
 
 
 
 
 
 
 
 
 
 
09:00 PM
553
Seton Hall
 
 
-1
-110

o

 
 
 
 
 
 
 
 
 
 
 
 
 
 
 
 
 
 
554
Marquette
 
 
+1
-110

o

 
 
 
 
 
 
 
 
 
 
 
 
 
 
 
 
 
 
 
09:00 PM
555
Iowa State
 
 
+16½
-110

o

 
 
 
 
 
 
 
 
 
 
 
 
 
 
 
 
 
 
556
Kansas
 
 
-16½
-110

o

 
 
 
 
 
 
 
 
 
 
 
 
 
 
 
 
 
 
 
09:00 PM
557
Tennessee
 
 
-2
-110

o

 
 
 
 
 
 
 
 
 
 
 
 
 
 
 
 
 
 
558
Vanderbilt
 
 
+2
-110

o

 
 
 
 
 
 
 
 
 
 
 
 
 
 
 
 
 
 
 
09:00 PM
559
Mississippi
 
 
+11
-110

o

 
 
 
 
 
 
 
 
 
 
 
 
 
 
 
 
 
 
560
Auburn
 
 
-11
-110

o

 
 
 
 
 
 
 
 
 
 
 
 
 
 
 
 
 
 
 
11:00 PM
561
Boise State
 
 
+4
+100

o

 
 
 
 
 
 
 
 
 
 
 
 
 
 
 
 
 
 
562
Fresno State
 
 
-4
-120

o

 
 
 
 
 
 
 
 
 
 
 
 
 
 
 
 
 
 
 
11:00 PM
563
San Jose State
 
 
+21½
-110

o

 
 
 
 
 
 
 
 
 
 
 
 
 
 
 
 
 
 
564
San Diego State
 
 
-21½
-110

o