The Penn vs. Kansas betting line had the Jayhawks as a big -15.5 favorite.  Kansas is the number one seed taking on a number 16 seed Pennsylvania.
The Penn Quakers program has been in turmoil since 2007.  They are back to their winning ways, taking the Ivy League Championship on their home court.
The Quakers rank in the top five nationally in defending the 3-point shot, so this might not be an easy game for Kansas and this has ensured their opponents manage just 29.4 percent outside shooting on the season.
Their downfall is free throw shooting.  They rank among the bottom 25 in the nation. 
The College Basketball Betting Power Ratings indicate that the line in this game should be -16.5.  Despite Pennsylvania's 24-win season, they enter this game at the .500 mark Against The Spread. Kansas has 27 wins on the season and is four games above the .500 mark Against The Spread.  They have covered in seven of the last ten.
Kansas' sophomore big man Udoka Azubuike, recovering from injury, is expected to be available for the Jayhawks' NCAA Tournament-opening game vs. Penn on Thursday.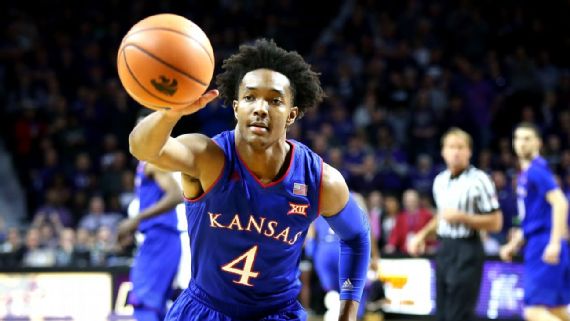 Devonte' Graham of Kansas
"His recovery he's made so far has been even more than what doctors and trainers had thought it would be," Kansas head coach Bill Self said. "We're very, very optimistic we'll have him this weekend. Whether we have him for Thursday -- 48 hours can make a big difference -- but we're hopeful he can play Thursday, and if we are fortunate enough to advance, we're even more optimistic he can play Saturday."
He added: "I don't know that he can be 100 percent," Self said after learning the Jayhawks' seed, "but there are a lot of guys who sprain an ankle and they're not 100 percent, and you still play because there's not a risk of hurting it more. But they still play because they're just a little sore."
But arguably the best player on this team is Devonte' Graham.
Charlie Creme of ESPN.com writes of him:
More of a shot taker early in his career, Graham has become the right combination of scorer and facilitator, leading the team in both points and assists per game.
Below are the early March Madness odds - LIVE ODDS CAN BE FOUND HERE
 

Rot.

Team

Spread

06:40 PM

543

Long Island

 
 

+3½

-110

 

544

Radford

 
 

-3½

-110

 

09:10 PM

545

Saint Bonaventure

 
 

+3

-115

 

546

UCLA

 
 

-3

-105

 

06:40 PM

609

North Carolina Central

 
 

+4

-110

 

610

Texas Southern

 
 

-4

-110

 

09:10 PM

611

Arizona State

 
 

pk

-110

 

612

Syracuse

 
 

pk

-110

 

12:40 PM

737

Wright State

 
 

+12½

-110

 

738

Tennessee

 
 

-12½

-110

 

03:10 PM

735

Loyola Chicago

 
 

+2½

-110

 

736

Miami (FL)

 
 

-2½

-110

 

06:00 PM

721

Alabama

 
 

+1½

-110

 

722

Virginia Tech

 
 

-1½

-110

 

06:00 PM

723

Oklahoma

 
 

+1½

-110

 

724

Rhode Island

 
 

-1½

-110

 

06:00 PM

725

Iona

 
 

+19½

-110

 

726

Duke

 
 

-19½

-110

 

06:00 PM

727

Pennsylvania

 
 

+15½

-110

 

728

Kansas

 
 

-15½

-110

 

06:00 PM

729

NC State

 
 

+2½

-110

 

730

Seton Hall

 
 

-2½

-110

 

06:00 PM

731

San Diego State

 
 

+4

-110

 

732

Houston U

 
 

-4

-110

 

06:00 PM

733

Montana

 
 

+11½

-110

 

734

Michigan

 
 

-11½

-110

 

06:00 PM

741

Stephen Austin

 
 

+11½

-110

 

742

Texas Tech

 
 

-11½

-110

 

06:00 PM

747

South Dakota State

 
 

+7½

-110

 

748

Ohio State

 
 

-7½

-110

 

06:00 PM

749

NC Greensboro

 
 

+12

-110

 

750

Gonzaga

 
 

-12

-110

 

07:10 PM

743

Davidson

 
 

+6

-107

 

744

Kentucky

 
 

-6

-113

 

09:40 PM

745

Buffalo

 
 

+8

-105

 

746

Arizona

 
 

-8

-115

 

03:00 AM

867

Providence

 
 

+3½

-110

 

868

Texas A&M

 
 

-3½

-110

 

03:00 AM

869

Lipscomb

 
 

+18½

-105

 

870

North Carolina

 
 

-18½

-115

 

03:00 AM

887

Murray State

 
 

+9

-115

 

888

West Virginia

 
 

-9

-105

 

03:00 AM

889

Marshall

 
 

+11½

-110

 

890

Wichita State

 
 

-11½

-110

 

12:40 PM

873

CS Fullerton

 
 

+21

-110

 

874

Purdue

 
 

-21

-110

 

02:00 PM

881

Georgia State

 
 

+14

-115

 

882

Cincinnati

 
 

-14

-105

 

03:10 PM

871

Butler

 
 

pk

-110

 

872

Arkansas

 
 

pk

-110

 

04:30 PM

879

Texas

 
 

+1

-105

 

880

Nevada

 
 

-1

-115

 

06:50 PM

865

Kansas State

 
 

+1

-110

 

866

Creighton

 
 

-1

-110

 

07:10 PM

877

Bucknell

 
 

+13½

-110

 

878

Michigan State

 
 

-13½

-110

 

07:25 PM

893

Coll Charleston

 
 

+10

-110

 

894

Auburn

 
 

-10

-110

 

09:20 PM

863

MD Baltimore Co

 
 

+22

-110

 

864

Virginia

 
 

-22

-110

 

09:50 PM

885

Florida State

 
 

+2

-105

 

886

Missouri

 
 

-2

-115

 

09:55 PM

891

New Mexico State

 
 

+4½

-115

 

892

Clemson

 
 

-4½

-105

 
- Mary Montgomery, Gambling911.com