Nets Heat Game 2 Point Spread – 2014 NBA Playoffs
Published on:
May/08/2014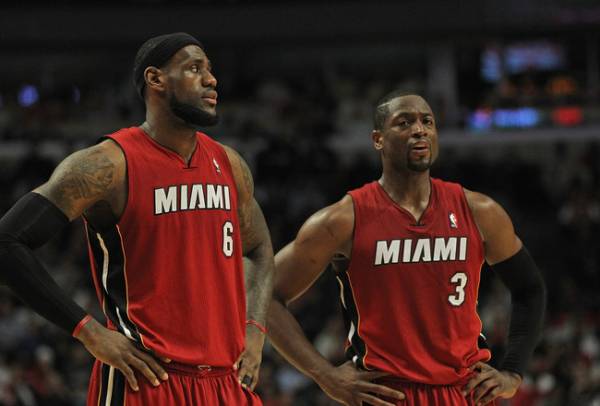 Carrie Stroup here with your Nets Heat Game 2 point spread for the 2014 NBA Playoffs courtesy of Sportsbook.com.  Place your 1st bet, get your 2nd bet for FREE here.

BROOKLYN NETS (48-42) at MIAMI HEAT (59-28)
Sportsbook.ag Line & Total: Miami -7.5 & 192.5
The Heat will look to pick up a home victory in Game 2 on Thursday night in order to protect their home-court advantage against the Nets.
Brooklyn was unable to capitalize on the rustiness of Miami, which had a long break after a first-round sweep over the Bobcats, and was blown out by a score of 107-86 in Game 1. The Nets were a perfect 4-0 SU during the regular-season series, but in the playoffs, the Heat are a whole other animal at 5-0 SU (4-1 ATS) in this postseason. Although Brooklyn has been a poor road team this season at 17-28 SU (20-24-1 ATS), it has done well both on one day's rest (28-19 ATS, 60%) and after an SU loss (22-19 ATS, 54%). Miami has been a losing bet at home this season (20-23-1 ATS) despite a stellar 35-9 SU mark, and is also 15-23-2 ATS (40%) when coming off an ATS victory. Over the past three seasons in this series, the Heat own a 7-4 SU advantage (6-5 ATS), including 4-2 (SU and ATS) when they host the Nets. But Brooklyn has been resilient after getting blown out this season, by going 10-2 ATS after a double-digit road loss and 13-3 ATS after a 15-point defeat. However, Miami tends to thrive after big wins, going 23-11 ATS after two straight double-digit wins over the past two seasons, and is 7-0 ATS when playing five or less games in 14 days this season. The only significant injury to either team is Heat PF Chris Andersen (knee), who is expected to play on Thursday.
The Nets had a golden opportunity to steal Game 1 with the Heat having not played for a week, and their rust was evident in the first half when Brooklyn went to the locker room down by only three points. But the Nets couldn't stop Miami in the second half, as they were outscored 61-43. Brooklyn shot the ball really well at 47.1% FG and 41.7% threes (10-for-24), but its opponent knocked down 56.8% FG and 39.1% threes (9-of-23). The Nets' best offensive player in Game 1 was PG Deron Williams (16.9 PPG, 5.3 APG in playoffs) who shot the ball well with 17 points (7-of-10 FG, 3-of-5 threes), in 30 minutes. However, Williams was unable to get his teammates involved (3 assists, 3 turnovers) and finished with a minus-6 rating. SF Paul Pierce (12.8 PPG in playoffs), who averaged 21.3 PPG against the Heat in the regular season, had just eight points and a team-high six rebounds in 29 minutes on Tuesday. Pierce was locked down throughout the game and was unable to consistently create separation for himself. Pierce was one of the biggest reasons the Nets had success against the Heat in the regular season, and if he does not get back on track, his team has little-to-no chance of taking down the defending champions. SG Joe Johnson (21.3 PPG in playoffs) chipped in 17 points (7-of-11 FG, 3-of-6 threes) in Game 1, but despite scoring his points efficiently, he will need to take more shots for his team to win. Johnson is able to get a good shot off on nearly every possession due to his combination of size and skill, so whatever shots he takes will be better than the ones his teammates weren't making. His minus-19 rating in Game 1 shows that Johnson needs to play better defense as well. The same goes for SG Shaun Livingston (8.5 PPG, 3.4 RPG, 3.1 APG in playoffs) who scored nine points (4-of-9 FG) on Tuesday, but posted a minus-23 rating.
The Heat had their struggles towards the end of the regular season and were unable to pick up a victory over the Nets throughout the regular season, but this is a different team in the playoffs where it has averaged 102.8 PPG on 49.5% FG and 42.3% threes during its perfect 5-0 postseason. A lot of that offensive success has to do with superstar SF LeBron James (28.4 PPG, 7.4 RPG, 5.4 APG, 1.8 SPG in playoffs), who played 36 minutes in Game 1 and had 22 points (10-of-15 FG) while barely even breaking a sweat. Miami pulled away early in the fourth quarter, so James did not need to exert all of his energy and should be ready to dominate yet again in Game 2. PF Chris Bosh (14.6 PPG, 6.4 RPG in playoffs) also played well in Game 1, finishing with 15 points and 11 rebounds in 31 minutes of play. This game was Bosh's first double-double of the 2014 playoffs, and the Heat will need him to be equally as effective on the glass throughout the remainder of the postseason. SG Ray Allen (6.4 PPG in playoffs) had a huge night off the bench on Tuesday, scoring 19 points (6-of-10 FG, 4-of-7 threes) in his 26 minutes. Allen has tons of experience in the playoffs, and his team will be counting on him to knock down big three-pointers the rest of the way. SG Dwyane Wade (16.8 PPG, 4.0 APG, 3.4 RPG, 1.4 SPG in playoffs) played 33 minutes in Game 1 and finished with 14 points, five assists and four rebounds. If Wade is healthy, the Heat should be very difficult to beat for this much slower Nets team.
- Carrie Stroup, Gambling911.com Senior Reporter