Gambling911.com has your NBA and HHL betting odds for Thursday's games as well as some tips.  Scroll Down for More...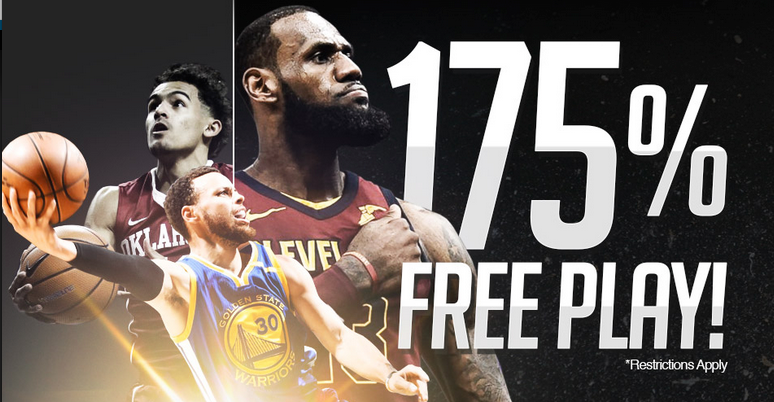 QUICK TAKES
The Celtics are 21-9 Against The Spread in road games this season.
The Heat are 0-8 ATS in home games versus good offensive teams - scoring 106+ points/game this season.
The Nets are 11-3 ATS against Southeast division opponents this season.
Winnipeg is 1-7 ATS after a 3 game unbeaten streak this season.
10 of 11 games in the Buffalo vs. Ottawa series have gone UNDER the total over the last 3 seasons.
The Capitals are 7-1 ATS  in road games revenging a loss versus opponent this season.
Date Time
#
Team
Spread
Total
Money Line
NBA - Mar 08
03/08/2018
651
BROOKLYN NETS
+7-110
o216½-110
+238
16:05:00
652
CHARLOTTE HORNETS
-7-110
u216½-110
-283
03/08/2018
653
PHILADELPHIA 76ERS
PK-110
o209-110
 
16:35:00
654
MIAMI HEAT
PK-110
u209-110
 
03/08/2018
655
BOSTON CELTICS
-2½-110
o217½-110
-135
17:05:00
656
MINNESOTA TIMBERWOLVES
+2½-110
u217½-110
+115
03/08/2018
657
PHOENIX SUNS
+10-110
o229½-110
+450
17:05:00
658
OKLAHOMA CITY THUNDER
-10-110
u229½-110
-600
03/08/2018
659
SAN ANTONIO SPURS
+11-110
o221-110
 
19:35:00
660
GOLDEN STATE WARRIORS
-11-110
u221-110
--
Date Time
#
Team
Spread
Total
Money Line
NATIONAL HOCKEY LEAGUE - Mar 08
03/08/2018
51
COLORADO AVALANCHE
 
o6+102
+128
16:05:00
52
COLUMBUS BLUE JACKETS
 
u6-122
-148
03/08/2018
53
PHILADELPHIA FLYERS
 
o6+109
+165
16:05:00
54
BOSTON BRUINS
 
u6-129
-195
03/08/2018
55
WINNIPEG JETS
 
o6+103
-115
16:05:00
56
NEW JERSEY DEVILS
 
u6-123
-105
03/08/2018
57
BUFFALO SABRES
 
o5½EV
+161
16:35:00
58
OTTAWA SENATORS
 
u5½-120
-181
03/08/2018
59
NEW YORK RANGERS
 
o6-119
+221
16:35:00
60
TAMPA BAY LIGHTNING
 
u6-101
-261
03/08/2018
61
MONTREAL CANADIENS
 
o6-102
+165
16:35:00
62
FLORIDA PANTHERS
 
u6-118
-195
03/08/2018
63
VEGAS GOLDEN KNIGHTS
 
o6+104
-129
16:35:00
64
DETROIT RED WINGS
 
u6-124
+109
03/08/2018
65
ANAHEIM DUCKS
 
o5½+112
+133
17:05:00
66
NASHVILLE PREDATORS
 
u5½-132
-153
03/08/2018
67
CAROLINA HURRICANES
 
o6+104
-105
17:35:00
68
CHICAGO BLACKHAWKS
 
u6-124
-115
03/08/2018
69
NEW YORK ISLANDERS
 
o6½-110
+114
18:05:00
70
EDMONTON OILERS
 
u6½-110
-134
03/08/2018
71
WASHINGTON CAPITALS
 
o5½+107
+115
19:35:00
72
LOS ANGELES KINGS
 
u5½-127
-135
03/08/2018
73
ST. LOUIS BLUES
 
o5½-101
+119
19:35:00
74
SAN JOSE SHARKS
 
u5½-119
-139
03/08/2018
91
AWAY GOALS
 
o70½-107
+225
16:05:00
92
HOME GOALS
 
u70½-113
-265
03/08/2018
93
OVER GOALS
 
o70½-107
 
16:05:00
94
UNDER GOALS
 
u70½-113
 
NATIONAL HOCKEY LEAGUE First Period Lines - Mar 08
03/08/2018
1051
1P COLORADO AVALANCHE
 
o1½-123
+111
16:05:00
1052
1P COLUMBUS BLUE JACKETS
 
u1½-107
-141
03/08/2018
1053
1P PHILADELPHIA FLYERS
 
o1½-120
+140
16:05:00
1054
1P BOSTON BRUINS
 
u1½-110
-170
03/08/2018
1055
1P WINNIPEG JETS
 
o1½-125
-117
16:05:00
1056
1P NEW JERSEY DEVILS
 
u1½-105
-113
03/08/2018
1057
1P BUFFALO SABRES
 
o1½-107
+133
16:35:00
1058
1P OTTAWA SENATORS
 
u1½-123
-163
03/08/2018
1059
1P NEW YORK RANGERS
 
o1½-134
+177
16:35:00
1060
1P TAMPA BAY LIGHTNING
 
u1½+104
-217
03/08/2018
1061
1P MONTREAL CANADIENS
 
o1½-124
+140
16:35:00
1062
1P FLORIDA PANTHERS
 
u1½-106
-170
03/08/2018
1063
1P VEGAS GOLDEN KNIGHTS
 
o1½-122
-127
16:35:00
1064
1P DETROIT RED WINGS
 
u1½-108
-103
03/08/2018
1065
1P ANAHEIM DUCKS
 
o1½EV
+113
17:05:00
1066
1P NASHVILLE PREDATORS
 
u1½-130
-143
03/08/2018
1067
1P CAROLINA HURRICANES
 
o1½-122
-113
17:35:00
1068
1P CHICAGO BLACKHAWKS
 
u1½-108
-117
03/08/2018
1069
1P NEW YORK ISLANDERS
 
o1½-143
+101
18:05:00
1070
1P EDMONTON OILERS
 
u1½+113
-131
03/08/2018
1071
1P WASHINGTON CAPITALS
 
o1½-104
+102
19:35:00
1072
1P LOS ANGELES KINGS
 
u1½-126
-132
03/08/2018
1073
1P ST. LOUIS BLUES
 
o1½-113
+104
19:35:00
1074
1P SAN JOSE SHARKS
 
u1½-117
-134
- Tyrone Black, Gambling911.com