Gambling911.com has your NBA and College Basketball betting odds for Friday night's games.

HOT TRENDS
W MICHIGAN is 14-5 Against The Spread off a loss against a conference rival over the last 3 seasons.
BROOKLYN is 10-2 ATS against Southeast division opponents this season.
Washington is 7-2 ATS versus DETROIT over the last 3 seasons.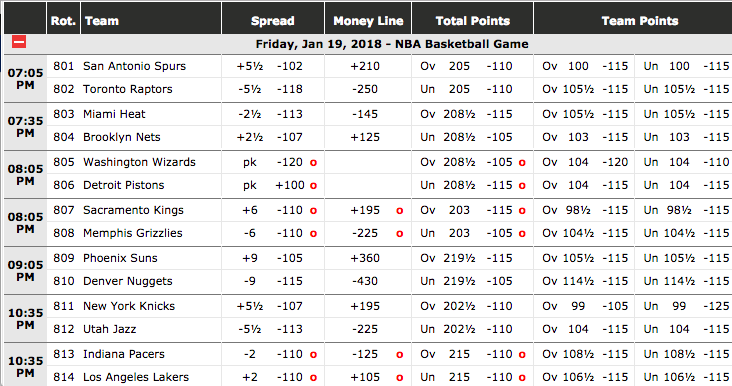 NCAA BASKETBALL - MEN - Jan 19
01/19/2018
815
ST. BONAVENTURE
+5-110
 
 
16:00:00
816
DAVIDSON
-5-110
 
 
01/19/2018
817
INDIANA
+14½-110
 
 
16:00:00
818
MICHIGAN STATE
-14½-110
 
 
01/19/2018
819
BUFFALO
-3½-110
 
 
16:00:00
820
WESTERN MICHIGAN
+3½-110
 
 
01/19/2018
821
YALE
-3-110
 
 
17:00:00
822
BROWN
+3-110
 
 
01/19/2018
823
ILLINOIS
+4½-110
 
 
18:00:00
824
WISCONSIN
-4½-110
 
 
ADDED GAMES
01/19/2018
825
CANISIUS
-1½-110
 
 
18:00:00
826
MANHATTAN
+1½-110
 
 
01/19/2018
827
IONA
-2-110
 
 
16:00:00
828
MONMOUTH
+2-110
- Tyrone Black, Gambling911.com