Gambling911.com has your betting odds on Saturday's College Basketball games including the Noon Eastern Time showdown between Michigan and Michigan State.

Michigan vs. MSU Head to Head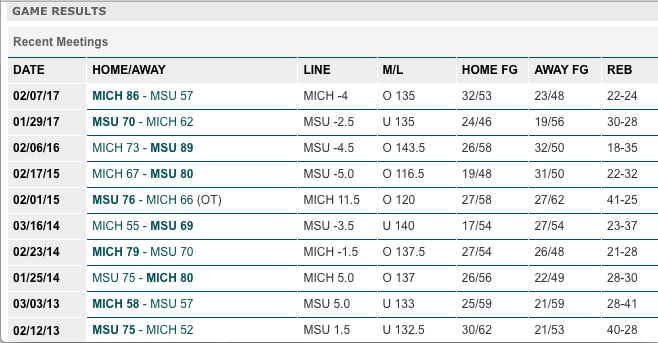 MSU has owned this series of late, winning five of the last six.  The Wolverines beat the Spartans in their last faceoff, however.
Michigan State is a -9.5 favorite here.  They have covered that spread in four of those last five victories.
The College Basketball Betting Power Ratings indicate the line here should be MSU -8.5 so we are seeing a 1 point overlay with the Spartans, thus providing Michigan with a slight edge.
Michigan vs. MSU Hot Betting Trends
The Wolverines are 8-1-1 Against The Spread in their last 10 vs. Big Ten.
The Spartans are 1-5 ATS in their last 6 games vs. a team with a winning straight up record.
Free Pick
The Wolverines should be able to eke out a cover here.
Date Time
#
Team
Spread
Total
Money Line
NCAA BASKETBALL - MEN - Jan 13
01/13/2018
515
ST. BONAVENTURE
+7-110
o144-110
+260
08:00:00
516
RHODE ISLAND
-7-110
u144-110
-320
01/13/2018
517
WAKE FOREST
+16½-110
o164½-110
 
09:00:00
518
DUKE
-16½-110
u164½-110
 
01/13/2018
519
GEORGETOWN
+12-110
o153-110
 
09:00:00
520
SETON HALL
-12-110
u153-110
 
01/13/2018
521
KANSAS STATE
+12-105
o149-115
 
09:00:00
522
KANSAS
-12-115
u149-105
 
01/13/2018
523
MICHIGAN
+9½-110
o135½-110
+400
09:00:00
524
MICHIGAN STATE
-9½-110
u135½-110
-500
01/13/2018
525
PURDUE
-8½-105
o151½-110
-418
09:00:00
526
MINNESOTA
+8½-115
u151½-110
+343
01/13/2018
527
LA SALLE
PK-105
o139-110
 
09:30:00
528
DUQUESNE
PK-115
u139-110
 
01/13/2018
529
CONNECTICUT
+3-115
o144-110
+135
10:00:00
530
TULANE
-3-105
u144-110
-155
01/13/2018
531
TCU
+6-105
o174½-110
+242
10:00:00
532
OKLAHOMA
-6-115
u174½-110
-287
01/13/2018
533
DARTMOUTH
+16½-115
o146-110
 
10:00:00
534
BOSTON COLLEGE
-16½-105
u146-110
 
01/13/2018
535
FLORIDA
-4½-115
o151½-110
-210
10:00:00
536
MISSISSIPPI
+4½-105
u151½-110
+175
01/13/2018
537
SOUTH CAROLINA
+5-115
o132-110
+175
10:00:00
538
GEORGIA
-5-105
u132-110
-210
01/13/2018
539
OREGON
+8½-110
o148-110
+335
11:00:00
540
ARIZONA
-8½-110
u148-110
-425
01/13/2018
541
MEMPHIS
+8-110
o137-110
+315
11:00:00
542
TEMPLE
-8-110
u137-110
-375
01/13/2018
543
CREIGHTON
+4-110
o168-110
+155
11:00:00
544
XAVIER
-4-110
u168-110
-175
01/13/2018
545
MIAMI OHIO
+15½-110
o149½-110
 
11:00:00
546
BUFFALO
-15½-110
u149½-110
 
01/13/2018
547
BOWLING GREEN
+3-110
o153-110
+140
11:00:00
548
AKRON
-3-110
u153-110
-160
01/13/2018
549
SYRACUSE
+5-110
o138½-110
+185
11:00:00
550
FLORIDA STATE
-5-110
u138½-110
-225
01/13/2018
551
WEST VIRGINIA
+5½-110
o144-110
+205
11:00:00
552
TEXAS TECH
-5½-110
u144-110
-245
01/13/2018
553
GEORGIA TECH
-5½-110
o125½-110
-245
11:00:00
554
PITTSBURGH
+5½-110
u125½-110
+205
01/13/2018
555
SAINT LOUIS
PK-110
o130-110
 
11:30:00
556
GEORGE MASON
PK-110
u130-110
 
01/13/2018
557
EVANSVILLE
+2-110
 
 
14:00:00
558
DRAKE
-2-110
 
 
01/13/2018
559
MIAMI FLORIDA
+5-110
o133½-110
+185
12:00:00
560
CLEMSON
-5-110
u133½-110
-225
01/13/2018
561
BAYLOR
-2½-110
o139-110
-145
12:00:00
562
IOWA STATE
+2½-110
u139-110
+125
01/13/2018
563
FLORIDA ATLANTIC
+7½-110
o153½-115
+280
12:00:00
564
TEXAS SAN ANTONIO
-7½-110
u153½-105
-340
01/13/2018
565
NORTH TEXAS
-2½-105
o139-110
-140
12:00:00
566
RICE
+2½-115
u139-110
+120
01/13/2018
567
AUBURN
-1½-110
o151½-110
-125
12:30:00
568
MISSISSIPPI STATE
+1½-110
u151½-110
+105
01/13/2018
569
GEORGIA SOUTHERN
-4-110
o150-110
-183
12:30:00
570
APPALACHIAN STATE
+4-110
u150-110
+163
01/13/2018
571
GEORGIA STATE
PK-110
o137½-110
 
12:30:00
572
COASTAL CAROLIN
PK-110
u137½-110
 
01/13/2018
573
VIRGINIA TECH
+4½-110
 
 
13:00:00
574
LOUISVILLE
-4½-110
 
 
01/13/2018
575
BRADLEY
+6½-110
 
 
13:00:00
576
LOYOLA CHICAGO
-6½-110
 
 
01/13/2018
577
COLORADO STATE
+6½-110
 
 
13:00:00
578
WYOMING
-6½-110
 
 
01/13/2018
579
HOFSTRA
-3-105
 
 
13:00:00
580
DREXEL
+3-115
 
 
01/13/2018
581
TOWSON
+2-110
 
+125
13:00:00
582
WILLIAM & MARY
-2-110
 
-145
01/13/2018
583
DELAWARE
+3-105
 
 
13:00:00
584
JAMES MADISON
-3-115
 
 
01/13/2018
585
CALIFORNIA
+4½-110
 
 
13:00:00
586
WASHINGTON STATE
-4½-110
 
 
01/13/2018
587
KENTUCKY
-2-110
 
 
13:00:00
588
VANDERBILT
+2-110
 
 
01/13/2018
589
TROY
-1½-110
 
 
13:05:00
590
SOUTH ALABAMA
+1½-110
 
 
01/13/2018
591
GEORGE WASHINGTON
+2-110
 
 
13:30:00
592
RICHMOND
-2-110
 
 
01/13/2018
593
BALL STATE
-1-110
 
 
13:30:00
594
WESTERN MICHIGAN
+1-110
 
 
01/13/2018
595
EASTERN MICHIGAN
-1½-110
 
 
13:30:00
596
NORTHERN ILLINOIS
+1½-110
 
 
01/13/2018
597
TOLEDO
+2-110
 
 
13:30:00
598
CENTRAL MICHIGAN
-2-110
 
 
01/13/2018
599
LOUISIANA TECH
+7½-110
 
 
14:00:00
600
UAB
-7½-110
 
 
01/13/2018
601
AIR FORCE
PK-110
 
 
14:00:00
602
SAN JOSE STATE
PK-110
 
 
01/13/2018
603
TEXAS
+2-115
 
 
14:00:00
604
OKLAHOMA STATE
-2-105
 
 
01/13/2018
605
TEXAS A&M
+2½-110
 
 
15:00:00
606
TENNESSEE
-2½-110
 
 
01/13/2018
607
MISSOURI
+4½-110
 
 
15:00:00
608
ARKANSAS
-4½-110
 
 
01/13/2018
609
NORTH CAROLINA
-5½-105
 
 
15:00:00
610
NOTRE DAME
+5½-115
 
 
01/13/2018
611
ILLINOIS STATE
+3½-110
 
 
15:00:00
612
SOUTHERN ILLINOIS
-3½-110
 
 
01/13/2018
613
SOUTHERN MISS
+14½-110
 
 
15:00:00
614
MIDDLE TENN ST
-14½-110
 
 
01/13/2018
615
TEXAS STATE
-1-110
 
 
15:00:00
616
ARKANSAS LITTLE ROCK
+1-110
 
 
01/13/2018
617
OREGON STATE
+10½-105
 
 
15:00:00
618
ARIZONA STATE
-10½-115
 
 
01/13/2018
619
WESTERN KENTUCKY
-13½-110
 
 
16:00:00
620
CHARLOTTE U
+13½-110
 
 
01/13/2018
621
COLL OF CHARLESTON
-2-110
 
 
16:00:00
622
ELON
+2-110
 
 
01/13/2018
623
CINCINNATI
-22½-110
 
 
16:00:00
624
SOUTH FLORIDA
+22½-110
 
 
01/13/2018
625
NEW MEXICO
+8½-110
 
 
16:00:00
626
FRESNO STATE
-8½-110
 
 
01/13/2018
627
MARSHALL
+9-110
 
 
16:00:00
628
OLD DOMINION
-9-110
 
 
01/13/2018
633
NORTHEASTERN
-6-110
 
 
16:00:00
634
NC WILMINGTON
+6-110
 
 
01/13/2018
635
WICHITA STATE
-12-110
 
 
16:30:00
636
TULSA
+12-110
 
 
01/13/2018
637
VALPARAISO
+4½-110
 
 
17:00:00
638
NORTHERN IOWA
-4½-110
 
 
01/13/2018
639
UTAH STATE
+13½-110
 
 
17:00:00
640
NEVADA
-13½-110
 
 
01/13/2018
641
VILLANOVA
-12-110
 
 
17:00:00
642
ST. JOHNS
+12-110
 
 
01/13/2018
643
SAINT MARY'S CA
-16½-110
 
 
17:00:00
644
PEPPERDINE
+16½-110
 
 
01/13/2018
645
UT ARLINGTON
-5½-110
 
 
17:00:00
646
ARKANSAS STATE
+5½-110
 
 
01/13/2018
647
UL - MONROE
+15½-110
 
 
17:00:00
648
UL - LAFAYETTE
-15½-110
 
 
01/13/2018
649
STANFORD
+4½-110
 
 
17:00:00
650
WASHINGTON
-4½-110
 
 
01/13/2018
651
ALABAMA
+4-105
 
 
17:30:00
652
LSU
-4-115
 
 
01/13/2018
653
FLORIDA INTL
+4½-110
 
 
18:00:00
654
UTEP
-4½-110
 
 
01/13/2018
655
UC DAVIS
+1-110
 
 
18:00:00
656
CS FULLERTON
-1-110
 
 
01/13/2018
657
LONG BEACH STATE
PK-110
 
 
18:00:00
658
CAL RIVERSIDE
PK-110
 
 
01/13/2018
659
GONZAGA
-13½-105
 
 
18:30:00
660
SAN FRANCISCO
+13½-115
 
 
01/13/2018
661
LOYOLA MARYMOUNT
+8½-110
 
 
19:00:00
662
SAN DIEGO
-8½-110
 
 
01/13/2018
663
CAL IRVINE
-8½-110
 
 
19:00:00
664
CS NORTHRIDGE
+8½-110
 
 
01/13/2018
665
PACIFIC
-3½-110
 
 
19:00:00
666
PORTLAND
+3½-110
 
 
01/13/2018
667
SAN DIEGO STATE
+3-110
 
 
19:00:00
668
BOISE STATE
-3-110
 
 
01/13/2018
669
BYU
-8½-115
 
 
19:00:00
670
SANTA CLARA
+8½-105
 
 
01/13/2018
671
COLORADO
+11½-110
 
 
19:30:00
672
UCLA
-11½-110
 
 
01/13/2018
673
CAL SANTA BARBA
+1-105
 
 
22:00:00
674
HAWAII
-1-115
 
 
ADDED GAMES
01/13/2018
675
TENN CHATTANOOGA
-3½-110
o163½-110
-170
10:00:00
676
THE CITADEL
+3½-110
u163½-110
+150
01/13/2018
677
DENVER
+15-110
o149½-110
 
12:00:00
678
SOUTH DAKOTA ST
-15-110
u149½-110
 
01/13/2018
679
WEBER STATE
-2-110
o151-110
-135
12:00:00
680
NORTH DAKOTA
+2-110
u151-110
+115
01/13/2018
681
ORAL ROBERTS
+5½-110
o140½-110
+205
12:00:00
682
NORTH DAKOTA ST
-5½-110
u140½-110
-245
01/13/2018
683
VMI
+22½-110
 
 
13:00:00
684
EAST TENN STATE
-22½-110
 
 
01/13/2018
685
NORTHERN ARIZONA
+6-110
 
 
13:00:00
686
SOUTHERN UTAH
-6-110
 
 
01/13/2018
687
MONTANA
PK-115
 
 
13:00:00
688
PORTLAND STATE
PK-105
 
 
01/13/2018
689
IDAHO STATE
+11-110
 
 
13:00:00
690
NO. COLORADO
-11-110
 
 
01/13/2018
691
SAMFORD
+10-110
 
 
13:00:00
692
MERCER
-10-110
 
 
01/13/2018
693
BELMONT
-6½-110
 
 
13:15:00
694
EASTERN ILLINOIS
+6½-110
 
 
01/13/2018
695
EASTERN KENTUCKY
+4-110
 
 
14:15:00
696
SE MISSOURI STATE
-4-110
 
 
01/13/2018
697
AUSTIN PEAY
+10-110
 
 
14:30:00
698
JACKSONVILLE ST
-10-110
 
 
01/13/2018
699
MOREHEAD STATE
+4½-110
 
 
16:00:00
700
TENNESSEE MARTIN
-4½-110
 
 
01/13/2018
701
FURMAN
-1-110
 
 
16:00:00
702
WOFFORD
+1-110
 
 
01/13/2018
703
NEBRASKA OMAHA
+9-110
 
 
16:00:00
704
IPFW
-9-110
 
 
01/13/2018
705
FAIRFIELD
-5-110
 
 
16:00:00
706
MARIST
+5-110
 
 
01/13/2018
707
SIENA
+7½-110
 
 
16:00:00
708
MANHATTAN
-7½-110
 
 
01/13/2018
709
NC GREENSBORO
-5-110
 
 
16:30:00
710
WESTERN CAROLINA
+5-110
 
 
01/13/2018
711
TENNESSEE STATE
-2-110
 
 
17:00:00
712
SIU EDWARDSVILLE
+2-110
 
 
01/13/2018
713
MURRAY STATE
-5-110
 
 
17:30:00
714
TENNESSEE TECH
+5-110
 
 
01/13/2018
715
MONTANA STATE
-1-110
 
 
19:05:00
716
SACRAMENTO STATE
+1-110
 
 
- Don Shapiro, Gambling911.com