Miami Heat Odds to Win the 2011 NBA Championship Still Better Than 2/1
Published on:
Dec/18/2010
With a win in Madison Square Garden Friday night against the New York Knicks, the Miami Heat odds of winning the 2011 NBA Championship remained at better than 2/1 or +225 for a potential payout of $22.50 on every $10 bet. 
The NBA is starting to live up to early expectations with the Heat finally coming into their own after a slow start, now winning their 11th straight game.  The New York Knicks, one of basketball's most revered franchises, has a record above .500 for the first time in years and the Boston Celtics continue to look like a formidable foe for both teams in the East.  They've won 12 straight.
In the West, the Lakers have 20 wins yet it's the one-time perennial favorites to win the NBA Championship, San Antonio Spurs, that have the best record in the league at 22-3.  Dallas has 21 wins and the Oklahoma City Thunder (relocated from Seattle in 2008) is promising to build a strong fan base in the Sooner State with a 19-8 record, the best in the Northwest Division.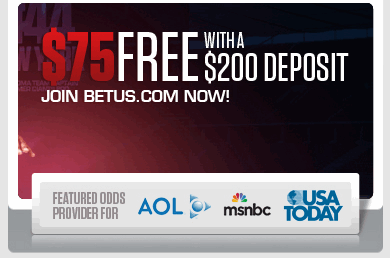 Odds to Win the 2011 NBA Championship
101 Atlanta Hawks     +5000
102 Boston Celtics     +450
103 Charlotte Bobcats     +20000
104 Chicago Bulls     +2500
105 Cleveland Cavaliers     +25000
106 Dallas Mavericks     +1200
107 Denver Nuggets     +4000
108 Detroit Pistons     +20000
109 Golden State Warriors     +20000
110 Houston Rockets     +15000
111 Indiana Pacers     +10000
112 Los Angeles Clippers     +50000
113 Los Angeles Lakers     +225
114 Memphis Grizzlies     +20000
115 Miami Heat     +225
116 Milwaukee Bucks     +15000
117 Minnesota Timberwolves     +50000
118 New Jersey Nets     +30000
119 New Orleans Hornets     +5000
120 New York Knicks     +4000
121 Oklahoma City Thunder     +2000
122 Orlando Magic     +1000
123 Philadelphia 76ers     +30000
124 Phoenix Suns     +7500
125 Portland Trailblazers     +7500
126 Sacramento Kings     +50000
127 San Antonio Spurs     +1000
128 Toronto Raptors     +40000
129 Utah Jazz     +2500
130 Washington Wizards     +40000
- Tyrone Black, Gambling911.com