MIAMI HEAT (33-38) at ATLANTA HAWKS (54-17)
Published on:
Mar/27/2015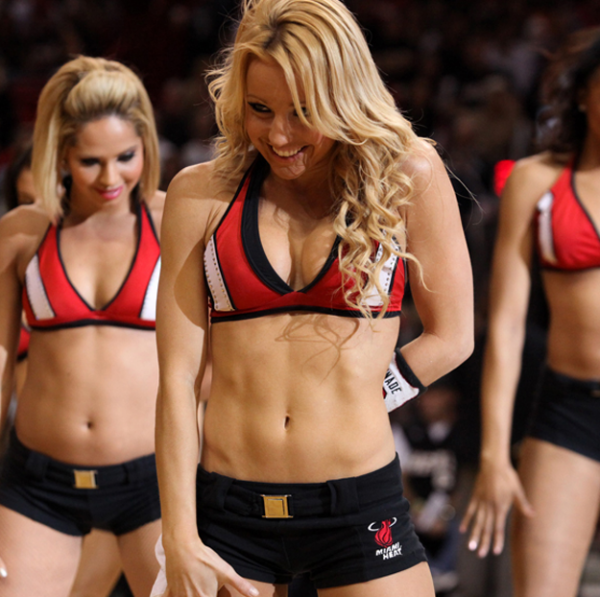 The Heat continue to fight for their spot in the Eastern Conference playoffs when they 
face the Hawks in Atlanta Friday. 
Sportsbook.ag Line: Atlanta -9, Total: 193
The Heat went into Boston on Wednesday and beat the Celtics 93-86 as 8-point underdogs. Miami has allowed 93 or less points in each of the past four games, but the team also hasn't scored over 100 in each of the past three. It will need to find a way to score or will continue to struggle. 
The Hawks beat the Magic 95-83 as 9-point favorites in Orlando Wednesday. The win ended a three game SU and ATS losing streak for Atlanta. The team is struggling offensively of late, averaging just 99.6 PPG over the past seven games. 
These two teams have met three times this season and Atlanta is now 3-0 SU and 2-0-1 ATS in those games. The last time they met in Atlanta, the Hawks won 114-103 as a 5-point favorite. Over the past three seasons, Atlanta is 3-2 SU and ATS when hosting Miami. Miami is 8-5 ATS in March games this season and 61-44 ATS in the second half of the season over the past three seasons. Atlanta, meanwhile, is 8-1 ATS off a road win by 10 points or more this season. 
C Hassan Whiteside (Hand) is doubtful on Friday and SG Dwyane Wade (Knee) is questionable for the Heat, who are already without C Chris Bosh (Blood Clot) and PF Josh McRoberts (Knee) for the season. PF Mike Scott (Toe) is out indefinitely for Atlanta and PG Jeff Teague (Ankle) is out for this one. 
The Heat are fighting for positioning in a very close Eastern Conference playoff race and will need to win all the games they can moving forward. This will not be easy on Friday though, as they have not beaten the Hawks all season. If the team is going to beat the Hawks for a first time on Friday then SG Dwyane Wade (21.6 PPG, 5.2 APG, 3.6 RPG, 1.3 SPG) will need to be on the floor. Wade missed the game against the Celtics and is questionable for this one. He's averaging 25.0 PPG, 5.5 APG and 3.5 RPG in two games against Atlanta this season. Losing that type of production would be a major blow to this 
Heat team. 
PG Goran Dragic (16.4 PPG, 4.4 APG, 3.6 RPG, 1.1 SPG) picked his game up against Boston without Wade, finishing with 22 points, seven assists and five boards in 37 minutes. He'll need to be extremely aggressive as a scorer if Wade is out in this one. PF Udonis Haslem (3.8 PPG, 3.8 RPG) is now the only big man in this lineup that is capable of playing big minutes because of injuries. Haslem had his best game of the year against Boston, finishing with 12 points, 12 rebounds and three steals in 38 minutes. He must be big in this game on Friday as the Hawks have a very good frontcourt. SF Luol Deng (14.3 PPG, 4.9 RPG, 2.0 APG) is going to need to step his game up in this one. 
With Wade not at 100%, Deng will be counted on to score and he will have to be a more willing shooter against Atlanta. Atlanta picked up a much-needed victory over Orlando last game, as the team could have gotten low in confidence after losing three straight games. PF Paul Millsap (17.1 PPG, 7.9 RPG, 1.8 SPG) has been on fire for Atlanta recently, averaging 23.5 PPG, 9.0 RPG and 2.0 BPG over the past two games. The Heat are extremely undersized due to injuries at the moment, so Millsap and C Al Horford (15.0 PPG, 7.4 RPG, 1.3 BPG) should really have their way in this one.
Horford has struggled recently though, averaging just 9.0 PPG over the past four games. He will need to find his game soon, as his team needs him to be 
playing at a high level heading into the playoffs. 
PG Jeff Teague (16.3 PPG, 7.0 APG, 2.4 RPG, 1.7 SPG) played very well against Orlando, finishing with 16 points, nine assists and three rebounds in 33 minutes of action. 
Teague is dealing with a sore ankle though and is out for this one. PG Dennis Schroder (9.7 PPG, 4.0 APG) will need to step it up big time with him out. He is an excellent passer and can be menacing on defense at times as well. 
SG Kyle Korver (12.3 PPG, 4.2 RPG, 2.5 APG) is going to need to be on his game against Miami as well. Korver had 13 points, eight rebounds, two blocks and two steals against Orlando. He has been very active defensively since returning from his broken nose and that is a major plus when you add that to his remarkable outside shooting (50% 3PT).