Line on the Celtics-Heat Game Steady at -5
Published on:
Apr/30/2011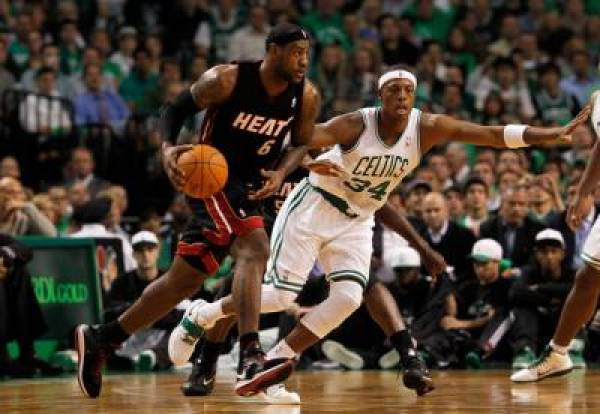 The line on the Celtics-Heat game opened at -5 and has remained there heading into Game Day Sunday.  Sportsbook.com offered Miami with odds of -5.  The total was coming in at 182.5.   The Celtics were getting more betting action than any of the UFC fight bets Saturday night, Gambling911.com noted. 
After disposing of their First Round opponents, the Celtics and Heat meet in the second round with Game 1 taking place in Miami. The Celtics took three of the four regular-season meetings against the Heat, including splitting both games at the AmericanAirlines Arena.
Rajon Rondo recorded a triple-double in Game 3 against the Knicks and was clearly the best player on the court during their series, averaging double-figures in PPG (19.0) and APG (12.0). Paul Pierce and Ray Allen each averaged over 22.0 PPG in the first round, while combining to shoot 58.7 percent (27-of-46) from behind the arc. Allen also averaged 20.3 PPG and made 16-of-28 three-point attempts against Miami during the regular season. If the Celtics get that type of production against the Heat, then they will have an excellent chance to win this series.
Miami's Big Three each averaged over 19.0 PPG and 8.0 RPG during their first round series against Philadelphia. LeBron James averaged 28.8 PPG against the Celtics during the regular season, but Dwyane Wade really struggled, averaging 12.8 PPG and connecting on just 28.1 percent of his shot attempts. If Miami can get similar contributions from role players like Mario Chalmers (20 points in Game 5) and James Jones (8-of-19 three-point FG in playoffs), then it has a great shot at winning this series.
The Heat have now had a full regular season and first round of the playoffs to get used to each other to undertake what is their first real challenge. Boston is deep and full of veteran players who know what it takes to win. While the Celtics looked old and disinterested in their first two games against the Knicks, they really answered the bell in the final two games.
- Carrie Stroup, Gambling911.com Senior Reporter
Follow breaking headlines around the clock at Gambling911.com Twitter Here