Kentucky vs. UNC Line at -1.5: North Carolina a Rare Underdog
Published on:
Mar/26/2011
With the Wildcats knocking off the mighty Buckeyes Friday, the Kentucky vs. UNC line had number two-seeded North Carolina a +1.5 underdog vs. a team that comes into this Elite Eight game a number 4 seed.  This spread could be found at BetUS.com, however, we expect the line to move down (as it already has at some online sportsbooks).  That's because around 80 percent of the action is on UNC. 
This is going to be one of the most exciting games of the year, and we're not just talking college basketball here.  Kentucky and North Carolina are two of the winningest teams in the NCAA Tournament.  Think Lakers vs. Celtics.
"Yes, the names on the front: Kentucky and North Carolina, wow. The history of these programs, wow," said Kentucky coach John Calipari. "But I don't think (my players) are worried about that and I am certainly not."
Kentucky almost didn't make it here after just narrowly avoiding an upset in the first round with a last minute buzzer beater against Princeton.  They redeemed themselves with a win over Ohio State Friday night.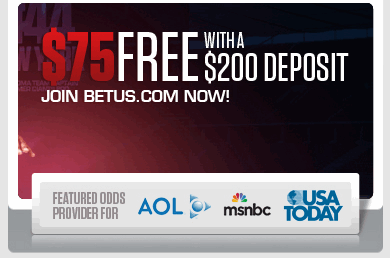 "Good teams get better once they've been knocked down," says Don Shapiro of Gambling911.com.  "We saw something similar during the World Cup this past summer when heavily favored Germany got stunned early by Serbia.  The Germans made it all the way to the semi-final."
Kentucky hopes to make it to the National Championship and win it all.  They were listed at 20/1 odds to do so coming into the Tournament. 
For Kentucky, their win against Ohio State didn't come easy either.  Brandon Knight hit the winning jumper with 5.4 seconds left and that sealed it. 
"When it comes to crunch time, couple seconds left, the game is on the line, I just try to make good decisions," Knight said.
Kentucky reached the Elite Eight for the second straight year, joining Butler as the only teams to repeat. It is the 17th Elite Eight for Kentucky, second all-time behind North Carolina's 18.
The Wildcats are 0-2 against North Carolina, who made getting past Marquette mighty easy Friday night with an 81-63 win. 
North Carolina closed the first half on a 32-5 run and won its ninth straight game in the NCAA tournament.
This game goes off at 4:35 pm ET on CBS
719
Kentucky
-1½  -110
720
North Carolina
+1½  -110
- Tyrone Black, Gambling911.com
Follow us on Twitter for all the latest breaking gambling news.