Despite the dominance thus far in this NCAA Tournament by the overall number one-seeded Buckeyes, the Kentucky vs. Ohio State line was coming in at a mere -5.  Over 90 percent of those betting the spread in this game were in agreement it seems.  With such lopsided action, Gambling911.com anticipated a shift to -5.5 and quite possibly -6.  Gambling911.com believes this line should be set at -7 based on our own calculations.  The total in this game was 140 with heavy action on the OVER.
Ohio State rolled over George Mason this past weekend to advance into this year's Sweet 16.  David Lighty scored all seven of his 3-point shots, scoring 25 points while William Buford and Jared Sullinger each scored 18 points, leading to a 98-66 victory. 
"They're the toughest squad that we faced," George Mason forward Ryan Pearson said of Ohio State. "When they got guys that's just hitting on all cylinders, all night long, and they're sharing the ball and they're just going out there and just having fun, it's kind of tough for the opponent to stop.
"They just made shots. And even when we tried to cut the lead and come out, they just came right back at us, firing on all cylinders. They're a great program, they're a tough team to beat. I think they're going to go real far in this tournament."
Meanwhile, Kentucky, which nearly got knocked out of the first round, managed an impressive win over West Virginia on Saturday.  This will be the third time Kentucky has played a number one seed in the Sweet 16. The two previous times Kentucky lost by double-digits.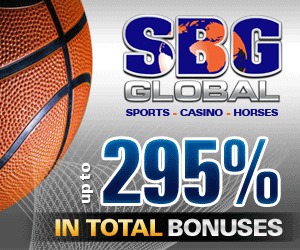 COLLEGE BASKETBALL - Mar 25 
COLLEGE INSIDER TOURNAMENT - SEMIFINALS BOTTOM TEAM IS HOME NCAA TOURNAMENT - REGIONAL SEMIFINALS PRUDENTIAL CENTER - NEWARK, NJ
NCAA TOURNAMENT - REGIONAL SEMIFINALS PRUDENTIAL CENTER - NEWARK, NJ
4:00 PM

877

MARQUETTE

+5-110

o148-110

+190

878

NORTH CAROLINA

-5-110

u148-110

-230

6:30 PM

879

KENTUCKY

+5-110

o140-110

+195

880

OHIO STATE

-5-110

u140-110

-235
NCAA TOURNAMENT - REGIONAL SEMIFINALS ALAMODOME - SAN ANTONIO, TX
4:15 PM

881

RICHMOND

+10½-110

o138-110

+575

882

KANSAS

-10½-110

u138-110

-725

6:55 PM

883

VA COMMONWEALTH

+4-110

o133-110

+160

884

FLORIDA ST

-4-110

u133-110

-190
Gambling911.com has been serving the gambling community with news around the clock since September 2000.
Follow us on Twitter for all the latest breaking gambling news.